If you are a fan of cornflake cookies then this Crumbl Cornflake Marshmallow Recipe is for you. In this post, I have tried to share the Popular Crumbl Cornflake Marshmallow Recipe with some valuable information that you will like a lot I hope.
What Is Crumbl Cornflake Marshmallow?
The American franchise bakery chain Crumbl Cookies is famous for its extensive cookie and ice cream choices. It was established in 2017 and is based in Utah. The business operated more than 600 locations nationwide as of October 2022.
The no-bake, low-effort Crumbl Cornflake Marshmallow Cookies are a tasty treat. These cookies are made with Salted Butter, Peanut Butter, Marshmallows, Peanut Butter Morsels, Cornflakes, and Vegetable Oil.
There are only 6 ingredients and some kitchen equipment are needed to make these Crumbl Cornflake Marshmallow Cookies which I explained in more detail below.
The Ingredients & Equipment Needs For Crumbl Cornflake Marshmallow
The ingredients and equipment are as follows:
Ingredients:
Butter: You will need 6 tbsp of butter. Use Kerrygold or Land O Lakes brand salted butter to get the best result.
Peanut Butter: You will need 1 cup of smooth peanut butter. Use Dylmine Health brand smooth peanut butter for the best result.
Marshmallows: You will need 15 oz of mini marshmallows. Use Dandies or 365 by Whole Foods Market brand mini marshmallows for the best result.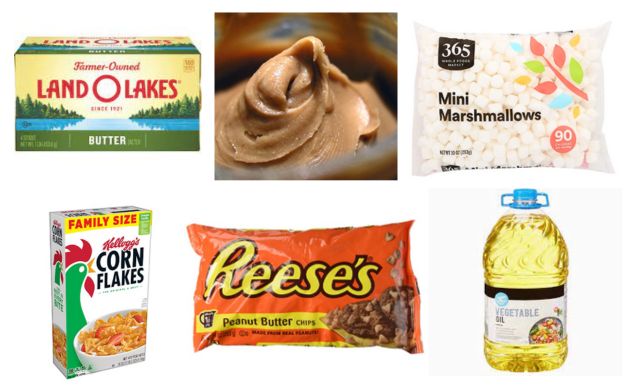 Peanut Butter Morsels: You will need 1/2 cup of peanut butter morsels. Use REESE'S or OliveNation brand peanut butter morsels for the best result.
Cornflakes: You will need 10 cups of cornflakes cereal. Use Corn Flakes Brand Kellogg's Corn Flakes cereal to get the best result.
Vegetable Oil: You will need 3/4 tsp of vegetable oil. Use vegetable oil from the Happy Belly or Wesson brands.
Equipment:
Stove, Pot, Mixing Bowl, Measuring Cup, Measuring Spoon, Baking Sheet, Parchment Paper, And Microwave.
So, let's see How To Make Crumbl Cornflake Marshmallow Recipe at Home!
Crumbl Cornflake Marshmallow Recipe
Follow this Crumbl Cornflake Marshmallow Recipe ingredients and directions and make perfect Crumbl Cornflake Marshmallow Cookies like Crumbl Company.
Equipment & Tools
Stove

Pot

Mixing Bowl

Measuring Cup

Measuring Spoon

Baking Sheet

Parchment Paper

Microwave
Ingredients  
6

tbsp

Salted Butter

1 ½

oz

Mini Marshmallows (To Add At The End)

3

tbsp

Peanut Butter Morsels For Drizzling

¾

tsp

Vegetable Oil
Instructions 
Melt the butter and peanut butter in a large pot over low heat.

Add 15 ozs of mini marshmallows and stir constantly until the mini marshmallows are completely melted.

Add the cornflakes and stir until thoroughly coated after removing from heat.

Add the remaining mini marshmallows and peanut butter morsels and fold them together gently.

Using a large cookie scoop, drop 15 peanut butter cornflakes balls of equal size onto a baking sheet lined with parchment paper.

Grease your fingertips and spread the cookies to a thickness of about 1 inch.

Pack them so that they are not too dense.

Melt the peanut butter morsels and oil in 30-second increments, stirring between each, in the microwave.

Pour the mixture into a resealable bag, cut a small hole in the top of the bag, and drizzle peanut butter over each cookie.

Before serving, let set for 25 to 30 minutes.
Notes
Be careful to melt the peanut butter marshmallow mixture carefully because if you overcook it, it will practically caramelize and harden as it cools.
The next problem could be that it's too cold where you are. The solution would be to microwave them for 6 seconds and then savor them.
Nutrition
Serving:
1
piece
Calories:
367
kcal
(18%)
Carbohydrates:
51.2
g
(17%)
Protein:
6
g
(12%)
Fat:
17.2
g
(26%)
Saturated Fat:
7.2
g
(45%)
Polyunsaturated Fat:
0
g
Monounsaturated Fat:
0
g
Trans Fat:
0
g
Cholesterol:
12
mg
(4%)
Sodium:
214
mg
(9%)
Potassium:
145
mg
(4%)
Fiber:
1.2
g
(5%)
Sugar:
23.8
g
(26%)
Calcium:
10
mg
(1%)
Iron:
6
mg
(33%)
Tried This Recipe?
Let Us Know How It Was & Give Ratings.
Our Other Recipes:
Valuable Information
How Long Do Crumbl Cornflake Marshmallow Cookies Set?
Depending on the conditions of your kitchen, these can be set anywhere between 25 and 35 minutes. Essentially, you must allow them to cool to room temperature after removing them from the pot.
How To Store Crumbl Cornflake Marshmallows?
In an airtight container, these cornflake cookies can be kept at room temperature for up to two days. Before eating, place them in the microwave for six seconds. They will become gooey and delicious once more.
To maintain their softness, these cookies should be stored at room temperature. Once placed in the refrigerator, they become hard.
Can I Freeze These Crumbl Cornflake Marshmallow Cookies?
These cookies do not freeze particularly well. They are best consumed on the same day. Unfortunately, freezing them will ruin the texture of these no-bake cookies.
What Are The Health Benefits Of Crumbl Cornflake Marshmallows?
The main ingredients in this recipe are Marshmallow, Peanut Butter, and Cornflakes, which have many health benefits. they are as follows:
Marshmallow: Sometimes, marshmallow is used to create a protective layer on the skin and digestive tract lining. Additionally, it contains chemicals that may reduce coughing and combat infections.
Peanut Butter: Peanut butter has a lot of beneficial nutrients, including vitamin E, magnesium, iron, selenium, and vitamin B6. People who regularly consume peanut butter are less susceptible to developing heart disease and type 2 diabetes, according to research.
Cornflakes: Due to cornflakes' low saturated fat content, you are safe from a variety of heart-related problems and diseases. Iron is another fantastic nutrient that makes cornflakes so nutritious. Certainly, it contains a high amount of iron, which is the primary component of hemoglobin. Your blood flow increases and this is reflected in your epidermis.
Our Other Recipes:
Conclusion
Crumbl Cornflake Marshmallow Recipe is worth trying. These cookies are simple to prepare and the ideal holiday treat for Christmas, Thanksgiving, and Easter. It takes only 25 minutes and 6 ingredients to make a batch of Cornflake Marshmallow Cookies.
This Crumbl Cornflake Marshmallow Recipe teaches and encourages you to attempt new things. Share this recipe for Crumbl Cornflake Marshmallow Cookies with your friends, and then leave a comment telling us what you think.