If you are looking for Drake vegan cookie Recipe then you are on the right blog page. In this post, I have shared the Famous Drake vegan cookie Recipe with some useful information that you will like a lot I hope.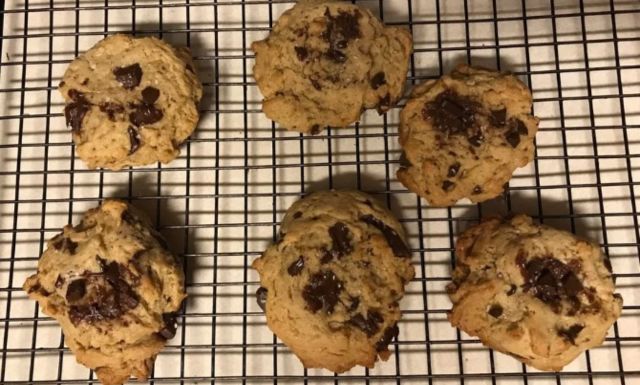 what is Drake vegan cookie?
Drake vegan cookie is a special recipe shared by the famous musician Drake on YouTube. These cookies don't contain any animal products. They're made with ingredients like coconut oil, brown sugar, vanilla extract, coconut milk, applesauce, flour, baking soda, salt, and vegan chocolate chips.
The recipe includes mixing the wet and dry ingredients, baking the cookies in an oven until they're golden and set, and adding extra chocolate chips on top while they're warm. Sometimes, people might sprinkle a little sea salt for extra flavor.
These vegan cookies are a thoughtful and tasty treat, made following Drake's recipe, and they're perfect for anyone looking for a yummy dairy-free and egg-free dessert.
The Ingredients & Tools Needs For Drake Vegan Cookie
The ingredients and Tools are as follows:
Ingredients:
Coconut Oil: You will need 1/2 cup of solid but scoopable coconut oil. Use Nutiva or Amazon Fresh brand coconut oil.
Brown Sugar: You will need 1 ¼ cups of light brown sugar. Use Wholesome or Domino brand light brown sugar to get the best result.
Vanilla Extract: You will need 2 teaspoons of vanilla extract. Use Watkins or Kirkland brand vanilla extract.
Coconut Milk: You will need ¼ cup of coconut milk, preferably a thicker Thai variety. Thai Kitchen brand unsweetened coconut milk is recommended.
Applesauce: You will need ¼ cup of unsweetened applesauce. Use Mott's or Musselman's brand unsweetened applesauce.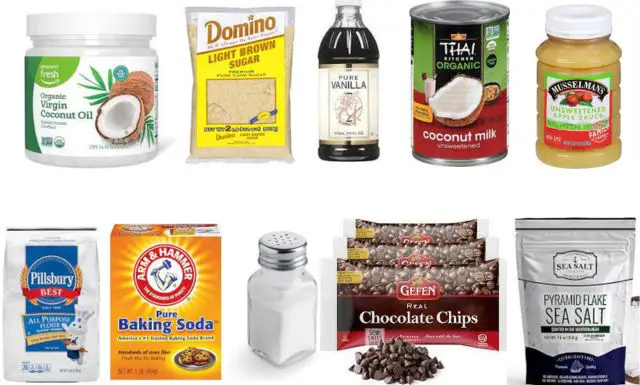 Flour: You will need 2 ⅓ cups of all-purpose flour. Gold Medal or Pillsbury brand all-purpose flour.
Baking Soda: You will need 1 teaspoon of baking soda. It's Just or Arm & Hammer brand baking soda is recommended.
Salt: You will need 1 teaspoon of salt. Use regular cooking salt.
Chocolate Chips: You will need 2 cups of vegan chocolate chips. Use Lieber's or Gefen brand vegan chocolate chips.
Flaky Sea Salt: You will need some Flaky sea salt (it's optional). Use Sea Salt Superstore brand flaky sea salt.
Equipment & Tools:
You will need an Oven, Mixing Bowl, Measuring Cup, Measuring Spoon, Scoope, Baking Sheet, and Serving Plate.
So, let's see How To Make Drake Vegan Cookie Recipe at Home!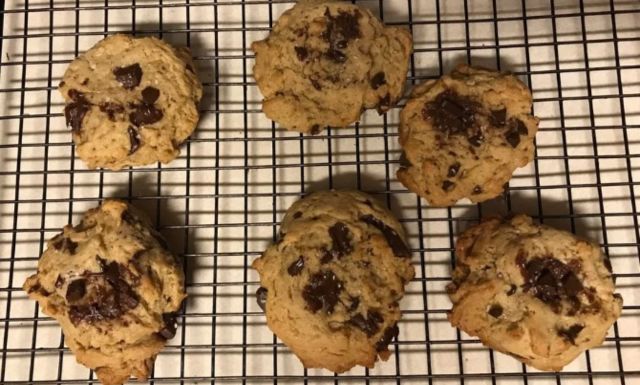 Drake vegan cookie Recipe
Follow this Drake vegan cookie Recipe ingredients and directions to make the perfect vegan cookie like Drake.
Equipment & Tools
Oven

Mixing Bowl

Measuring Cup

Measuring Spoon

Scoop

Baking Sheet

Serving Plate
Ingredients  
1 ¼

cup

Light Brown Sugar

2

tbsp

Vanilla Extract

2 ⅓

cups

All-Purpose Flour

1

tsp

Baking Soda

1

tsp

Salt

Flaky Sea Salt (optional)
Instructions 
Preheat oven to 375 degrees Fahrenheit and line a baking sheet with parchment paper.

In a large bowl, whisk together coconut oil, brown sugar, and vanilla until well combined.

Add coconut milk and applesauce, and mix again. Set aside.

In a separate bowl, combine flour, baking soda, and salt. Mix well.

Combine the dry ingredients with the wet mixture, stirring until well combined. Don't overmix.

Fold in 1 ¾ cups of chocolate chips into the batter.

Scoop three tablespoon-sized mounds of dough onto the prepared baking sheet, leaving space between each cookie.

Bake for 9 to 10 minutes until the edges are golden and the centers have set.

Press the remaining chocolate chips onto the warm cookies and sprinkle with sea salt if desired.

Let the cookies cool on the baking sheet for 15 minutes before transferring them to a cooling rack.

Enjoy Drake Vegan Cookies at homw!
Notes
If the dough is too sticky, add more flour gradually. If it's too dry, add a tablespoon of coconut milk.
Nutrition
Serving:
2
cookies
Calories:
220
kcal
(11%)
Carbohydrates:
30.7
g
(10%)
Protein:
2.5
g
(5%)
Fat:
9.9
g
(15%)
Saturated Fat:
7.7
g
(48%)
Polyunsaturated Fat:
0
g
Monounsaturated Fat:
0
g
Trans Fat:
0
g
Cholesterol:
0
mg
Sodium:
236
mg
(10%)
Potassium:
48
mg
(1%)
Fiber:
1.1
g
(5%)
Sugar:
16.1
g
(18%)
Calcium:
13
mg
(1%)
Iron:
2
mg
(11%)
Tried This Recipe?
Let Us Know How It Was & Give Ratings.
Our Other Recipes:
Variations And Tips For Drake Vegan Cookie Recipe
Variations:
Nutty Addition: For a nutty twist, add chopped nuts like walnuts or almonds to the cookie dough along with the chocolate chips.
Fruity Flavors: Experiment with dried fruits such as raisins, cranberries, or chopped dried apricots to add a sweet and tangy flavor to the cookies.
Different Chocolate: Instead of traditional chocolate chips, try using chunks of your favorite vegan dark chocolate bar for a more intense chocolate taste.
Tips:
Careful Mixing: When combining wet and dry ingredients, gently mix until just combined. Overmixing can make the cookies tough.
Chill the Dough: If the dough seems too soft, refrigerate it for about 30 minutes before baking. This helps the cookies hold their shape better.
Evenly Sized Cookies: Use a measuring scoop or spoon to ensure uniform cookie sizes. This helps them bake evenly and prevents some from being undercooked while others are overdone.
what to serve with Drake vegan cookies?
Drake's vegan cookies go well with various things:
Non-Dairy Milk: A glass of almond, soy, or oat milk complements these cookies. It's nice for dunking or sipping alongside.
Fresh Fruits: Sliced fruits like strawberries, bananas, or a fruit salad make a refreshing pairing, balancing the sweetness of the cookies.
Vegan Ice Cream: A scoop of dairy-free ice cream, such as chocolate or vanilla, makes for a delightful dessert combo. Top the cookies with a scoop for an extra treat!
Herbal Teas or Coffee: Enjoy a warm cup of herbal tea or a mug of coffee, as the cookies' flavors match well with these beverages.
Nut Butter Spreads: Adding a dollop of peanut butter, almond butter, or other nut spreads can create a delicious sandwich-like treat using two cookies as 'bread.
Our Other Recipes:
FAQs about Drake's Vegan Cookie Recipe
Can I use a different type of oil instead of coconut oil?
Yes, you can use other oils like vegetable or canola oil, but the taste might slightly differ.
Can I make these cookies gluten-free?
You can try using gluten-free flour, but the texture and taste might be a bit different.
Do I have to use sea salt on top of the cookies?
No, it's optional. It adds a sweet-salty taste, but if you prefer sweeter cookies, you can skip this step.
What should I do if the dough seems too sticky or dry?
If it's sticky, add a little more flour gradually. If it's dry, add a small amount of coconut milk until it reaches the right consistency.
How long can I store these cookies?
Store them in an airtight container at room temperature for up to a week. They can also be frozen for a few months.
how to reheat Drake Vegan Cookie?
To reheat Drake's vegan cookies, preheat the oven to 350°F (175°C). Place the cookies on a baking sheet and warm them for about 5 minutes until they're slightly crisp and warm. Avoid overheating to prevent the cookies from becoming too dry.
Our Other Recipes:
Conclusion
Drake vegan cookie is a tasty and thoughtful treat. With simple ingredients and easy steps, these cookies bring joy to anyone looking for a delicious dairy-free and egg-free dessert.
The combination of coconut oil, brown sugar, and chocolate chips creates a delightful flavor. Whether served with non-dairy milk, paired with fruits, or alongside a cup of tea, these cookies offer a versatile snack.
With various possible variations and helpful tips, making these cookies becomes a fun and creative experience. The recipe provides a sweet delight for those embracing a vegan lifestyle and those seeking a scrumptious homemade cookie.