If you are looking for Golo Granola Recipe then you are on the right blog page. In this post, I have shared the Copycat Golo Granola Recipe with some valuable information that you will like a lot I hope.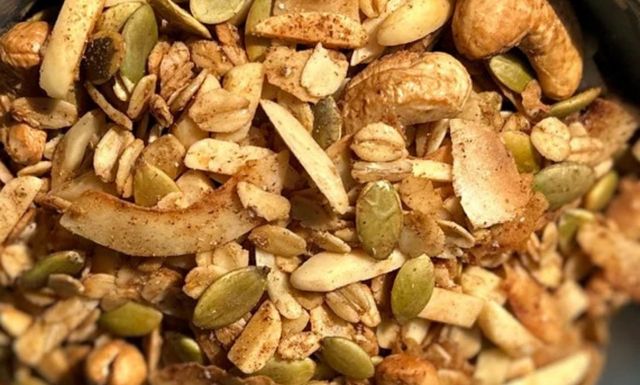 What is Golo Granola?
Golo Granola is a yummy and healthy snack made from oats, nuts like almonds and cashews, and seeds like pumpkin seeds. It also has some coconut flakes for extra flavor. To make it even more delicious, Golo Granola is sweetened with honey and has a bit of cinnamon for a cozy taste.
First, all the dry ingredients are mixed in a big bowl. Then, a sweet mixture of honey, coconut oil, and vanilla is poured over them. It's like giving them a warm, sweet hug. Everything gets stirred together so that all the oats and nuts are coated with this sweet goodness.
After that, it's baked in the oven until it becomes golden and crispy. When it cools down, it becomes super crunchy. You can store it in a container and enjoy it with yogurt, milk, or just as a tasty snack. Golo Granola is a fantastic treat that's good for your tummy!
The Ingredients & Tools Needs For Golo Granola
The ingredients and Tools are as follows:
Ingredients:
Oatmeal: You will need 3 cups of uncooked oatmeal.Food To Live or Montana Gluten Free brand oatmeal.
Raw Almonds: You will need 1 1/2 cups of sliced raw almonds. Superior Nut Company or Trader Joe's brand Raw Sliced Almonds to get the best result.
Raw Pepitas: You will need 1 cup of raw pepitas (green pumpkin seeds). Use Food To Live or NOW brand raw pepitas.
Cashews: You will need 1/2 cup of raw cashews. We Got Nuts or Jiva Organics brand raw cashews are recommended.
Coconut Flakes: You will need 1/2 cup of unsweetened coconut flakes. Use Let's Do Organic or TJ's brand coconut flakes.
Ground Cinnamon: You will need 2 tsp of ground cinnamon. Amazon Fresh or Simply Organic brand ground cinnamon.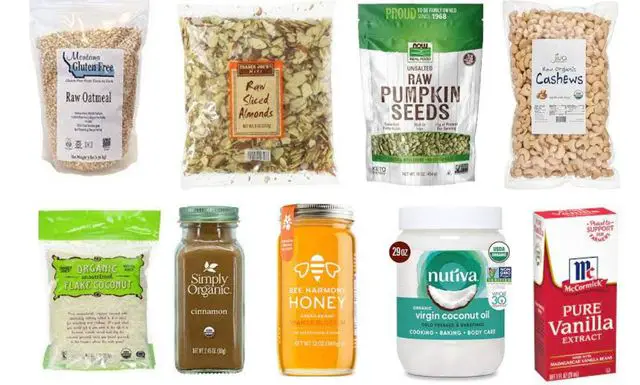 Honey: You will need 6 tbsp of honey. Honey Jar or Bee Harmony brand honey.
Coconut Oil: You will need 6 tbsp of coconut oil. Use Garden of Life or Nutiva brand coconut oil.
Vanilla Extract: You will need 2 tsp of vanilla extract. Watkins or McCormick brand vanilla extract.
Equipment & Tools:
You will need a Mixing Bowl, Saucepan, Measuring Cup, Measuring Spoon, Baking Sheet, Parchment Paper, Oven, and Serving Plate.
So, let's see How To Make the Golo Granola Recipe at Home!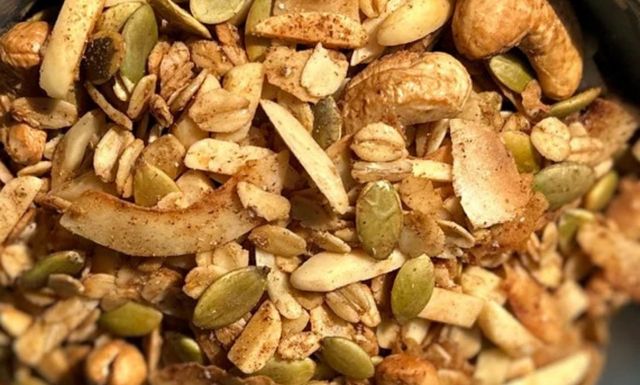 Copycat Golo Granola Recipe
Follow this Golo Granola Recipe ingredient and instructions to make the perfect granola-like Golo diet.
Equipment & Tools
Mixing Bowl

Saucepan

Measuring Cup

Measuring Spoon

Baking Sheet

Parchment Paper

Oven

Serving Plate
Ingredients  
3

cups

Uncooked Oatmeal

1

cup

Raw Pepitas (Green pumpkin seeds)

2

tsp

Ground Cinnamon

6

tbsp

Honey

2

tsp

Vanilla Extract
Instructions 
Preheat your oven to 250°F (about 120°C). Cover a baking sheet with parchment paper.

In a big bowl, mix together the uncooked oatmeal, sliced raw almonds, raw pepitas, raw cashews, unsweetened coconut flakes, and ground cinnamon. Make sure everything is well combined.

In a small saucepan over low heat, combine the honey and coconut oil. Stir until they are mixed well. Then, add the vanilla extract and stir again.

Pour the hot liquid mixture over the dry ingredients in the big bowl. Stir everything together until all the dry ingredients are evenly coated with the liquid mixture.

Spread this mixture evenly onto the prepared baking sheet.

Bake in the preheated oven for 75 minutes. It will become golden and crispy.

Remove the granola from the oven and let it cool. It will become crunchier as it cools down.

Once it's completely cool, store your Golo Granola in an airtight container at room temperature. It should stay fresh and tasty for up to 2 weeks.

Enjoy your homemade golo granola!
Nutrition
Serving:
0.7
cup
Calories:
346
kcal
(17%)
Carbohydrates:
30
g
(10%)
Protein:
9.1
g
(18%)
Fat:
23
g
(35%)
Saturated Fat:
8.9
g
(56%)
Polyunsaturated Fat:
0
g
Monounsaturated Fat:
0
g
Trans Fat:
0
g
Cholesterol:
0
mg
Sodium:
5
mg
Potassium:
294
mg
(8%)
Fiber:
4.7
g
(20%)
Sugar:
9.8
g
(11%)
Calcium:
55
mg
(6%)
Iron:
3
mg
(17%)
Tried This Recipe?
Let Us Know How It Was & Give Ratings.
Our Other Recipes:
Variations & Tips For Golo Granola Recipe
Variations:
Fruity Twist: You can make your Golo Granola fruity by adding dried fruits like raisins, cranberries, or chopped apricots after baking. Just mix them in when your granola has cooled down. It'll give your granola a sweet and chewy surprise.
Chocolate Delight: If you love chocolate, try adding some chocolate chips to your granola. Once it's out of the oven and still warm, sprinkle the chocolate chips over it. They'll melt and create a chocolaty delight.
Spice It Up: For a little kick, add a pinch of ground ginger or nutmeg along with the cinnamon. It'll give your granola a warm and spicy flavor.
Tips:
Mix Well: When combining the dry ingredients and the honey-coconut oil mixture, make sure to mix thoroughly. You want every oat and nut to get coated evenly.
Cool Completely: Don't rush the cooling process. Let your granola cool completely on the baking sheet. It'll become crunchier as it cools down.
Storage: To keep your granola fresh, store it in an airtight container. If you live in a hot and humid place, you can even keep it in the fridge to stay extra crispy.
what to serve with Golo Granola?
You can serve Golo Granola with a few tasty options:
Yogurt: One of the most common ways is to have it with Greek Yogurt. Just sprinkle some Golo Granola on top of your yogurt, and it adds a delightful crunch and sweetness.
Fruit: Add slices of fresh fruits like bananas, strawberries, or blueberries to your Golo Granola. It's a fruity and crunchy combo that's super tasty.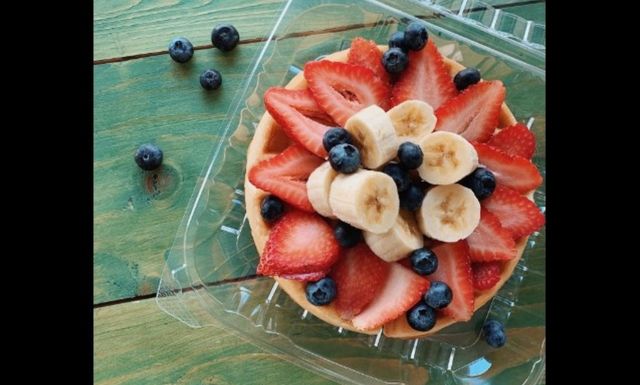 Milk: Like a cereal! Pour some milk over a bowl of Golo Granola, and you've got yourself a healthy and delicious breakfast.
Smoothies: Blend Golo Granola into your favorite smoothie for added texture and a hint of sweetness.
Our Other Recipes:
FAQs about Golo Granola Recipe
Can I change the nuts and seeds in the recipe?
Absolutely! You can use different nuts and seeds that you like. Be creative and choose your favorites.
How long does Golo Granola stay fresh?
When stored in an airtight container at room temperature, Golo Granola can stay fresh for up to 15 days. You can make smaller batches if you want to keep it super fresh.
Can I make it gluten-free?
Sure! If you need a gluten-free version, just make sure to use gluten-free oats in your recipe.
What can I do if my granola is too soft after baking?
If it's too soft, you can put it back in the oven for a little while to crisp up. Keep an eye on it so it doesn't get too brown.
How do I avoid clumps in my granola?
To prevent big clumps, make sure to stir the granola occasionally while it's baking. This will help it cook evenly and not stick together too much.
Our Other Recipes:
Conclusion
Golo Granola is a tasty and healthy treat made with oats, nuts, seeds, and sweet stuff like honey and vanilla. It's super versatile and can be eaten in many ways – with yogurt, milk, or even on its own as a crunchy snack. You can also get creative with different nuts, seeds, and flavors to make it your own.
Just bake it until it's golden and let it cool for extra crunch. Also, it stays fresh for a while in a container, so you can enjoy it whenever you like. Golo Granola is a delicious, homemade way to make your taste buds happy and your tummy full!