If you are looking for a Yard House Edamame Recipe then you are on the right blog page. In this post, I have shared the Popular Yard House Edamame Recipe with some useful information that you will like a lot I hope.
what is Yard House Edamame?
Yard House Edamame is a tasty appetizer often served at Yard House restaurants. It starts with young soybeans, called edamame, which are boiled until tender. Then, sautéed with garlic in sesame oil until it turns golden and aromatic. To make them flavorful, oyster sauce, soy sauce, and red pepper flakes are added, giving them a rich and slightly spicy taste.
The secret ingredient is honey, which is drizzled over the edamame. This honey adds a touch of sweetness to balance the spicy flavors, creating a delightful glaze. The final result is a delicious dish of edamame that's both savory and sweet, with a hint of heat.
Yard House Edamame makes for a fantastic snack or appetizer, perfect for sharing with friends or enjoying as a flavorful side dish. It's a popular choice in restaurants known for its bold and satisfying taste.
The Ingredients & Tools Needs For Yard House Edamame
The ingredients and Tools are as follows:
Ingredients:
Edamame: You will need 24 oz of frozen edamame. Use Packer brand edamame or you can use fresh any brand of edamame.
Garlic: You will need 6 cloves of garlic. Chop the garlic cloves finely with a knife as preparation.
Honey: You will need 2 tbsp of honey. Use USA Honey Corp. or 365 by Whole Foods Market brand honey to get the best result.
Oyster Sauce: You will need 4 tbsp of oyster sauce. Lee Kum Kee Panda brand oyster sauce is recommended.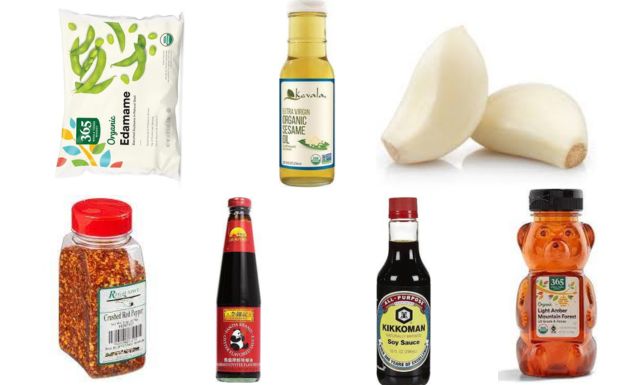 Red Pepper Flakes: You will need 1 tbsp of red pepper flakes. Gustus Vitae or Regal brand red pepper flakes are recommended.
Soy Sauce: You will need 2 tsp of soy sauce. Use Kikkoman or ENGI brand soy sauce.
Sesame Oil: You will need 2 tbsp of sesame oil. Use Kevala Brand Extra Virgin Organic Sesame Oil to get the best result.
Equipment & Tools:
You will need a Medium-sized Saucepan, Cutting board, Knife, Measuring Spoon, Wooden Spoon, and Serving Plate.
So, let's see How To Make Yard House Edamame Recipe at Home!
Yard House Edamame Recipe
Follow this Yard House Edamame Recipe ingredients and directions to make the perfect Edamame like Yard House restaurant.
Equipment & Tools
Medium-sized Saucepan

Cutting Board

Knife

Measuring Spoon

Wooden Spoon

Serving Plate
Ingredients  
24

oz

Unshelled Edamame Fresh Or Frozen

6

Cloves

Garlic, Finely Chopped

1

tbsp

Red Pepper Flakes
Instructions 
Start by boiling a pot of water. Once boiling, add the frozen edamame and cook for about three minutes until they're tender. Drain and set aside.

While the edamame is cooking, finely chop the garlic.

In a separate pan, heat the sesame oil over high heat. When it's hot, add the chopped garlic and sauté until it turns golden brown and fragrant.

Add the cooked edamame to the pan with the sautéed garlic.

Sprinkle in the red pepper flakes, soy sauce, and oyster sauce to infuse rich and tangy flavors into the edamame.

Drizzle the honey over the edamame and mix well to give it a delightful glaze that balances the spiciness.

Continue to sauté the edamame with all the added ingredients for a few more minutes until everything is well combined, and the edamame is coated in the delicious glaze.

Transfer the Yard House Hot and Spicy Edamame to a serving plate, and it's ready to be enjoyed by you and your guests!

Enjoy your homemade Yard House Edamame!
Nutrition
Serving:
3
oz
Calories:
178
kcal
(9%)
Carbohydrates:
15.2
g
(5%)
Protein:
11.4
g
(23%)
Fat:
9.3
g
(14%)
Saturated Fat:
1.2
g
(8%)
Polyunsaturated Fat:
0
g
Monounsaturated Fat:
0
g
Trans Fat:
0
g
Cholesterol:
0
mg
Sodium:
143
mg
(6%)
Potassium:
556
mg
(16%)
Fiber:
3.8
g
(16%)
Sugar:
4.4
g
(5%)
Calcium:
174
mg
(17%)
Iron:
3
mg
(17%)
Tried This Recipe?
Let Us Know How It Was & Give Ratings.
Our Other Recipes:
Variations & Tips For Yard House Edamame Recipe
Variations:
Sesame Ginger Twist: Instead of using oyster sauce and red pepper flakes, try a sesame ginger variation. Mix 4 tablespoons of soy sauce with 2 tablespoons of honey and 2 tablespoons of grated fresh ginger. Toss the boiled edamame in this mixture for a zesty twist.
Spicy Sriracha Style: For those who love extra heat, add a tablespoon of Sriracha sauce to the original recipe. It will give your Yard House Edamame a fiery kick. Adjust the amount to your preferred level of spiciness.
Lemon and Herb Delight: Create a refreshing version by skipping the oyster sauce and red pepper flakes. Instead, use 2 tablespoons of lemon juice and add a handful of chopped fresh herbs like cilantro or parsley for a citrusy and herbal flavor.
Tips:
Fresh vs. Frozen Edamame: If you can find fresh edamame, they can be a great option. Boil them for a shorter time, about 2 minutes, as they cook faster than frozen ones. However, frozen edamame works perfectly fine and is more readily available.
Adjust Spice Levels: If you're unsure about the spiciness, start with a smaller amount of red pepper flakes and adjust to taste. It's easier to add more spice than to make it milder once it's too spicy.
Quick Prep: To make this dish even faster, you can chop the garlic and prepare the sauce mixture while the edamame is boiling. This way, you can sauté them immediately after draining, saving time in the kitchen.
what to serve with Yard House Edamame?
Yard House Edamame makes a great appetizer or side dish, and there are several tasty options to serve with it:
Asian-Inspired Meal: Pair Yard House Edamame with other Asian dishes like sushi, spring rolls, or a stir-fry for a complete Asian-inspired meal.
Grilled Meats: If you're into meat, consider grilling some chicken, beef, or shrimp to serve with the edamame. The contrast between the savory meat and the sweet and spicy edamame is delicious.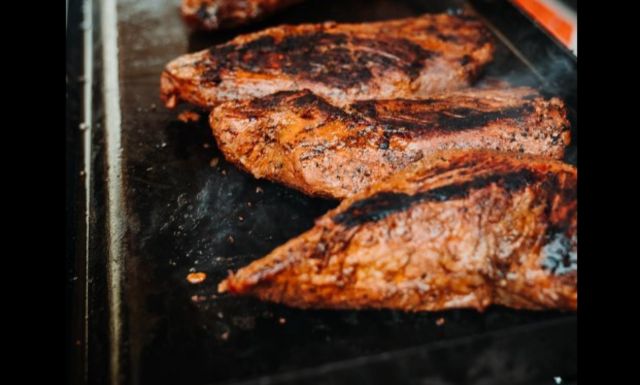 Noodles or Fried Rice: Serve it alongside a dish of noodles or fried rice for a filling and balanced meal.
Vegetable Platter: Create a colorful vegetable platter with carrots, cucumbers, and bell peppers, and use the Yard House Edamame as a tasty dip.
Soup and Sandwich: Enjoy the edamame as a side to a bowl of soup or a sandwich for a well-rounded lunch.
Cocktail Snack: If you're having drinks, Yard House Edamame makes a great snack to munch on while sipping your favorite cocktails.
Our Other Recipes:
FAQs about Yard House Edamame Recipe
Can I use fresh edamame instead of frozen?
Yes, you can use fresh edamame if you can find them. Just boil them for about 2 minutes instead of the 3 minutes required for frozen ones.
Is Yard House Edamame very spicy?
The level of spiciness can be adjusted by adding more or less red pepper flakes. Start with a small amount if you prefer milder spiciness.
What can I substitute for oyster sauce if I don't have it?
If you don't have oyster sauce, you can use hoisin sauce as a substitute. It will give a similar sweet and savory flavor.
Can I make Yard House Edamame ahead of time?
While it's best served fresh and hot, you can prepare the sauce and boil the edamame ahead of time. When ready to serve, sauté them together to reheat and coat in the sauce.
Is Yard House Edamame vegetarian?
Yes, Yard House Edamame is vegetarian, as it mainly consists of soybeans and flavorful seasonings. However, make sure to use vegetarian oyster sauce if you want it to be fully vegetarian.
How can I store leftovers?
If you have leftovers, store them in an airtight container in the refrigerator. Reheat in a pan or microwave when you're ready to enjoy them again.
Our Other Recipes:
Conclusion
Yard House Edamame is a tasty and versatile dish made from young soybeans. It's boiled, sautéed with garlic, and coated in a delicious sauce that combines sweetness and a bit of spiciness. You can customize it with different flavors like ginger or Sriracha to suit your taste.
Yard House Edamame can be a fantastic appetizer, side dish, or even a healthy snack. It pairs well with various foods, from Asian cuisine to salads and grilled meats. Whether you're a fan of spicy or mild flavors, this dish can be adjusted to your liking, making it a delightful treat for your taste buds.