If you are a fan of Crab cake then this Eddie V's Crab Cake Recipe is for you. In this post, I have shared the Popular Eddie V's Crab Cake Recipe with some useful information that you will like a lot I hope.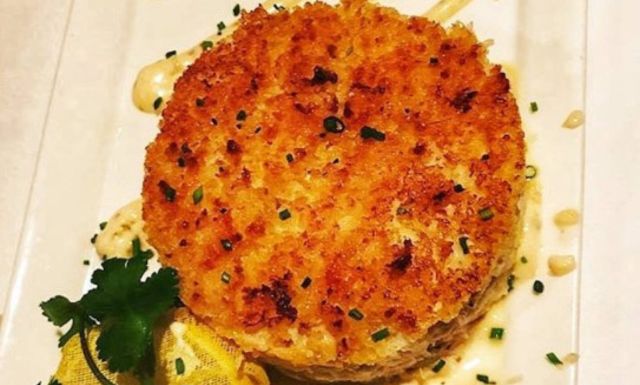 what is Eddie V's Crab Cake?
Eddie V's Crab Cake is a delicious seafood dish made from lump crabmeat. It's a special recipe from Eddie V's, a restaurant known for its seafood.
To make these crab cakes, you mix the crabmeat with crushed crackers, mayonnaise, eggs, scallions, creole mustard, and a seasoning called Old Bay. This mixture is shaped into patties and cooked until they're golden brown on both sides, first in a pan with butter and then in the oven to make them firm.
The result is a flavorful, crispy-on-the-outside, tender-on-the-inside crab cake that's bursting with the sweet taste of crab. You can serve it with lemon and sauces like remoulade or tartar sauce to make it even more delicious. Eddie V's Crab Cake is a real treat for seafood lovers!
The Ingredients & Equipment Needs For Eddie V's Crab Cake
The ingredients and Tools are as follows:
Ingredients:
Lump Crabmeat: You will need 1 lb of lump crabmeat, cleaned and without shells. Use Robert Wholey & Co. or Chicken of the Sea brand lump crabmeat to get the best result.
Crackers: You will need 1 1/2 cups of Crackers, Crushed. Use 365 by Whole Foods Market or Mary's Gone Crackers brand saltine crackers for the crispiness.
Mayonnaise: You will need 1/2 cup of mayonnaise. Use Hellmann's or Kraft brand mayonnaisee.
Egg: You will need 1 large size egg. Use any brand or use what you have on hand.
Scallions: You will need 1 bunch of scallions, chopped. Use Sunutri Seeds brand fresh scallions.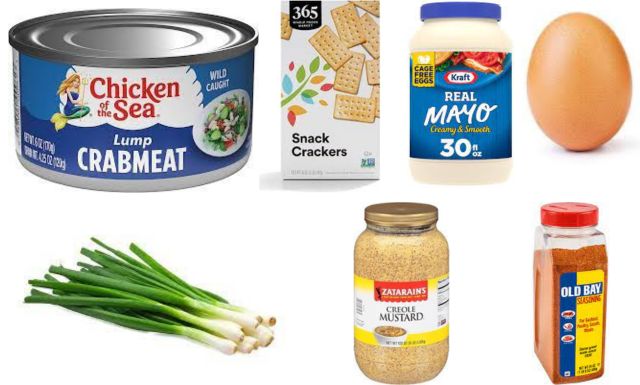 Creole Mustard: You will need 2 tbsp of Creole mustard. Use Zatarain's brand of Creole mustard for the best result.
Old Bay Seasoning: You will need 1 teaspoon of Old Bay Seasoning.
Equipment & Tools:
You will need a Mixing Bowl, Pan, Knife, Cutting Board, Measuring Cup, Measuring Spoon, Baking Pan, Oven, and Serving Plate.
So, let's see How To Make the Eddie V's Crab Cake Recipe at Home!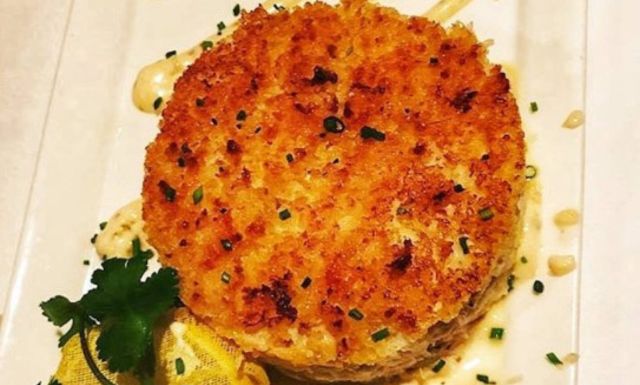 Eddie V's Crab Cake Recipe
Follow this Eddie V's Crab Cake Recipe ingredients and directions to make the perfect crab cake like Eddie V's restaurant.
Equipment & Tools
Mixing Bowl

Pan

Knife

Cutting Board

Measuring Cup

Measuring Spoon

Baking Pan

Oven

Serving Plate
Instructions 
Make sure your oven is at 375 degrees Fahrenheit (190 degrees Celsius).

In a big bowl, put together the crushed crackers, mayonnaise, egg, chopped scallions, creole mustard, and old bay seasoning. Mix them all together nicely, but leave the crab meat out for now.

Carefully fold in the lump crabmeat. Be gentle so you don't break it up too much.

Take the mixture and make it into crab cake patties. Use your hands to shape them. You can make them as big or as small as you like.

In a pan, melt some butter over medium heat. Put your crab cakes in there and cook them until they're golden brown on both sides. This should take a few minutes on each side.

Put your partly-cooked crab cakes in the preheated oven. Bake them at 375 degrees for about 8 minutes. This will make them firm and delicious.

Take those mouthwatering crab cakes out of the oven and serve them hot. You can add a squeeze of lemon and serve them with remoulade or tartar sauce if you like.
Nutrition
Serving:
1
Slice
Calories:
384
kcal
(19%)
Carbohydrates:
22.2
g
(7%)
Protein:
26.7
g
(53%)
Fat:
19.7
g
(30%)
Saturated Fat:
3
g
(19%)
Polyunsaturated Fat:
0
g
Monounsaturated Fat:
0
g
Trans Fat:
0
g
Cholesterol:
168
mg
(56%)
Sodium:
1127
mg
(49%)
Potassium:
452
mg
(13%)
Fiber:
0.7
g
(3%)
Sugar:
2.7
g
(3%)
Calcium:
166
mg
(17%)
Iron:
2
mg
(11%)
Tried This Recipe?
Let Us Know How It Was & Give Ratings.
Our Other Recipes:
Variations & Tips For Eddie V's Crab Cake Recipe
Variations:
Spicy Twist: Add a pinch of cayenne pepper to the crab cake mixture for some heat. It'll give your crab cakes a spicy kick.
Herb Delight: Mix in some fresh herbs like parsley or cilantro for a burst of freshness and color. Chopped herbs can make your crab cakes extra tasty.
Seafood Combo: Try a mix of crabmeat and chopped shrimp for a different flavor and texture. It's like having two seafood treats in one.
Tips:
Handle with Care: When folding in the crabmeat, be gentle. You want those big lumps of crab to stay intact for a nice, chunky texture in your crab cakes.
Keep it Cool: If you have time, let the crab cake mixture chill in the fridge for about 30 minutes. This helps the flavors meld together and makes it easier to shape the patties.
Check the Doneness: When sautéing and baking the crab cakes, watch for that lovely golden color. They're ready when both sides are golden brown, and they're firm but not overcooked. Be patient – it's worth the wait for that perfect crab cake!
what to serve with Eddie V's Crab Cake?
You can pair Eddie V's Crab Cake with tasty side dishes to make a complete and satisfying meal. Here are some simple ideas:
Fresh Salad: A crisp green salad with a light vinaigrette dressing is a great choice. It adds freshness and balance to the rich crab cakes.
Creamy Coleslaw: Creamy coleslaw with a tangy dressing is a classic choice. The creamy texture contrasts well with the crispy crab cakes.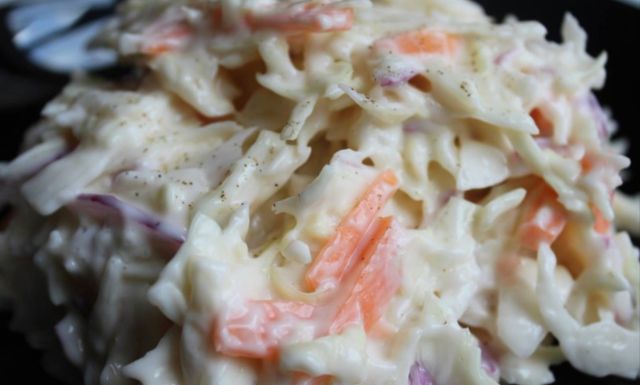 Steamed Vegetables: Steam some broccoli, asparagus, or green beans for a healthy side. They'll complement the crab cakes nicely.
Rice or Quinoa: Serve with a side of cooked rice or quinoa for a filling option. It can soak up any extra sauce or dressing you might have.
Fries or Potato Salad: For a more indulgent pairing, you can go for crispy fries or a creamy potato salad. They add a comforting touch to your meal.
Our Other Recipes:
FAQs About Eddie V's Crab Cake Recipe
Can I use canned crabmeat instead of lump crab?
Yes, you can, but fresh lump crabmeat usually tastes better. If using canned, make sure to drain it well.
Can I bake the crab cakes without sautéing them first?
Yes, you can, but sautéing them first gives a nice crispy outer layer. Baking alone may not give you the same texture.
Is it okay to make the crab cake mixture ahead of time?
Sure, you can prepare the mixture and keep it in the fridge for a few hours before cooking. It can even help the flavors meld together.
Can I freeze the crab cakes?
Yes, you can freeze them before cooking. Place them on a baking sheet, freeze until solid, then store in an airtight container. Thaw in the fridge before cooking.
What's the best way to reheat leftover crab cakes?
To keep them crispy, it's best to reheat them in the oven at 350°F (175°C) for about 10-15 minutes.
Can I make smaller crab cakes for appetizers?
Absolutely! You can make mini crab cakes for appetizers or snacks. Just adjust the cooking time accordingly.
Our Other Recipes:
Conclusion
Eddie V's Crab Cake recipe is a tasty and simple way to make delicious crab cakes at home. With a few basic ingredients like lump crabmeat, crackers, and spices, you can create restaurant-quality crab cakes. Remember to handle the crabmeat gently to keep those lovely lumps intact.
Sautéing them in butter and finishing them in the oven ensures a crispy outside and a tender inside. You can customize the recipe with different seasonings and side dishes to suit your taste. With these easy steps and some creativity, you can enjoy mouthwatering crab cakes that are sure to impress your family and friends.