If you are looking for the Shipley Donut Recipe then you are on the right blog page. In this post, I have shared the Popular Shipley Donut Recipe with some useful information that you will like a lot I hope.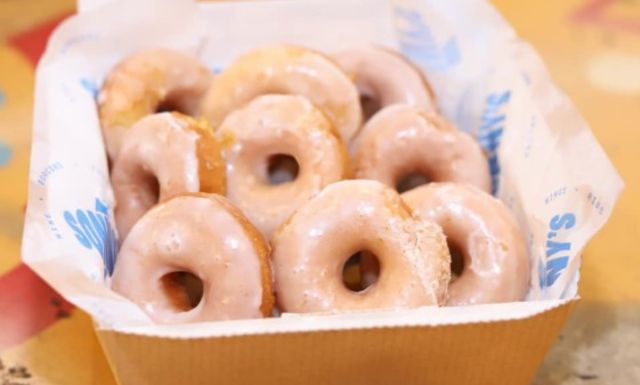 What is Shipley Donut?
Shipley Do-Nuts is an American doughnut company. Shipley Donuts are delicious, soft, and sweet treats that you can make at home with this simple recipe. They are round pastries with a hole in the middle, similar to what you find at a donut shop. To make Shipley Donuts, you'll need basic ingredients like yeast, flour, milk, and sugar.
First, you make the dough by mixing these ingredients together and letting the dough rise. Then, you shape the dough into donuts and let them rest for a while. Next, you make a sweet glaze by mixing melted butter, powdered sugar, and milk.
Now comes the fun part – frying the donuts until they're golden brown. Finally, you dip the hot donuts into the glaze to give them a sweet coating. The result is a batch of homemade Shipley Donuts that are sure to satisfy your sweet cravings!
The Ingredients & Equipment Needs For Shipley Donut
The ingredients and Tools are as follows:
Ingredients:
Yeast: You will need 1 packet (7 grams) of yeast. Use Red Star or Fleischmann's brand Active Dry Yeast to get the best dough.
Water: You will need 1/4 cup of water to make the perfect dough.
Milk: You will need 3/4 cup of milk for the dough. Use Crescent brand milk or use what you have on hand.
Sugar: You will need 1/4 cup of white sugar. Use C&H or Crystal brand sugar for sweetness.
Shortening: You will need 1/4 cup of shortening. Use Crisco brand Shortening Butter or you can use another brand.
Salt: You will need 1/2 tsp of salt. Use Morton or Maldon brand salt.
Egg: You will need 1 large size egg. Use Happy Egg Co. brand egg or use what you have on hand.
Vanilla Extract: You will need 1 tsp of vanilla extract. Use Simply Organic or McCormick brand vanilla extract.
Flour: You will need 3 1/2 cups of all-purpose flour. Use white lily or King Arthur brand all-purpose flour.
Oil: You will need canola or vegetable oil to fry the donut. Wesson or Crisco brand oil is best to fry the donuts.
For the Glaze:
Butter: You will need 2 tbsp of melted unsalted butter. Use Kerrygold or Land O Lakes brand unsalted butter.
Powdered sugar: You will need 2 cups of powdered sugar. Use Great Value brand powdered sugar to make the glaze.
Milk: You will need 1/2 cup of milk for the glaze. Use Crescent brand milk or use what you have on hand.
Equipment:
You will need a Stove, Saucepan, Mixing Bowl, Stand Mixer, Knife, Cutting Board, Cookie Cutter, Measuring Cup, Measuring Spoon, Frying Pan, and Serving Plate.
So, let's see How To Make the Shipley Donut Recipe at Home!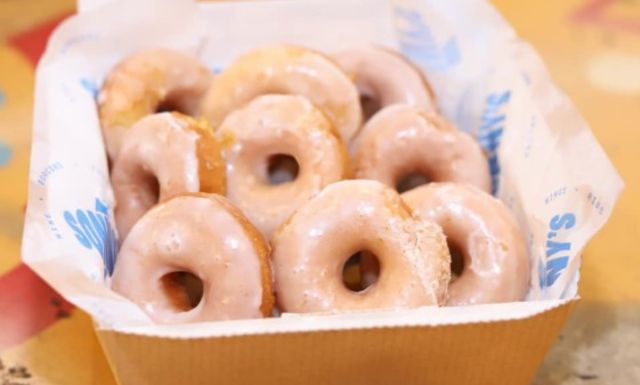 Shipley Donut Recipe
Follow this Shipley Donut Recipe ingredients and directions to make the perfect donuts like Shipley Do-nuts company.
Equipment & Tools
Stove

Saucepan

Mixing Bowl

Stand Mixer

Knife

Cutting Board

Cookie Cutter

Measuring Cup

Measuring Spoon

Frying Pan

Serving Plate
Ingredients  
¼

cup

Water

¾

cup

Milk

¼

cup

White Sugar

½

tsp

Salt

1

Large

Egg

Oil For Frying
For The Glaze:
2

cups

Powdered Sugar

2

tbsp

Melted Butter

½

cup

Milk
Instructions 
Making the Dough:
In a small bowl, dissolve the yeast in room-temperature warm water. Let it sit for about 10 minutes.

In a saucepan, heat the milk until it's hot but not boiling. Remove from heat and allow it to cool.

In a mixing bowl, combine the sugar, shortening, and salt. Mix them together using a paddle attachment for about 2 minutes.

Pour in the cooled milk and let it come to room temperature.

Add the egg and vanilla extract to the mixture. Then add the yeast-water mixture.

Switch to a dough hook attachment and gradually add the flour. Add a little at a time until the dough forms into a ball. You may need more or less flour.

Transfer the dough to a floured surface and knead it for about 5 minutes.

Place the dough in an oiled bowl and let it double in size, which should take about 1 hour.

On the floured surface, roll out the dough to a thickness of 1/2 inch. Use a cookie cutter to cut out donut shapes, and make a hole in the center of each donut.

Place the cut-out donuts on a parchment paper-lined tray.
For Proofing:
If you want to proof the donuts overnight, cover them with plastic wrap and place them in the refrigerator.

If you are cooking them immediately, cover them with plastic wrap and let the dough rest for about 1 hour.
For the Glaze:
To make the glaze, melt the butter and then mix it with the powdered sugar and milk until well combined.
Cooking:
Heat about two inches of oil in a pot to a temperature of 350-375°F (175-190°C).

Carefully fry the donuts, turning them to cook all sides until they are golden brown, which should take about 1 minute.

Remove the donuts from the oil and let them drain on a cooling rack.

Dip the donuts into the hot glaze and place them back on the rack to set.

Enjoy your homemade Shipley Donuts!
Nutrition
Serving:
1
Donut
Calories:
361
kcal
(18%)
Carbohydrates:
64.2
g
(21%)
Protein:
6.4
g
(13%)
Fat:
8.7
g
(13%)
Saturated Fat:
4.5
g
(28%)
Polyunsaturated Fat:
0
g
Monounsaturated Fat:
0
g
Trans Fat:
0
g
Cholesterol:
27
mg
(9%)
Sodium:
156
mg
(7%)
Potassium:
87
mg
(2%)
Fiber:
1.3
g
(5%)
Sugar:
30.1
g
(33%)
Calcium:
47
mg
(5%)
Iron:
2
mg
(11%)
Tried This Recipe?
Let Us Know How It Was & Give Ratings.
Our Other Recipes:
Variations & Tips For Shipley Donut Recipe
Variations:
Chocolate Delight: For chocolate lovers, you can add cocoa powder to the dough and make a chocolate glaze by mixing melted chocolate with powdered sugar and milk. This will give you chocolate-flavored Shipley Donuts.
Fruity Twist: Experiment with fruity flavors by adding a touch of lemon or orange zest to the dough. You can also make a fruity glaze by mixing fruit juice with powdered sugar for a refreshing twist.
Sprinkle Surprise: After glazing your donuts, have fun by adding colorful sprinkles on top. It's a great way to make your Shipley Donuts look more festive and appealing.
Tips:
Temperature Matters: Ensure the milk and water are at the right temperature – not too hot or too cold – when working with yeast. This helps the dough rise properly.
Don't Rush Proofing: Be patient during the doughproofing process. Let it double in size as instructed; this step is crucial for the donuts' texture.
Oil Control: Maintain the oil temperature while frying. Too hot, and the donuts can burn; too cold, and they'll absorb too much oil. Use a thermometer to monitor the temperature accurately.
What to serve with Shipley Donuts?
You can serve Shipley Donuts with a variety of tasty options. Here are some simple ideas:
Coffee or Milk: A classic choice is to enjoy your You can serve Shipley Donuts with a variety of tasty options. Here are some simple ideas:
Ice Cream: If you want to make your treat extra special, serve Shipley Donuts with a scoop of vanilla ice cream. The warm donuts and cold ice cream create a delightful combination of flavors and textures.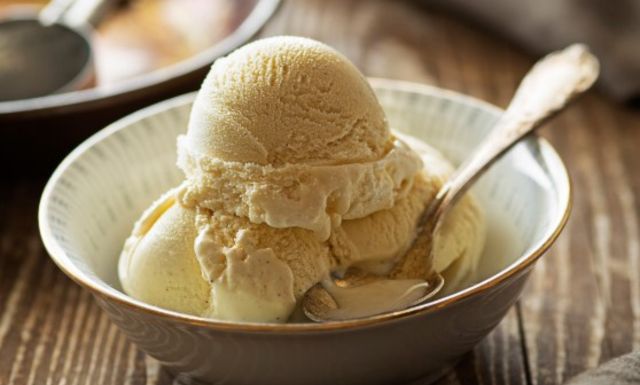 Yogurt: Another healthy option is to have yogurt alongside your donuts. It's a lighter choice that balances the sweetness of the donuts.
Whipped Cream: Top your donuts with a dollop of whipped cream for an extra creamy and indulgent experience. with a cup of coffee or a glass of milk. The sweetness of the donuts pairs nicely with the warmth of coffee or the coolness of milk.
Our Other Recipes:
FAQs for Shipley Donut Recipe
Can I use instant yeast instead of active dry yeast?
Yes, you can use instant yeast, but you may not need to let it sit in water for as long. Follow the package instructions for the right amount and time.
What if I don't have a dough hook attachment for mixing?
You can mix the dough by hand with a wooden spoon until it comes together, and then knead it on a floured surface.
Can I use a different type of oil for frying the donuts?
Yes, you can use vegetable oil or canola oil if you don't have the specific type mentioned. Just make sure it's suitable for frying.
Can I use something else for topping the donuts?
You can get creative with toppings. Some people use powdered sugar, cinnamon, or chocolate chips instead of glaze.
Can I make the dough and refrigerate it overnight instead of proofing it immediately?
Yes, you can refrigerate the dough after it has risen, covered with plastic wrap. This allows you to make the donuts the next day.
What do I do with leftover glaze?
You can store any leftover glaze in the refrigerator for a few days and reuse it for other desserts or donuts.
How long do these donuts stay fresh?
They are best when eaten fresh, but you can store them in an airtight container for a day or two. If they become a bit stale, you can warm them up in the oven to refresh them.
Our Other Recipes:
Conclusion
Making Shipley Donuts at home is a fun and tasty adventure. With a simple recipe, you can create these sweet, round treats with a hole in the middle. You can add your own twists, like chocolate or fruity flavors, and top them with glaze or sprinkles.
Remember to be patient during the dough's rising time and keep an eye on the oil temperature while frying. You can serve your homemade Shipley Donuts with coffee, milk, fruit, or even ice cream for a delightful treat. So, gather your ingredients, follow the steps, and enjoy the delicious Shipley Donuts at home!