If you are looking for Shipley's Kolaches Recipe then you are on the right blog page. In this post, I have shared the Copycat Shipley's Kolaches Recipe with some useful information that you will like a lot I hope.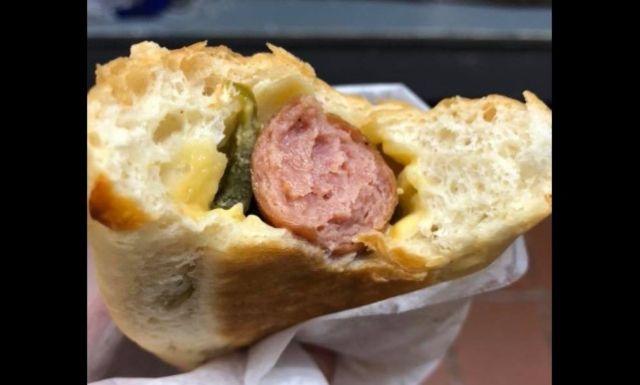 What is Shipley's Kolaches?
Shipley's Kolaches is a tasty breakfast served at Shipley's Do-Nuts Coffeehouse Chain. They're a type of pastry that originated in Eastern Europe but became famous in places like Texas, and the USA. These kolaches from Shipley's are made of soft, sweet dough that's filled with various delicious fillings.
The most common fillings you'll find in Shipley's Kolaches are sausage, cheese, and jalapeno pepper. These fillings are wrapped inside the dough, creating a flavorful combination of sweet and savory.
Shipley's Kolaches are loved for their soft, fluffy texture and the delightful contrast between the dough and the filling. They make for a convenient and tasty breakfast or snack option, and they're often enjoyed with a cup of coffee or juice.
The Ingredients & Tools Needs For Shipley's Kolaches
The ingredients and Tools are as follows:
Ingredients:
All-Purpose Flour: You will need 1 2/3 cups of all-purpose flour. Use White Lily or Gold Medal brand all-purpose flour.
Potato Flour: You will need 1/3 cup of potato flour. Larissa Veronica or Bob's Red Mill brand potato flour.
Salt: You will need 1/2 tsp of salt. Use Morton brand salt or use what you regularly use for cooking.
Sugar: You will need 2 1/4 tbsp of sugar. Use Wholesome or C&H brand white sugar.
Yeast: You will need 1 1/4 tsp of dry active yeast. Breath Savers or Red Star brand dry active yeast.
Milk: You will need 2/3 cup of warm whole milk. Use Prairie Farms Dairy brand whole milk or use what you have on hand.
Egg: You will need 1 large egg at room temperature. Use Morning Fresh Farm egg or use what you have in your kitchen.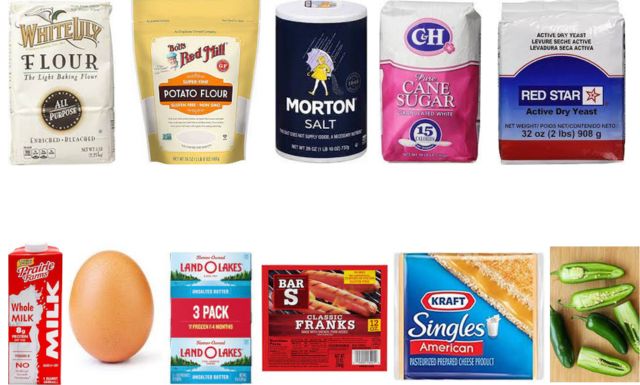 Butter: You will need 2 tbsp unsalted butter, melted. Use Challenge or Land O Lakes brand unsalted butter.
Sausage Franks: You will need 8 regular-sized sausage franks. Use Bar-S or Ready Set Gourmet brand sausage Franks or use what you have on hand.
American Cheese: You will need 8 slices of American cheese. Use Kraft brand American cheese to get the best result.
Jalapenos: You will need 8 Jalapenos. Cut the jalapenos in half with a knife as preparation.
Equipment & Tools:
You will need a Mixing Bowl, Measuring Cup, Measuring Spoon, Plastic Wrap, Baking Sheet, Oven, and Serving Plate.
So, let's see How To Make the Shipley's Kolaches Recipe at Home!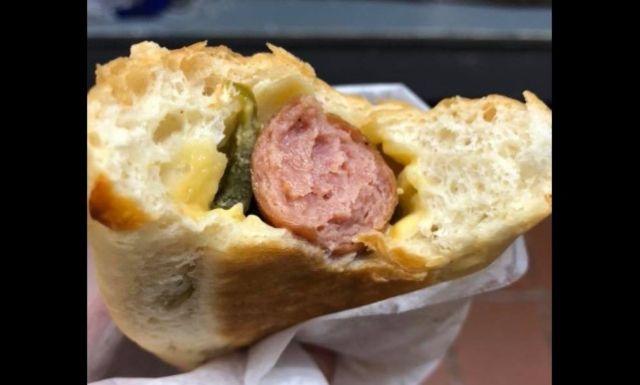 Copycat Shipley's Kolaches Recipe
Follow this Shipley's Kolaches Recipe ingredients and directions to make the perfect Kolaches like Shipley's D0-Nuts Coffeehouse Chain.
Equipment & Tools
Mixing Bowl

Measuring Cup

Measuring Spoon

Plastic Wrap

Baking Sheet

Oven

Serving Plate
Ingredients  
1 ⅔

cups

All-Purpose Flour

½

tsp

Salt

2 ¼

tsp

Sugar

1

Large

Egg At Room Temperature

2

tbsp

Unsalted Butter, Melted

8

Regular-Sized Sausage Franks

8

Slices

Kraft American Cheese, Recommended

8

Jalapeno, Cut In Half
Instructions 
Start by mixing warm whole milk with 1/4 tbsp of sugar in a bowl. Add the dry active yeast, and let it sit for 7 to 10 minutes until it becomes foamy and bubbly on top.

In another bowl, sift together 1 2/3 cups of all-purpose flour and 1/3 cup of potato flour. If you don't have potato flour, you can use all-purpose flour instead. Add 2 tablespoons of sugar and 1/2 teaspoon of salt, and give it a good mix.

In a separate bowl, melt 2 tablespoons of butter.

In a large mixing bowl, combine the egg and the yeast, milk, and sugar mixture. Mix them together.

Gradually add the flour mixture to the wet ingredients while mixing. Start slowly and then increase the speed until the dough comes together. Scrape down the sides of the bowl to ensure everything is mixed well.

The dough will be sticky, so if you're kneading by hand, be prepared for that. If it gets too sticky, you can add a bit more flour.

Cover the dough with a plastic in a a bowl and let it rise until it doubles in size. This should take about an hour.

After the first rise, knead the dough on a floured work surface for about 5 minutes to release gas. You can add a bit of oil instead of flour to prevent the dough from drying out.

Let the dough rest for another hour or until it doubles in size again.

After the second rise, turn the dough out onto a floured surface.

Divide the dough into 8 pieces.

Roll out the dough and place an American cheese slice, a frank sausage, and a jalapeno pepper on each portion. Fold the dough over the cheese, sausage, jalapeno and pinch it closed.

Place the filled kolaches on a baking sheet, cover them with a towel, and let them rest for 35 to 40 minutes.

Preheat your oven to 350 degrees Fahrenheit (175 degrees Celsius).

Before baking, brush the kolaches with melted butter.

Bake the kolaches in the preheated oven for approximately 18-22 minutes or until they're golden brown.

Once baked, remove them from the oven and let them cool a bit before enjoying.

Serve your delicious Shipley's Kolaches warm and enjoy!
Nutrition
Serving:
1
Kolache
Calories:
403
kcal
(20%)
Carbohydrates:
34.5
g
(12%)
Protein:
15.9
g
(32%)
Fat:
22.8
g
(35%)
Saturated Fat:
10.6
g
(66%)
Polyunsaturated Fat:
0
g
Monounsaturated Fat:
0
g
Trans Fat:
0
g
Cholesterol:
80
mg
(27%)
Sodium:
925
mg
(40%)
Potassium:
237
mg
(7%)
Fiber:
1.6
g
(7%)
Sugar:
8.8
g
(10%)
Calcium:
157
mg
(16%)
Iron:
2
mg
(11%)
Tried This Recipe?
Let Us Know How It Was & Give Ratings.
Our Other Recipes:
Variations & Tips For Shipley's Kolaches Recipe
Variations:
Sweet Kolaches: Instead of beef franks, try filling the dough with sweet options like fruit preserves, cream cheese, or chocolate chips for a delicious dessert twist.
Cheesy Delight: For a cheesy variation, use shredded cheddar, mozzarella, or your favorite cheese instead of beef franks. Add some jalapeños for a spicy kick.
Veggie Delight: Make it vegetarian by stuffing the dough with sautéed vegetables, like bell peppers, onions, and mushrooms, seasoned with your favorite herbs and spices.
Tips:
Keep the Dough Moist: If the dough gets too sticky while kneading, use a little oil on your hands and work surface instead of flour to maintain its soft texture.
Perfect Timing: Keep an eye on the baking time; it can vary depending on your oven. The kolaches should be golden brown when done.
Get Creative: Don't be afraid to experiment with different fillings and shapes. Kolaches can be round, square, or even twisted for a unique look and taste. Enjoy the creative process!
what to serve with Shipley's Kolaches?
You can serve various things with Shipley's Kolaches to make a tasty meal:
Beverages: Enjoy them with a hot cup of coffee, a glass of milk, or even some fruit juice for a refreshing drink.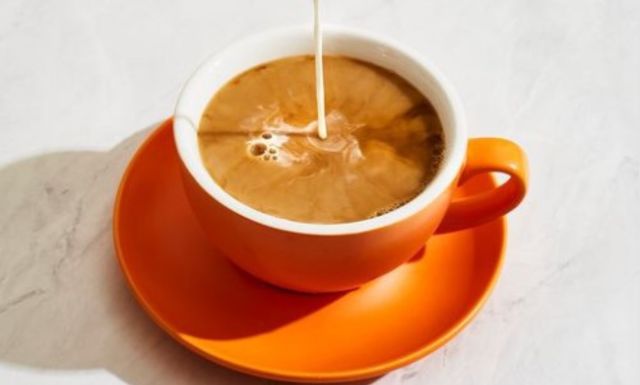 Fruit: Fresh fruits like sliced oranges, berries, or a fruit salad can add a healthy and colorful touch to your meal.
Sides: Consider some classic breakfast sides like scrambled eggs, bacon, or hash browns for a heartier breakfast.
Yogurt: A small bowl of yogurt with honey or your favorite yogurt topping can be a nice addition to a balanced meal.
Condiments: Serve with ketchup, mustard, or hot sauce for those who like a bit of extra flavor with their kolaches.
Vegetables: If you prefer a healthier option, a side of mixed greens or a simple salad can complement the savory kolaches nicely.
Our Other Recipes:
FAQs about Making Kolaches Recipe
Can I use regular milk instead of whole milk?
Yes, you can use regular milk if you don't have whole milk. Just make sure it's warm.
How many kolaches does this recipe make?
This recipe makes about 8 to 10 kolaches, depending on the size of the franks or fillings you use.
Can I make sweet kolaches with this dough?
Absolutely! You can fill the dough with sweet fillings like fruit preserves, cream cheese, or chocolate chips for a dessert version.
how do store leftover Kolaches?
To store kolaches, let them cool completely. Wrap them individually in plastic wrap or aluminum foil to keep them fresh. Place them in an airtight container or a resealable plastic bag. Store in the refrigerator for up to 3-4 days or freeze for a longer shelf life.
how to reheat kolaches?
To reheat kolaches, preheat your oven to 350°F (175°C). Remove them from the fridge or freezer. For refrigerated kolaches, heat for about 10 minutes. For frozen kolaches, heat for 20-25 minutes. They'll be warm and delicious. Alternatively, microwave them for 20-30 seconds if you prefer a quicker option.
Our Other Recipes:
Conclusion
Shipley's Kolaches are a yummy breakfast treat with soft, sweet dough filled with tasty fillings like sausage, cheese, and jalapeno. They're a popular choice to enjoy with coffee or other drinks.
You can also get creative by making sweet or vegetarian variations. Storing and reheating them is easy, making them a convenient snack or breakfast option.
Whether you're a fan of savory or sweet, Shipley's Kolaches offers a delightful and satisfying way to start your day. Give them a try, and you'll see why they're loved by many for their delicious taste and fluffy texture!