If you are a fan of potato soup then this Eat N Park Potato Soup Recipe is for you. In this post, I have shared the Popular Eat N Park Potato Soup Recipe with some useful information that you will like a lot I hope.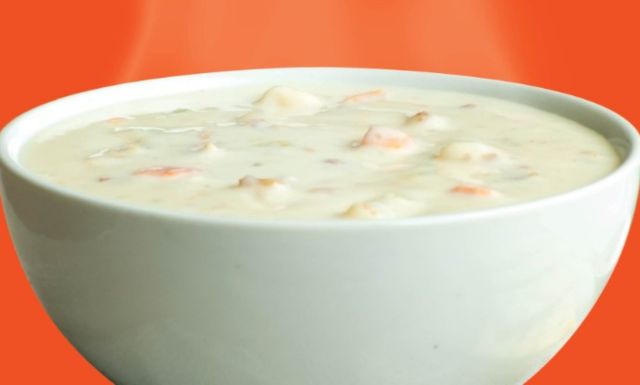 What is Eat N Park Potato Soup?
Eat N Park Potato Soup is a creamy and comforting soup made from fresh ingredients. It's a popular dish often served in the Eat'n Park restaurant chain. This delicious soup features chopped potatoes, onions, celery, carrots, and crispy bacon bits. These ingredients are simmered together in chicken broth until the potatoes are tender.
To make the soup creamy, a roux is prepared by mixing butter and flour, then combined with half and half. This roux mixture is added to the soup as it simmers to give it a velvety texture.
Salt, pepper, and a little fresh parsley are used to season the soup. It's the ideal option for a hearty and filling lunch on a chilly day. Many people love its creamy consistency and the savory bacon topping, making it a beloved comfort food option.
The Ingredients & Equipment Needs For Eat N Park Potato Soup
The ingredients and equipment are as follows:
Ingredients:
Butter: You will need 3 tbsp of unsalted butter, divided. Use Kerrygold or Darigold brand unsalted butter.
Olive Oil: You will need 1 tbsp of extra virgin olive oil. Use Pompeian or A Z brand extra virgin olive oil.
Vegetables: You will need 1 medium white onion, 1 stalk of celery, 1/2 cup of diced carrots, 1 tsp of chopped fresh parsley, and 5 cups of chopped & peeled potatoes. Chop the onion, parsley, and potatoes and dice the carrot with a knife as preparation.
Water: You will need 2 cups of water.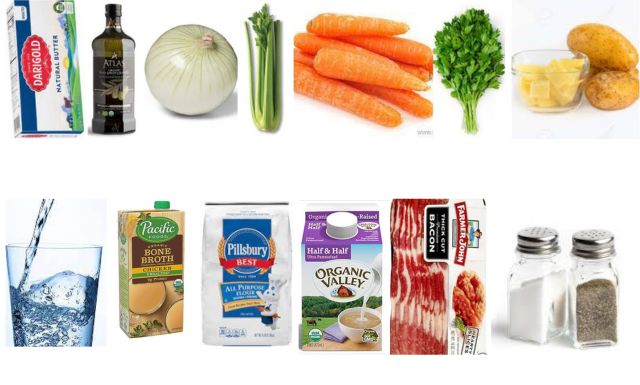 Chicken Broth: You will need 4 cups of chicken broth. Use Pacific Foods or Swanson brand chicken broth for the best outcomes.
Flour: You will need 2 tbsp of all-purpose flour. Use Whitelily or Pillsbury brand all-purpose flour to get the best result.
Half and Half: You will need 1 cup of Half & Half. Use Land O Lakes or Organic Valley brand half & half to get the best result.
Bacon: You will need 4 strips of crispy cooked bacon, crumbled. Pederson's Natural Farms or Farmer John brand bacon.
Salt & Pepper: You will need 1/2 tsp of salt and freshly ground black pepper to taste. Use Morton brand salt and McCormick brand black pepper.
Equipment:
You will need a Pot Or Dutch Oven, Immersion Blender, Microwave, Saucepan, Measuring Cup, Measuring Spoon, Knife, Cutting Board, and Serving Bowl.
So, let's see How To Make Eat N Park Potato Soup Recipe at Home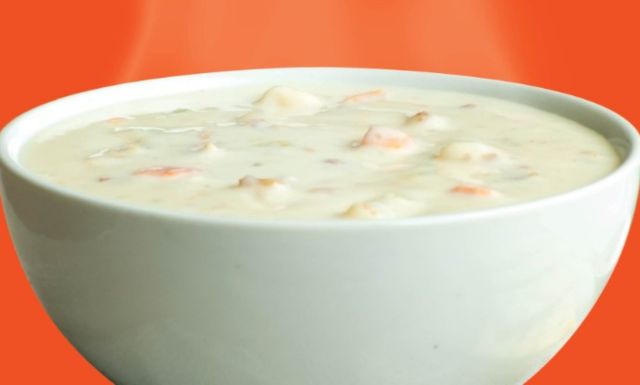 Eat N Park Potato Soup Recipe
Follow this Eat N Park Potato Soup Recipe ingredients and directions to make the perfect Potato Soup like Eat N Park restaurant.
Equipment & Tools
Pot Or Dutch Oven

Immersion Blender

Microwave

Saucepan

Measuring Cup

Measuring Spoon

Knife

Cutting Board

Serving Bowl
Ingredients  
3

tbsp

Unsalted Butter (divided)

1

tbsp

Extra Virgin Olive Oil

1

Medium

Onion (Chopped)

1

Stalk

Celery (Chopped)

½

cup

Finely Diced Carrots

1

tsp

Chopped Fresh Parsley

5

cups

Chopped and Peeled Potatoes

2

cups

Water

2

tbsp

All-Purpose Flour

½

tsp

Salt

Freshly Ground Black Pepper (to taste)
Instructions 
Heat a tablespoon of butter and the olive oil in a large pot or Dutch oven over medium heat until the butter melts.

To the pot, add the chopped onion, celery, and carrots. Stir occasionally and cook until they become soft, which takes about 4 to 6 minutes.

Toss in the chopped parsley and stir for about 10 seconds until it becomes fragrant.

Mix in the chopped and peeled potatoes.

Pour in 2 cups of water and 4 cups of chicken broth. Turn up the heat until it's simmering actively.

Reduce the heat to maintain a gentle simmer, and let it cook until the potatoes are very soft approximately 15 minutes.

Carefully blend the soup using an immersion blender or blend it in batches using a regular blender until it's smooth.

Melt the remaining 2 tablespoons of butter in a separate saucepan to make a roux.

Add 2 tablespoons of all-purpose flour to the melted butter. Cook over low heat while whisking constantly until the flour loses its raw smell, which should take about 5 minutes.

Warm up 1 cup of half and half in the microwave until it's hot, but be careful not to boil it. Slowly add a bit of the hot half and half into the hot roux while whisking continuously until the mixture is smooth.

Combine the roux mixture with the remaining hot half and half, stirring to combine.

Gently stir this mixture into the simmering potato soup.

Add the crumbled bacon bits, and season the soup with 1/2 teaspoon of salt and freshly ground black pepper to taste.

Let the soup simmer for an additional 10 to 20 minutes to allow the flour to soften and absorb the liquid. This step is important; if you don't simmer long enough, the roux might stay grainy.

Once the soup is well-mixed and heated through, it's ready to be served hot. You can garnish it with chopped parsley or shredded cheese.

Enjoy your homemade Eat N Park Potato Soup!
Tried This Recipe?
Let Us Know How It Was & Give Ratings.
Our Other Recipes:
Variations And Tips For Eat N Park Potato Soup Recipe
Variations:
Vegetarian Potato Soup: For a vegetarian version, omit the bacon and use vegetable broth instead of chicken broth. You can also add corn or broccoli for extra flavor and nutrition.
Cheesy Potato Soup: Make it cheesy by adding shredded cheddar or Monterey Jack cheese to the soup. Stir it in until it's melted and creamy for a cheesy twist on the classic recipe.
Spicy Potato Soup: Add a little heat by incorporating some diced jalapeños or a pinch of cayenne pepper. This variation will give your potato soup a spicy kick for those who enjoy a bit of heat.
Tips:
Blend Carefully: When blending the soup, be cautious with hot liquids. Allow them to cool slightly before using an immersion blender or transferring to a regular blender. This prevents splattering and burns.
Simmer for Flavor: Don't rush the simmering step after adding the roux. Simmer for the recommended time (10-20 minutes) to ensure the flour in the roux softens and blends well, preventing a grainy texture.
Adjust Seasoning: Before serving, taste your soup and adjust the salt and pepper to your liking. Sometimes, a little extra seasoning can make a big difference in flavor.
What To Serve with Eat N Park Potato Soup?
Eat N Park Potato Soup pairs well with a variety of sides and accompaniments. Here are some simple suggestions:
Crusty Bread or Dinner Rolls: A warm slice of crusty bread or some soft dinner rolls are perfect for dipping into the creamy soup. It's great for mopping up every last bit.
Side Salad: A light side salad with fresh greens, tomatoes, and a simple vinaigrette can add a refreshing contrast to the richness of the potato soup.
Grilled Cheese Sandwich: A classic grilled cheese sandwich makes a delightful companion to potato soup. The gooey cheese and crispy bread complement the creamy soup wonderfully.
Crackers or Breadsticks: If you prefer a simple option, some plain crackers or breadsticks are an easy and crunchy addition for dipping and scooping.
Fruit: A side of fresh fruit, such as apple slices or grapes, can provide a sweet and refreshing contrast to the savory soup.
Our Other Recipes:
FAQs about the Eat N Park Potato Soup recipe
Can I make this soup without bacon for a vegetarian version?
Yes, you can prepare a vegetarian version by omitting the bacon and substituting vegetable broth for chicken broth.
Is it necessary to peel the potatoes?
It's recommended to peel the potatoes for a smoother texture, but if you prefer a rustic soup, you can leave the skins on.
Can I use a regular blender if I don't have an immersion blender?
Yes, you can use a regular blender, but your soup should be slightly cooled before blending. Blend in batches and use caution when working with hot liquids.
How do I store leftover potato soup?
Refrigerate leftover soup in an airtight container for up to three to four days. Reheat it gently on the stove or in the microwave.
Can I freeze this soup for later?
Yes, you can freeze potato soup. Store it in a freezer-safe container for up to 2-3 months. Thaw in the refrigerator before reheating.
What can I substitute for half and half?
If necessary, you can substitute half-and-half with equal portions of milk and heavy cream.
Can I make this soup less spicy for kids?
Absolutely, skip the spicy additions like jalapeños or cayenne pepper if you're making it for kids or those who prefer a milder flavor.
Our Other Recipes:
Conclusion
Eat N Park Potato Soup is a warm and comforting dish that's easy to make at home. It's an excellent choice for a cozy meal because it only requires basic ingredients like potatoes, veggies, and creamy broth. You can customize it by adding bacon for a savory touch or making it vegetarian by omitting the bacon and using vegetable broth.
Remember to blend the soup carefully and simmer it well to achieve that smooth and creamy texture. For an easy dinner, you can serve it with bread, a salad, or even a grilled cheese sandwich. With these variations and tips, you can make this tasty potato soup easily at home.