If you are a fan of mashed potatoes then this 2 Chainz Mashed Potatoes Recipe is for you. In this post, I have shared the Popular 2 Chainz Mashed Potatoes Recipe with some useful tips that you will like a lot I hope.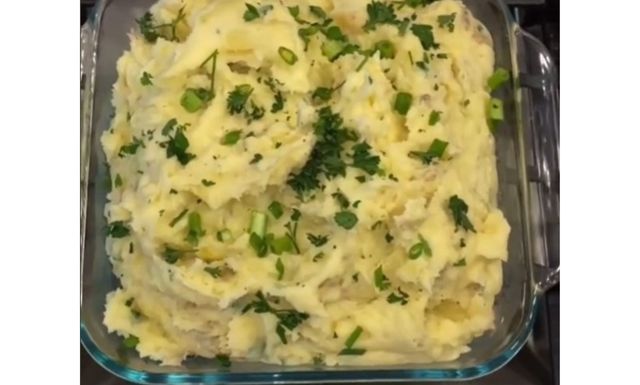 What Is 2 Chainz Mashed Potatoes?
American rapper Tauheed K. Epps, well known by his stage name 2 Chainz. A delicious recipe for garlic mashed potatoes with some intriguing directions can be found in 2 Chainz's new cookbook, "MEAL TIME."
The recipes were created with 2 Chainz's personal chef Chef Aleem, a magna cum laude graduate of Le Cordon Bleu College of Culinary Arts Atlanta.
Simply 9 ingredients and a few kitchen tools are required to make these delectable 2 Chainz Mashed Potatoes, which are detailed below.
The Ingredients Needs For 2 Chainz Mashed Potatoes:
Potatoes: Use Yukon Gold Potatoes or you can also use Russets potatoes (Yukon Gold Potatoes are recommended.)
Butter: Use Darigold or Land O Lakes brand unsalted butter for this recipe.
Heavy Cream: Use Land O Lakes or Great Value Brand Heavy cream for best results.
Garlic: You will need 3 tbsp of minced garlic and also need garlic powder for this delicious mashed potatoes recipe.
Sour Cream: Use Great Value All Natural Sour Cream or Use Daisy Sour Cream brand.
Parsley: You will need 1/4 cup of chopped parsley for good flavor.
Salt: Use Morton Kosher Salt or use you can use another brand of kosher salt.
Black Pepper: Use McCormick Ground Black pepper or you can use what you have in your kitchen.
Green Onions: Use chopped green onions as a garnish.
The Equipment & Tools Needs For City BBQ Potato:
Mixing Bowl, knife, Cutting Board, Measuring Cup, Measuring Spoon, Burner, Skillet Or Pot, and Wooden Spoon.
So, let's see How To Make the 2 Chainz Mashed Potatoes Recipe!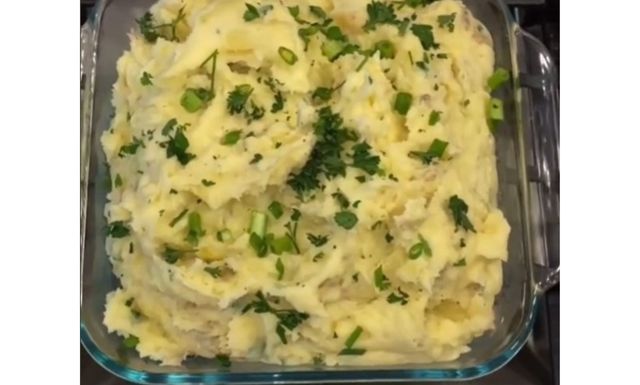 Popular 2 Chainz Mashed Potatoes Recipe
Follow these 2 Chainz Mashed Potatoes Recipe ingredients and directions and make perfect mashed potatoes like 2 Chainz personal chef "Chef Aleem".
Equipment & Tools
Knife

Cutting Board

Burner

Skillet Or Pot

Colander

Measuring Cup

Measuring Spoon

Mixing Bowl

Wooden Spoon
Ingredients  
For Boil The Potatoes:
3

lb

Yukon Gold Potatoes

½

tsp

Salt

Water
For Mashed Potatoes:
2

cups

Heavy Whipping Cream

3

tbsp

Minced Garlic

½

tsp

Garlic Powder

¼

cup

Chopped Parsley

Kosher Salt, To Taste

Ground Black Pepper, To taste

Chopped Parsley And Green Onions For Garnish
Instructions 
For Boil The Potatoes:
Remove any dirt and debris from the potatoes by rinsing and scrubbing them.

Peel 1 1/2 lb of potatoes with a vegetable peeler and leave the 1 1/2 lb potatoes skin on.

Cut into 2-inch-long sizes

Put potatoes in a big pot and add 1 inch of water on top of that.

Add 1/2 teaspoon of salt and bring to a boil.

Once boiling, turn the heat down to low and maintain a rapid simmer.

Cook for 11 to 13 minutes and then check the potato cubes with a fork for tenderness.
For Mashed Potatoes:
Heat the unsalted butter in a saucepan at medium-low heat.

Add minced garlic and cook until garlic is a little bit tender.

Add heavy cream, ground black pepper, garlic powder, and salt, and bring the mixture to a boil.

Strain potatoes through a golden colander, and place them in a separate bowl.

After mashing the potatoes with a potato masher, beat them even more with a strong wooden spoon.

Add chopped parsley and sour cream to the potatoes.

While whisking, gradually adds the warm cream mixture to the potatoes to get a creamy, smooth texture.

If necessary, add more salt, pepper, or garlic powder to enhance the flavor.

As a garnish, use some chopped parsley and green onions.

Serve on a plate and enjoy!
Nutrition
Serving:
250
grams
Calories:
257
kcal
(13%)
Carbohydrates:
18.3
g
(6%)
Protein:
3.2
g
(6%)
Fat:
20.1
g
(31%)
Saturated Fat:
12.5
g
(78%)
Polyunsaturated Fat:
0
g
Monounsaturated Fat:
0
g
Trans Fat:
0
g
Cholesterol:
68
mg
(23%)
Sodium:
56
mg
(2%)
Potassium:
435
mg
(12%)
Fiber:
1.4
g
(6%)
Sugar:
0.8
g
(1%)
Calcium:
57
mg
(6%)
Iron:
1
mg
(6%)
Tried This Recipe?
Let Us Know How It Was & Give Ratings.
Our Other Helpful Recipes:
Valuable Tips
What To Serve With 2 Chainz Mashed Potatoes?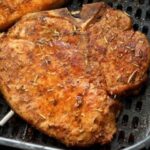 Pork Chops In the Air Fryer: Pork chops are an excellent main course to serve with mashed potatoes. Pork chops can be prepared in a variety of ways, and air frying is one of the best. Pork chops need only be breaded and baked.
Green Beans and Bacon: The ideal side dish to serve with 2 Chainz Mashed Potatoes is green beans and bacon. The dish is very easy to prepare and cooks quickly.
Homemade Meatloaf Recipe With Jiffy: Homemade meatloaf cooked with Jiffy Corn Muffin Mix is a staple. It's ideal for a special event or for a weeknight dinner. It is fork-tender and goes well with Yukon Gold potatoes or your preferred method of making mashed potatoes.
How To Store 2 Chainz Mashed Potatoes?
In The Fridge: In the refrigerator, 2 Chainz mashed potatoes can be kept for 3-5 days in an airtight container. However, bear in mind that dishes containing additional dairies, such as butter and sour cream, may spoil more quickly than dishes with only potatoes. And for optimal results, place them in the back of the refrigerator.
In The Freezer: When it's time to freeze the mashed potatoes, portion them out into 1-cup portions on a baking sheet lined with parchment paper, place the baking sheet in the freezer until the potatoes are frozen solid, and then store the portions in separate resealable plastic bags that are safe to store in the freezer.
How To Reheat 2 Chainz Mashed Potatoes?
In The Oven: Mashed potatoes can defrost overnight in the refrigerator. Frozen or thawed potatoes should be placed in a covered oven-safe dish and cooked for 20 to 30 minutes at 350°F while stirring occasionally.
In The Microwave: Take the frozen mashed potatoes out of the bag and put them on a plate that can go in the microwave. Cover the dish to retain some of the steam, and cook on 50% power for 5 minutes, stirring regularly.
Our Other Helpful Recipes:
Conclusion
The 2 Chainz Mashed Potatoes Recipe is worth trying. It only needs a few kitchen tools, 9 ingredients, and 35 minutes to make these delectable mashed potatoes at home. These mashed potatoes serve well as a side dish at any event or gathering.
Simply assemble the ingredients, then prepare these delectable mashed potatoes for your loved ones. I hope you like these 2 Chainz Mashed Potatoes Recipe. Please leave a comment below and share this mashed potato dish with your loved ones if you liked it.