If you are a fan of New Orleans food then this Yats Bread Recipe is for you. In this post, I have tried to share the Best Yats Bread Recipe with Some valuable information that you will like a lot I hope.
What Is Yats Bread?
Yats Bread is a delightful creation that originated in New Orleans, Louisiana. This delicious side dish is unique by its use of French bread as its base. The bread is cut in half along its length, exposing its tender interior.
The main attraction of Yats Bread is its flavorful topping, which is made up of melted butter, minced garlic, and a mix of Cajun seasonings. These seasonings contain dried parsley, onion powder, oregano, thyme, and a dash of cayenne pepper for a spicy kick.
The herb-infused, buttery mixture is evenly spread on the cut surfaces of the bread. The bread keeps its fluffy texture during baking and gets a lovely crisp outside. A harmonious mix of savory and aromatic aromas develops as a result, which complements the colorful food of New Orleans.
Yats Bread can be served as a delicious accompaniment to classic New Orleans dishes such as jambalaya or gumbo, or as a snack or appetizer on its own.
The Ingredients & Equipment Needs For Yats Bread
The ingredients and equipment are as follows:
Ingredients:
Bread: You will need 2 large-size French Bread loaves. Alternatively, you can use any crusty bread.
Butter: You will need 1 cup of melted butter. Use Kerrygold or what you have best quality unsalted utter.
Garlic: You will need 6 cloves of garlic. Mince the garlic cloves as preparation.
Cajun Seasoning: You will need 2 tbsp of Cajun seasoning. Use homemade Cajun seasoning or you can use McCormick brand Cajun seasoning to get the best result.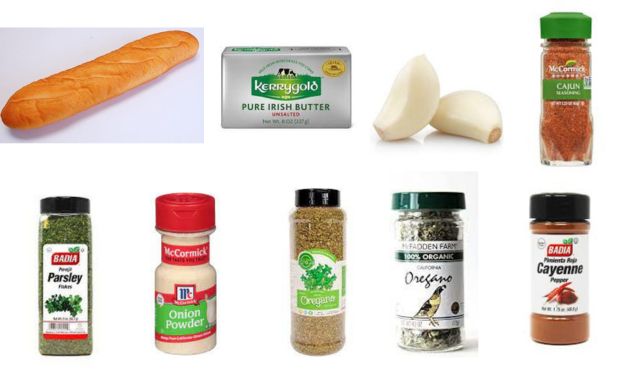 Dried Parsley: You will need 2 tbsp of dried parsley. McCormick or Badia brand dried parsley is recommended.
Onion Powder: You will need 1 tsp of onion powder. Use onion powder from the McCormick or Simply Organic brands.
Dried Oregano: You will need 1 tsp of dried oregano. McCormick or Eat Well Premium Foods brand dried oregano is recommended.
Dried Thyme: You will need 1 tsp of dried thyme. Use Mcfadden Farm brand dried thyme or you can use what you have on hand.
Cayenne Pepper: You will need 1/2 tsp of Cayenne pepper. Use Member's Mark or Badia brand Ground Cayenne Pepper.
Equipment:
You will need Mixing Bowl, Hand Mixer, Measuring Cup, Measuring Spoon, Knife, Baking Tray, and Oven.
So, let's see How To Make Yats Bread Recipe at Home!
Yats Bread Recipe
Follow this Yats Bread Recipe ingredients and directions and make the Yats bread like a professional bakery chef.
Equipment & Tools
Mixing Bowl

Hand Mixer

Measuring Cup

Measuring Spoon

Baking Tray

Oven
Ingredients  
2

Large

French Bread Loaves

6

Cloves

Garlic, Minced

1

tsp

Onion Powder

1

tsp

Dried Oregano

1

tsp

Dried Thyme

½

tsp

Cayenne Pepper
Instructions 
Preheat your oven to 375°F (190°C).

Cut the French bread loaves lengthwise into two long parts.

In a small bowl, mix together the softened butter, minced garlic, Cajun seasoning, dried parsley, onion powder, dried oregano, dried thyme, and cayenne pepper.

Spread the butter mixture evenly over the cut sides of the bread.

Place the bread halves on a baking sheet and bake for 13-15 minutes, or until the bread is crispy on the outside and soft on the inside.

Remove the bread from the oven and let it cool for a few minutes before slicing into individual servings.

Serve the Yats bread as a side dish with your favorite New Orleans-style cuisine, or enjoy it as a snack or appetizer on its own.

Enjoy your homemade Yats bread!
Notes
This recipe works best with French bread, but other crusty bread varieties can be substituted if desired.
Before mixing it with the other ingredients, make sure the butter is melted for easier spreading.
Adjust your amount of Cajun seasoning and cayenne pepper to your taste for heat. Adjust the amounts according to your preferences.
If you do not have dried parsley, you can substitute fresh. Use about 2 tablespoons of chopped fresh parsley.
Feel free to customize the flavor with other herbs and seasonings. Among the most popular additions are paprika and Italian seasoning.
Depending on your oven, the baking time may vary slightly; therefore, keep a watch on the bread to avoid overcooking.
Once the bread has been prepared, it can be cut into individual servings or served in larger portions for sharing.
Nutrition
Serving:
1
slice
Calories:
140
kcal
(7%)
Carbohydrates:
3.7
g
(1%)
Protein:
0.9
g
(2%)
Fat:
15.6
g
(24%)
Saturated Fat:
9.7
g
(61%)
Polyunsaturated Fat:
0
g
Monounsaturated Fat:
0
g
Trans Fat:
0
g
Cholesterol:
41
mg
(14%)
Sodium:
163
mg
(7%)
Potassium:
20
mg
(1%)
Fiber:
0.3
g
(1%)
Sugar:
0.3
g
Calcium:
19
mg
(2%)
Iron:
1
mg
(6%)
Tried This Recipe?
Let Us Know How It Was & Give Ratings.
Our Other Recipes:
Variations And Tips For Yats Bread Recipe:
Cheesy Yats Bread: Before making Cheesy Yats Bread, sprinkle mozzarella or cheddar cheese shreds over the butter mixture. The cheese will melt and form a delectable crust of melted cheese.
Herb-infused Butter: Try mixing various herbs and seasonings into the butter mixture. Add chopped fresh basil, rosemary, or thyme to enhance flavor and aroma.
Spicy Kick: Increase the amount of cayenne pepper or add a dash of hot sauce to the butter mixture if you desire a spicier version. You can adjust the heat level to your preference.
Garlic Herb Dip: Serve the Yats bread with a garlic herb spread. Combine minced garlic and fresh herbs such as parsley and chives with mayonnaise or sour cream to create a delectable dipping sauce.
Toasted Garlic Topping: Toast some minced garlic in a small pan with olive oil until golden and crisp. Before baking, sprinkle the toasted garlic on the buttered bread to give it a crunchy and aromatic element.
Storing and Reheating: If you have leftovers, keep them at room temperature in an airtight container. To reheat the bread, place it in a 350°F (175°C) oven that has been preheated for a few minutes. Microwaving can cause bread to become spongy.
Try these variations and tips to make your Yats bread even tastier and more personalized for your tastes.
What To Serve With Yats Bread?
Yats Bread is a versatile side dish that pairs with many different dishes. Here are a few pairing ideas for Yats Bread:
New Orleans-Style Dishes: Yats Bread is traditionally served as a side dish with dishes prepared in the New Orleans style. Serve it with traditional dishes such as jambalaya, gumbo, red beans and rice, and étouffée.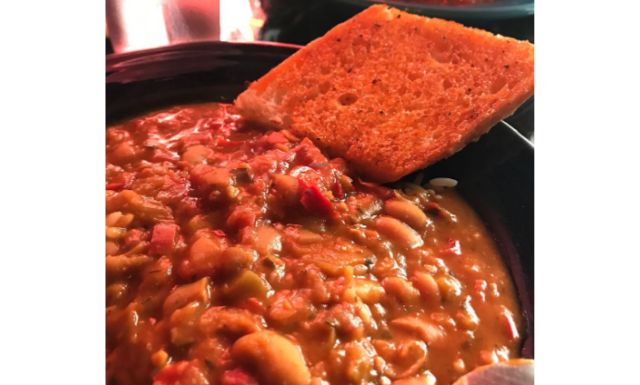 Seafood Delights Seafood Delights: Yats Bread pairs beautifully with seafood dishes. Serve it with shrimp or crawfish bowls, fish grilled or blackened, crab cakes, or seafood pasta.
BBQ and Grilled Meats: The flavorful, buttery Yats Bread is an ideal complement to barbecued or grilled meats. Serve it with ribs, pulled pork, smoked chicken, or sausages cooked on the grill.
Soups and Stews: Serve Yats Bread with soups and stews. It complements gumbo, chili, corn chowder, and even traditional tomato soup.
Dips and Spreads: Yats Bread can be enjoyed with a variety of dips and spreads. Serve with spinach and artichoke dip, hummus made with roasted red peppers, or a creamy crab dip.
Enjoy on Its Own: Yats Bread is enough flavorful to be enjoyed on its own as a snack or appetizer. For serving, serve as a side dish with herb-infused butter or olive oil.
Our Other Recipes:
Frequently Asked Questions About Yats Bread Recipe
Can I use salted butter instead of unsalted butter?
It's best to use unsalted butter in this recipe, as it allows you to control the saltiness of the bread. If you only have salted butter on hand, you can use it, but consider reducing the amount of additional salt in the recipe.
Can I make Yats Bread ahead of time?
Yats Bread is best enjoyed fresh from the oven when its outside is crisp and the inside is soft. However, you can prepare and refrigerate the butter mixture in advance. When ready to serve, spread the mixture on the bread and bake until the desired texture is reached.
How should I store leftover Yats Bread?
If you have leftovers, keep them for two days at room temperature in an airtight container. Refrigerating the bread can cause it to lose its crispy texture. Reheat the bread in the oven at a low setting until it is well heated.
Can I freeze Yats Bread?
While it's possible to freeze Yats Bread, it may affect the texture and freshness. It is recommended to enjoy the bread fresh for the best taste and texture.
Can I make Yats Bread gluten-free?
To make a gluten-free version of Yats Bread, gluten-free bread or gluten-free bread rolls must be used. Adjust the recipe as necessary and check that all of the ingredients, including the seasonings, are gluten-free.
Our Other Recipes:
Conclusion
Yats Bread is a delicious side dish that pairs well with New Orleans-style cuisine or serves as a snack or appetizer on its own. This recipe is a simple yet irresistible blend of melted butter, aromatic garlic, and Cajun seasonings.
The result is a crispy, golden exterior with a soft and buttery interior. The versatility of Yats Bread allows for various adaptations and pairings, such as adding cheese, experimenting with different herbs, or serving it alongside an array of dishes.
Whether you're enjoying seafood, barbecue, or soups and stews, Yats Bread enhances the flavor of any dish. So, give this recipe a try, and let the flavors of New Orleans infuse your taste buds with every delightful bite of Yats Bread.