If you are a fan of crispy cookies then this Italian Leaf Cookies Recipe is for you. In this post, I have tried to share the Best Italian Leaf Cookies Recipe with Some valuable information that you will like a lot I hope.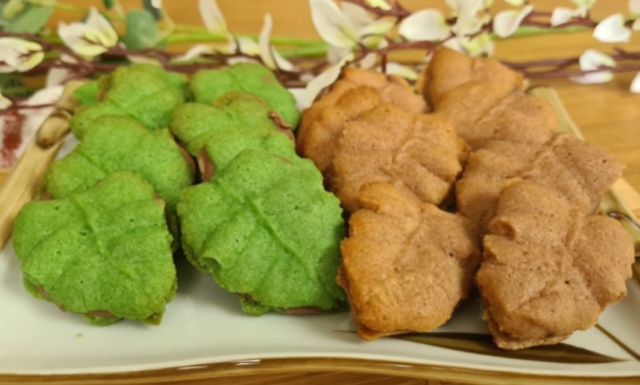 What Is Italian Leaf Cookies?
Leaf Cookies is an Italian treat and these tiny little crunchy cookies are so tempting with their lovely chocolatey bit in the middle. These Italian cookies are leaf-shaped cookies which are looking so nice and are a very delicious snack.
Italian Leaf Cookies are easy to make and need only 35 minutes of baking time. You will need to make these cookies with unsalted Butter, Caster Sugar, Egg, Vanilla Extract, Plain Flour, Baking Powder, Salt, food color, and tempered chocolate.
These Crispy Italian Leaf Cookies require only 9 ingredients and some basic culinary equipment, which I explained in more detail below.
The Ingredients & Equipment Needs For Italian Leaf Cookies
The ingredients and equipment are as follows:
Ingredients:
Butter: You will need 1 cup of unsalted butter. Use Kerrygold or Land O Lakes brand unsalted butter or use what you have on hand.
Sugar: You will need 2/3 cup of caster sugar. For sweetness, use Judee's Gluten Free brand Caster Sugar or use Domino brand.
Egg: You will need 1 large egg for the cookie batter. The Happy Egg Co. brand egg is recommended.
Flour: You will need 1 7/8 cups of plain flour. Use Pillsbury or White Lily brand plain flour to get the best result.
Vanilla Extract: You will need 1 tsp of vanilla extract. Use pure vanilla extract from the Kirkland Signature or McCormick brands.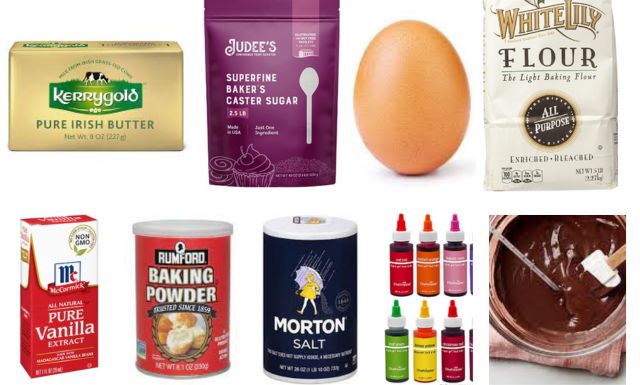 Baking Powder: You will need 1/2 tsp of baking powder. Use Clabber Girl or Rumford brand baking powder.
Salt: You will need Morton brand salt to your liking.
Food Color: You will need 3 drops of liquid food color for green cookies and 3 drops for red color cookies. Use Chefmaster or Happy Belly brand liquid food color.
Tempered Chocolate: You will need 1 cup of tempered chocolate to make the cookie sandwiches.
Equipment:
Mixing Bowl, Hand Mixer, Measuring Cup, Measuring Spoon, Baking Tray, and Oven.
So, let's see How To Make Italian Leaf Cookies Recipe at Home!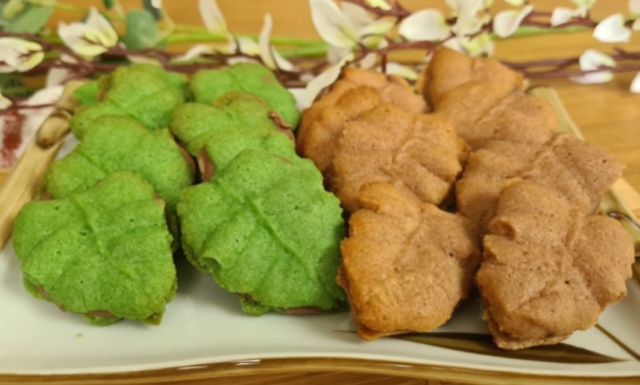 Italian Leaf Cookies Recipe
Follow this Italian Leaf Cookies Recipe ingredients and directions and make perfect colored leaf cookies like Italian Bakery Chef.
Equipment & Tools
Mixing Bowl

Hand Mixer

Measuring Cup

Measuring Spoon

Baking Tray

Oven
Instructions 
Preheat your oven to 350 degrees Fahrenheit.

With the hand mixer, cream 1 cup Unsalted Butter and 2/3 cup Caster Sugar together in a mixing bowl.

Add 1 tsp vanilla extract, and 1 egg and beat well.

Add 1 7/8 cups plain flour, 1/2 tsp baking powder, and salt to taste and fold in.

Split this batter into 2 small bowls and color each one with a little food coloring (I made green and pink).

Put them in the fridge for 30 minutes.

Remove from the fridge and roll the dough and cut with leaf-shaped cutters or pipe with a leaf piping nozzle.

Bake on baking trays lined with baking paper for 20 mins and then cool completely.

Sandwich together with tempered chocolate, leave to set, and enjoy!
Nutrition
Serving:
1
Cookie Sandwich
Calories:
230
kcal
(12%)
Carbohydrates:
34.2
g
(11%)
Protein:
4
g
(8%)
Fat:
8.7
g
(13%)
Saturated Fat:
5.4
g
(34%)
Polyunsaturated Fat:
0
g
Monounsaturated Fat:
0
g
Trans Fat:
0
g
Cholesterol:
29
mg
(10%)
Sodium:
12
mg
(1%)
Potassium:
82
mg
(2%)
Fiber:
1.1
g
(5%)
Sugar:
12.3
g
(14%)
Calcium:
29
mg
(3%)
Iron:
2
mg
(11%)
Tried This Recipe?
Let Us Know How It Was & Give Ratings.
Our Other Recipes:
Valuable Information
What To Pair With Italian Leaf Cookies?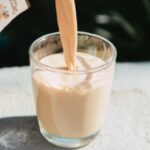 Italian Leaf Cookies contain only premium, locally sourced ingredients and are rich in flavor. You may already be aware that cookies pair well with milk, coffee, and ice cream, but you have also considered wine. The combination of wine and cookies is ideal for parties, holiday gatherings, and even a delectable date night.
How To Store Italian Leaf Cookies?
Crispy cookies are best stored in glass containers. Instead of storing it in plastic bags, use a container with a lid. The crispness of cookies will be maintained by refrigeration.
Italian Leaf Cookies can be kept at room temperature for 14 days and in the refrigerator for two months. Cookies kept in the freezer for six months retain their quality.
How To Reheat Italian Leaf Cookies?
By preheating the oven to 350 degrees Fahrenheit and placing the cookies on a baking sheet lined with parchment paper, you can reheat the cookies in just a few minutes. It is essential to keep a close eye on the cookies as they reheat in the oven so they do not become too dry or overcooked.
What Are The Health Benefits Of Italian Leaf Cookies?
Italian Leaf Cookies' main ingredients are flour, butter, and egg, which have many health benefits. They are as follows:
Flour: Italian Leaf Cookies are nutrient- and protein-dense. Cookies contain plain flour, a nutrient-dense source of protein, vitamins, fiber, and minerals that contribute to a stable metabolism and a subsequent increase in energy.
Butter: Unsalted butter contains vitamin D, a necessary component for the growth and development of bones. It also has calcium, which is necessary for healthy bones.
Egg: Eggs are nutrient-dense, provide high-quality protein, increase "good" cholesterol levels, and are an exceptional source of vitamin D.
Our Other Recipes:
Conclusion
Italian Leaf Cookies Recipe is worth trying. It takes only 1 hour and 5 minutes and 9 simple ingredients to prepare a batch of Italian Leaf Cookies. Everyone who likes crisp cookies should try them as soon as possible.
The Italian Leaf Cookies Recipe encourages and teaches you to try new things. Let your friends know about this leaf cookie recipe, and then add a comment to let us know what you think.