If you are looking for Wingstop Voodoo Fries Recipe then you are on the right blog page. In this post, I have tried to make the Copycat Wingstop Voodoo Fries Recipe with some useful information that you will like a lot I hope.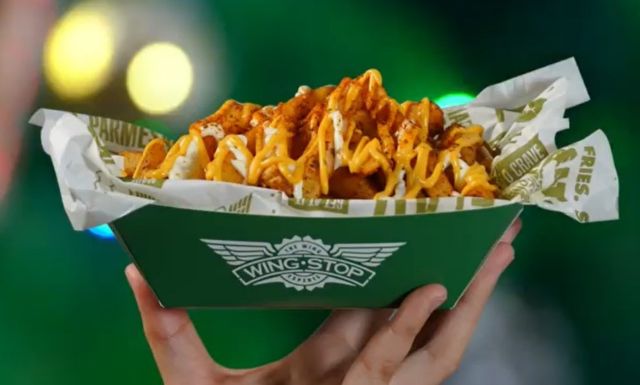 what is Wingstop Voodoo Fries?
Wingstop Voodoo Fries is a delicious and flavorful appetizer that combines crispy fries with a unique Cajun twist that is served at Wingstop Restaurant. These Voodoo Fries are made with russet potatoes, these fries are first steamed to keep them fluffy on the inside, then baked until golden and crispy.
They are seasoned with a special Cajun spice blend, giving them a zesty kick. To add even more mouthwatering goodness, the fries are drizzled with creamy ranch dressing and a rich cheese sauce made from butter, milk, and cheddar cheese.
The result is a perfect balance of crispy, savory, and slightly spicy flavors that make Wingstop Voodoo Fries a favorite snack or side dish. With their irresistible taste and easy preparation, these fries are sure to be a hit at any gathering or as a treat for yourself.
The Ingredients & Tools Needs For Wingstop Voodoo Fries
The ingredients and Tools are as follows:
Ingredients For The Voodoo Fries:
Potatoes: You will need 9 medium potatoes. Use Russet potatoes to get the best result.
Water: You will need 1 1/2 quarts of fresh water to boil the potatoes.
Salt: You will need 4 tbsp of salt. Morton brand salt is recommended.
Olive Oil: You will need 3 tbsp of extra virgin olive oil. Colavita or Pompeian brand extra virgin olive oil is recommended.
Cajun seasoning: You will need 2 tbsp of Cajun seasoning. Use McCormick or Frontier brand cajun seasoning.
Ranch Dressing: You will need 1/3 cup of creamy ranch dressing (plus extra for dipping). Use California Pizza Kitchen or Generic brand creamy ranch dressing.
Ingredients For the Creamy Cheese Sauce:
Butter: You will need 3 tbsp of unsalted butter. Use Kerrygold or ECHIRE brand unsalted butter.
Milk: You will need 1 cup of milk. Prairie Farms Dairy or Crescent brand milk is recommended.
Flour: You will need 3 tbsp of flour. Use White Lily or Pillsbury brand all-purpose flour.
Cheddar Cheese: You will need 3 cups of shredded cheddar cheese. Use Kraft or Land O Lakes brand shredded cheddar cheese.
Equipment & Tools:
You will need a Stove, Pot, Cutting Board, Knife, Nonstick Baking Sheet, Oven, Measuring Cup, Measuring Spoon, Saucepan, Whisk, and Serving Plate.
So, let's see How To Make the Wingstop Voodoo Fries Recipe at Home!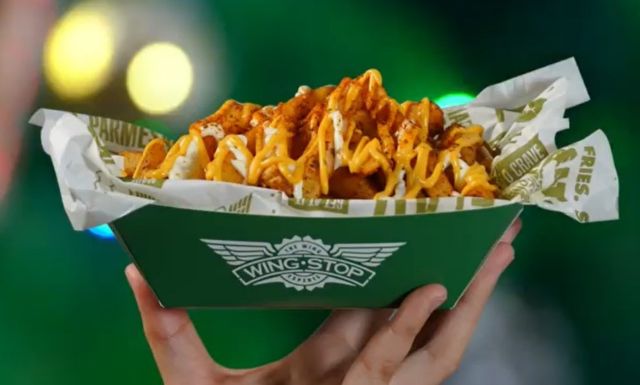 Wingstop Voodoo Fries Recipe
Follow this Wingstop Voodoo Fries Recipe ingredients and directions to make the perfect Voodoo Fries like Winstop Restaurant.
Equipment & Tools
Stove

Pot

Cutting Board

Knife

Nonstick Baking Sheet

Oven

Measuring Cup

Measuring Spoon

Saucepan

Whisk

Serving Plate
Ingredients  
For The Voodoo Fries:
9

Medium

Russet Potatoes

1 ½

Quarts

Water

4

tbsp

Salt
For the Creamy Cheese Sauce:
3

tbsp

Unsalted Butter

1

cup

Milk

3

tbsp

All-purpose Flour
Instructions 
Prepare The Voodoo Fries:
Wash and scrub the potatoes, then pat them dry.

Peel the potatoes and cut them into thick fries (3/4 inch by 3 inches).

Bring a pot of water to a simmer, adding 4 tablespoons of salt.

Steam the potatoes for about 10 minutes until a knife inserted comes out clean.

Transfer potatoes to a bowl, drizzle with olive oil, and toss to coat.

Place potatoes on a nonstick baking sheet in a single, even layer.

Bake at 450 degrees for 10 minutes, then rotate the pan and bake for an additional 6 to 10 minutes until golden.
Make the Creamy Cheese Sauce:
In a saucepan over medium heat, melt butter.

Slowly whisk in milk and flour, stirring until no lumps remain.

Add shredded cheese, stirring until melted and the sauce is creamy.
Season and Serve:
Sprinkle Cajun seasoning over baked fries and mix thoroughly.

Drizzle with ranch dressing and about 1/3 cup of the cheese sauce.

Reserve the remaining cheese sauce for dipping.
Notes
Peeling the potatoes is recommended for the best texture.
Be cautious not to over-steam the potatoes; they should not become mushy.
Use toppings sparingly initially to find the right flavor balance.
Serve extra ranch and cheese sauce on the side for dipping.
To reheat, arrange fries on a baking tray and heat in a 380-degree oven for about 15 minutes, watching closely to prevent burning.
Nutrition
Serving:
1
Plate
Calories:
323
kcal
(16%)
Carbohydrates:
28.8
g
(10%)
Protein:
9.8
g
(20%)
Fat:
19.2
g
(30%)
Saturated Fat:
9.1
g
(57%)
Polyunsaturated Fat:
0
g
Monounsaturated Fat:
0
g
Trans Fat:
0
g
Cholesterol:
42
mg
(14%)
Sodium:
272
mg
(12%)
Potassium:
665
mg
(19%)
Fiber:
3.9
g
(16%)
Sugar:
2.9
g
(3%)
Calcium:
243
mg
(24%)
Iron:
1
mg
(6%)
Tried This Recipe?
Let Us Know How It Was & Give Ratings.
Our Other Recipes:
Variations & Tips For Wingstop Voodoo Fries Recipe
Variations:
Spicy Kick: Add a pinch of cayenne pepper to the Cajun seasoning for an extra spicy kick to your Voodoo Fries. Adjust according to your heat preference.
Garlic Lovers' Twist: Mix minced garlic with the olive oil before tossing the fries for a garlicky flavor boost. This variation adds a savory element to complement the Cajun spices.
Sweet and Spicy Blend: Create a sweet and spicy fusion by adding a drizzle of honey over the baked fries before sprinkling with Cajun seasoning. The sweet touch balances the heat for a unique taste.
Tips:
Crispy Perfection: For the crispiest fries, ensure the potatoes are thoroughly dried after washing. The drier they are, the better they crisp up in the oven.
Balancing Flavors: Experiment with the amount of Cajun seasoning, ranch dressing, and cheese sauce to find your perfect flavor balance. Start with a light hand, and add more if needed.
Revive Leftovers: To revive leftover Voodoo Fries, reheat them in the oven at 380 degrees for about 15 minutes. This helps maintain their crispy texture without becoming soggy.
what to serve with Wingstop Voodoo Fries?
Serve Wingstop Voodoo Fries with tasty sidekicks to make a complete and satisfying meal! Pair them with crispy chicken wings for a classic combo, or go for a juicy burger for a hearty feast.
For a lighter option, a fresh salad with a zesty dressing can balance out the flavors. If you're feeling extra snacky, add some mozzarella sticks or onion rings for a variety of textures.
Don't forget a refreshing beverage like a cold soda or a fruity iced tea to wash it all down. The key is to have a mix of flavors and textures for a delightful eating experience.
Whether it's a casual gathering, game day, or just a fun meal, these Voodoo Fries are versatile enough to complement a range of dishes!
Our Other Recipes:
Frequently Asked Questions
Can I use a different type of potato for the fries?
Yes, you can try using other potatoes, but russet potatoes work best for their fluffy texture.
How do I prevent the fries from becoming mushy?
Avoid over-steaming the potatoes during preparation. They should be soft but not too mushy.
Can I adjust the spice level of the Cajun seasoning?
Absolutely! Add more or less Cajun seasoning based on your spice preference.
Are there any alternatives to the cheese sauce
Sure, you can experiment with different cheeses or use a store-bought cheese sauce if you prefer.
Can I make these fries ahead of time?
While it's best to enjoy them fresh, you can prepare the components ahead and assemble them when ready to serve for optimal crispiness.
how to store Wingstop Voodoo Fries?
To store Wingstop Voodoo Fries, refrigerate any leftovers in an airtight container. Keep the cheese sauce separate. When reheating, arrange fries on a baking tray in the oven at 380 degrees for about 15 minutes, ensuring they stay crispy. Avoid storing for too long to maintain their delicious texture.
How can I reheat leftover Voodoo Fries without making them soggy?
Reheat them in the oven at 380 degrees for about 15 minutes to maintain their crispy texture. Watch closely to prevent burning.
Our Other Recipes:
Conclusion
Wingstop Voodoo Fries are a tasty adventure for your taste buds. With crispy russet potatoes, a Cajun spice dance, and a cheesy hug, these fries are a flavor-packed delight. The easy-to-follow recipe lets you customize it with spicy kicks or garlic twists.
Whether it's a snack, side dish, or party treat, these fries are versatile and sure to bring smiles. Experiment with different pairings, find your perfect spice level, and savor the crispy goodness. Whip them up for a game night, family gathering, or just a solo treat – Wingstop Voodoo Fries is a delicious journey in every bite!