If you are looking for Wards Chili Recipe then you are on the right blog page. In this post, I have tried to make the Popular Wards Chili Recipe with some useful information that you will like a lot I hope.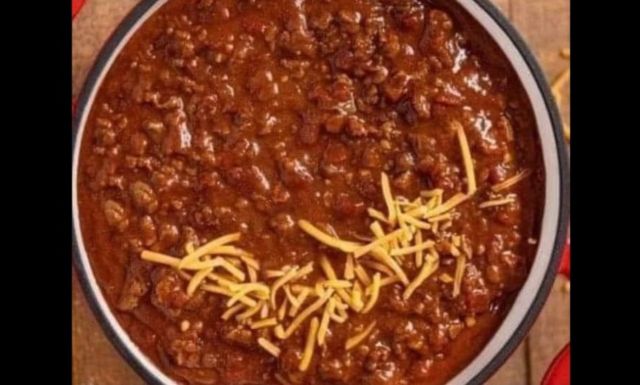 what is Wards Chili?
Wards Chili is a flavorful and comforting dish that is served at Wards Restaurant which brings together the richness of lean ground beef, vibrant vegetables, and a blend of aromatic spices. This hearty recipe, named after its creator Ward, starts by browning 90/10 lean ground beef in a pot.
After draining excess fat, Ward adds Hunt's petite diced tomatoes, water, finely chopped yellow onion, minced garlic, green bell pepper, and a mix of spices like chili powder, cumin seed, celery seed, cayenne pepper, and dried basil. The concoction is brought to a boil and then simmered for about 3 hours until it reaches the desired thickness.
To add a zesty kick, Tabasco sauce is shaken in to taste. This robust chili can be served with toppings like crackers, shredded cheese, or chopped onions for a satisfying and flavorful meal. Wards Chili is a perfect go-to recipe for those seeking a delicious and warming bowl of homemade comfort
The Ingredients & Tools Needs For Wards Chili
The ingredients and Tools are as follows:
Ingredients:
Ground Beef: You will need 1 1/4 lb of lean ground beef (90/10). Use Fresh brand lean ground beef to get the best chili.
Petite Diced Tomatoes: You will need 14 1/2 oz petite diced tomatoes. Use Hunt's brand petite diced tomatoes to get the best result.
Water: You will need 3 cups of fresh water to make the chili.
Vegetables: You will need 1 large yellow onion, 3 garlic cloves, and 1 green bell pepper. Chop the yellow onion, mince the garlic cloves, and chop the green bell pepper as preparation.
Bay Leaf: You will need a bay leaf. Use Arselia brand wild-dried bay leaf.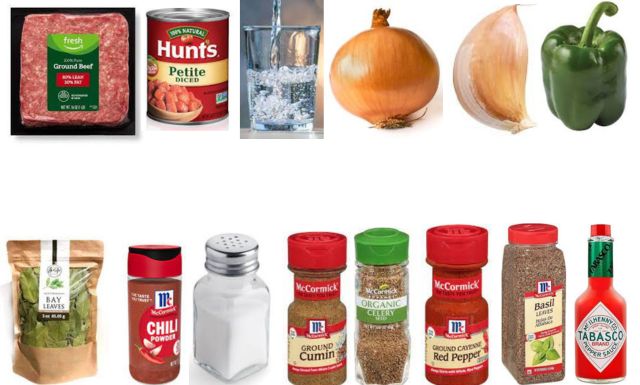 Spices & Herbs: You will need 2 tbsp of chili powder, 1 tsp of crushed cumin seeds, 1/4 tsp of celery seeds, 1/4 tsp ground cayenne pepper, and 1/8 tsp of crushed dried basil. Use McCormick brand herbs and spices to get the best result.
Salt: You will need 1 1/2 tsp of salt. Use regular cooking salt or use any best quality of salt.
Hot Sauce: You will need some sauce to your taste. Use Tabasco brand hot sauce.
Equipment & Tools:
You will need a Stove, Dutch oven, Mixing Bowl, Cutting Board, Knife, Measuring Cup, Measuring Spoon, and Serving Plate.
So, let's see How To Make the Wards Chili Recipe at Home!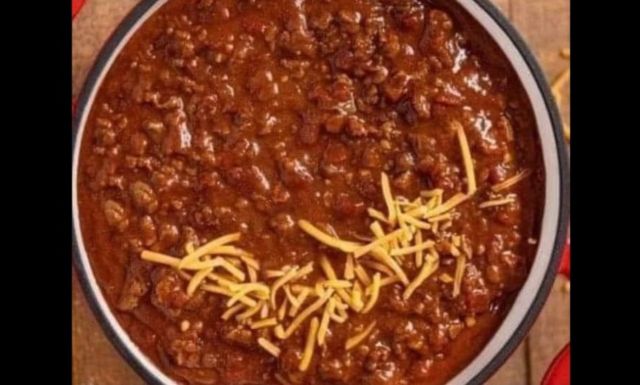 Wards Chili Recipe
Follow this Wards Chili Recipe ingredients and directions to make the perfect Chili like Wards restaurant.
Equipment & Tools
Stove

Dutch Oven

Cutting Board

Knife

Measuring Cup

Measuring Spoon

Serving Plate
Ingredients  
3

cups

Water

1

Large

Yellow Onion, Finely Chopped

3

Cloves

Garlic, Minced

1

Green Bell Pepper, Chopped

2

tbsp

Chili Powder

1 ½

tsp

Salt

1

tsp

Crushed Cumin Seeds

¼

tsp

Celery seeds

¼

tsp

Ground Cayenne Pepper

⅛

tsp

Crushed Dried Basil
Instructions 
Brown the ground beef in a Dutch oven over medium-high heat. Once browned, drain the excess fat and return the meat to the pot.

Add the diced tomatoes, water, chopped yellow onion, minced garlic, chopped green bell pepper, bay leaf, chili powder, salt, crushed cumin seed, celery seed, ground cayenne pepper, and crushed dried basil to the pot with the browned meat.

Bring the mixture to a boil, then reduce the heat to a simmer. Leave the pot uncovered and simmer for about 3 hours, or until the chili reaches your desired thickness. Stir occasionally during this time.

If the chili becomes too thick, add water as needed to achieve your preferred consistency.

Season the chili with Tabasco sauce to taste, adding a few shakes for some extra kick.

Serve the delicious Wards Hearty Chili with crackers, shredded cheese, chopped onions, or any other favorite toppings of your choice.
Nutrition
Serving:
1
cup
Calories:
332
kcal
(17%)
Carbohydrates:
14.1
g
(5%)
Protein:
45.3
g
(91%)
Fat:
9.8
g
(15%)
Saturated Fat:
3.5
g
(22%)
Polyunsaturated Fat:
0
g
Monounsaturated Fat:
0
g
Trans Fat:
0
g
Cholesterol:
127
mg
(42%)
Sodium:
1025
mg
(45%)
Potassium:
1000
mg
(29%)
Fiber:
4.4
g
(18%)
Sugar:
6
g
(7%)
Calcium:
59
mg
(6%)
Iron:
29
mg
(161%)
Tried This Recipe?
Let Us Know How It Was & Give Ratings.
Our Other Helpful Recipes:
Variations & Tips For Wards Chili Recipe
Variations:
Vegetarian Twist: Swap the ground beef for plant-based alternatives like lentils or beans for a tasty vegetarian version. Increase the variety of vegetables for added texture and flavor.
Spicy Sensation: If you love heat, kick it up a notch by adding extra cayenne pepper or your favorite hot sauce. Adjust the spice level according to your taste preferences.
Slow Cooker Magic: For a hands-off approach, transfer all the ingredients to a slow cooker after browning the meat. Cook on low for 6-8 hours or until the flavors meld together for a convenient and aromatic chili.
Tips:
Perfect Consistency: Keep an eye on the chili's thickness while simmering. If it gets too thick, add water gradually until it reaches your desired consistency.
Flavor Infusion: Let the chili sit for a bit after cooking; this allows the flavors to meld and intensify. Reheating leftovers the next day often results in an even tastier dish.
Toppings Galore: Customize your bowl with various toppings. Try avocado slices, sour cream, or fresh cilantro for a burst of freshness that complements the rich flavors of Wards Chili.
what to serve with wards chili?
Serve Wards Chili with tasty side options to make it a satisfying meal. Here are some simple and delicious choices:
Cornbread: Enjoy a slice of warm, buttery cornbread on the side. Its slightly sweet flavor pairs perfectly with the savory goodness of the chili.
Baked Potatoes: Top a baked potato with a generous ladle of Wards Chili. The contrast between the soft potato and the robust chili is a winning combination.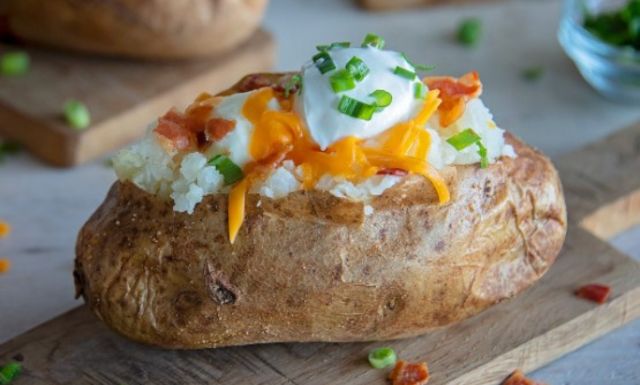 Rice: Spoon your hearty chili over a bed of fluffy white or brown rice. The rice soaks up the delicious flavors, adding an extra element to each bite.
Tortilla Chips: Grab a handful of crunchy tortilla chips for a fun and easy-to-eat accompaniment. Dip them into the chili for a delightful combination of textures.
Cheese and Sour Cream: Sprinkle shredded cheese and a dollop of sour cream on top of your chili. The creamy and cheesy additions enhance the overall richness of the dish.
Our Other Recipes:
FAQs for Wards Chili Recipe
Can I make Wards Chili spicier?
Absolutely! Add more cayenne pepper or your preferred hot sauce for an extra kick. Adjust the spice level to match your taste.
Can I make Wards Chili without meat?
Yes, you can! Swap the ground beef for lentils or beans for a delicious vegetarian version. Increase the veggies for added flavor and texture.
Can I make Wards Chili in a slow cooker?
Absolutely! After browning the meat, transfer everything to a slow cooker and cook on low for 6-8 hours. It's a convenient way to let the flavors develop.
how to store wards chili?
To store the Wards Chili, let it cool to room temperature. Place it in airtight containers or sealable bags, removing excess air. Store in the refrigerator for up to 3 days. For longer storage, freeze in portions for up to 3 months. Reheat in a pot or microwave when ready to enjoy again.
how to reheat wards chili?
To reheat Wards Chili, simply warm it in a pot on the stove over medium heat, stirring occasionally. Alternatively, microwave it in a microwave-safe container, checking and stirring at intervals for even heating. Add a splash of water if needed to maintain the desired consistency.
Our Other Helpful Recipes:
Conclusion
Wards Chili is a comforting and versatile dish that brings together the heartiness of ground beef, flavorful spices, and vibrant veggies. With easy variations like going vegetarian or adding extra spice, it suits various tastes. Serve it with cornbread, rice, or chips for a satisfying meal.
The recipe's simplicity allows for customization, making it a go-to for home cooks. Store leftovers easily, and enjoy reheating for continued deliciousness. Whether on a cozy night or with entertaining friends, Wards Chili is a flavorful bowl of warmth that brings joy to the table.