If you are looking for Luby's Chopped Steak Recipe then you are on the right blog page. In this post, I have shared the Copycat Luby's Chopped Steak Recipe with some useful information that you will like a lot I hope.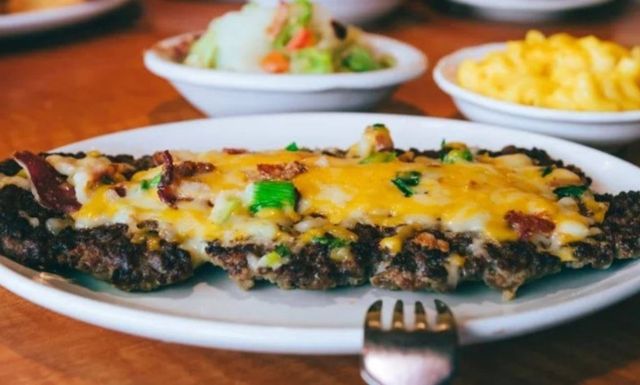 What is Luby's Chopped Steak?
Luby's chopped steak is a tasty dish that is served at Luby's Cafeteria. It is made with ground chuck steak, which is a flavorful type of beef. It's mixed with bread, beef broth, eggs, salt, and black pepper for extra flavor. The mixture is divided into portions and shaped gently.
You can cook it in two ways, either by grilling it on medium heat or baking it in the oven. When you grill it, it gets that nice grilled look, but when you bake it, it stays a bit bigger. The baked version usually goes well with a yummy gravy.
After cooking, you can top the chopped steak with American cheese, crispy bacon bits, and green onions for even more deliciousness. It's a satisfying meal loved by many for its savory taste and hearty toppings.
The Ingredients & Tools Needs For Luby's Chopped Steak
The ingredients and Tools are as follows:
Ingredients For Chopped Steak:
Ground Chuck Steak: You will need 2 lbs of ground chuck steak (80% lean). Use All Natural* 80% Lean/20% Fat Ground Beef Chuck to get the best result.
White Bread: You will need 1 3/4 cups of white bread packed loosely.
Beef Broth: You will need 3/4 cup beef broth prepared with beef bouillon or beef base according to directions. Use homemade beef broth to get the best result.
Eggs: You will need 2 large eggs. Use Morning Fresh brand eggs or use what you have on hand.
Salt & Pepper: You will need 1 tbsp of salt and 1 1/2 tsp of ground black pepper. Use Morton salt and Badis ground black pepper.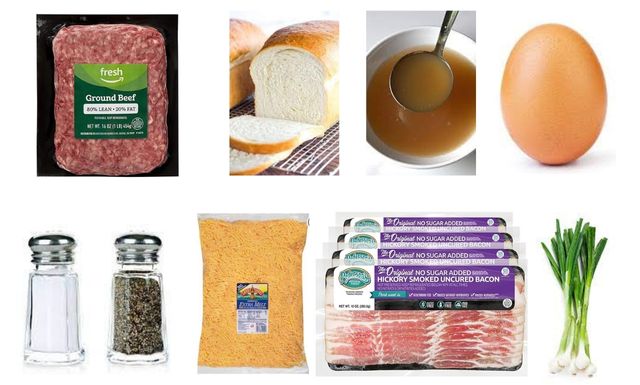 For Topping:
American Cheese: You will need 8 oz of shredded American cheese. Land O Lakes brand shredded American Cheese is recommended.
Bacon: You will need 6 oz of cooked bacon, chopped. Pederson's Natural Farms brand bacon or use what you have on hand.
Green Onions: You will need 2 oz green onions. Sliced into 1/8 in pieces with a knife.
Equipment & Tools:
You will need a Mixing Bowl, Measuring Cup, Measuring Spoon, Cutting Board, Knife, Oven, and Serving Plate.
So, let's see How To Make the Luby's Chopped Steak Recipe at Home!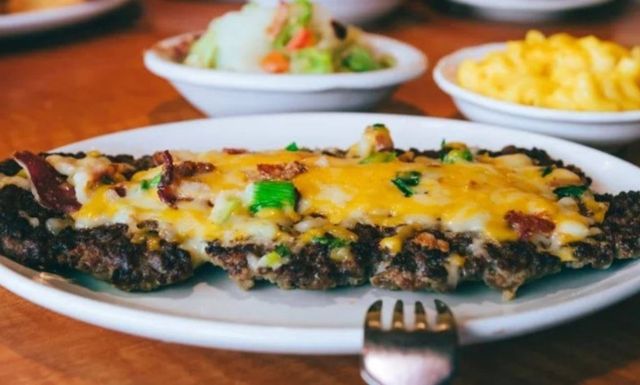 Copycat Luby's Chopped Steak Recipe
Follow this Luby's Chopped Steak Recipe ingredients and instructions to make the perfect chopped steak like Luby's Cafeteria.
Equipment & Tools
Mixing Bowl

Measuring Cup

Measuring Spoon

Cutting Board

Knife

Oven

Serving Plate
Ingredients  
For The Chopped Steak:
1 ¾

cups

White Bread, Packed Loosely

¾

cup

Beef Broth, Prepared With Beef Bouillon

2

Large

Eggs

1

tbsp

Salt

1 ½

tsp

Ground Black Pepper
For Topping:
2

oz

Green Onions, Sliced Into 1/8 In Pieces
Instructions 
Put the ground chuck steak in a mixing bowl.

In a separate bowl, mix the beef broth and bread until they're well combined, and then add this to the ground beef.

Beat the eggs by hand and add them to the mixture.

Sprinkle in the salt and black pepper, and mix everything together by hand.

Divide the mixture into 8 equal parts and shape them lightly. Don't press the meat too tightly.

You can cook the chopped steak in two ways: For grill, cook on medium heat (around 300 degrees) for 8 minutes on the first side and 7 minutes on the second side.

For bake, place the steaks in a preheated 300-degree oven and bake for 30 minutes. They won't shrink much this way, but they won't have the grilled look.

If you baked the steak, it's best served with a hearty gravy for a more appealing appearance.

Top the cooked chopped steak with American cheese, chopped bacon, and sliced green onions.

Enjoy your delicious Luby's Chopped Steak!
Nutrition
Serving:
200
grams
Calories:
906
kcal
(45%)
Carbohydrates:
11.5
g
(4%)
Protein:
77.5
g
(155%)
Fat:
58
g
(89%)
Saturated Fat:
29.3
g
(183%)
Polyunsaturated Fat:
0
g
Monounsaturated Fat:
0
g
Trans Fat:
0
g
Cholesterol:
347
mg
(116%)
Sodium:
3185
mg
(138%)
Potassium:
1068
mg
(31%)
Fiber:
1
g
(4%)
Sugar:
1.3
g
(1%)
Calcium:
93
mg
(9%)
Iron:
7
mg
(39%)
Tried This Recipe?
Let Us Know How It Was & Give Ratings.
Our Other Helpful Recipes:
Variations & Tips For Luby's Chopped Steak Recipe
Variation:
Cheesy Chopped Steak: For a cheesier twist, add extra American cheese on top of the chopped steak just before serving. You can even mix some cheese into the meat mixture for a gooey surprise inside.
Veggie Delight Chopped Steak: If you like vegetables, mix some finely chopped onions, bell peppers, or mushrooms into the meat mixture for added flavor. Top with your favorite veggies for a healthier chopped steak.
Spicy Kick Chopped Steak: To add some spice, mix a pinch of chili powder or red pepper flakes into the meat mixture. Top with sliced jalapeños for a zesty chopped steak.
Cooking Tips:
Don't Overmix: When mixing the ingredients, don't squish or squeeze the meat too much. Just gently combine everything, so your steak stays tender.
Use a Meat Thermometer: To ensure your chopped steak is perfectly cooked, use a meat thermometer. For medium-rare, the internal temperature should be around 145°F (63°C).
Let It Rest: After cooking, let your chopped steak rest for a few minutes. This helps the juices distribute, making it juicier and more delicious when you dig in.
Our Other Recipes:
FAQs about Luby's Chopped Steak Recipe
what to serve with Luby's chopped steak?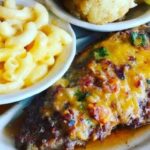 You can serve Luby's chopped steak with tasty side dishes like mashed potatoes, green beans, macaroni and cheese, or a fresh salad. These sides make a great match with the savory flavors of the chopped steak. You can also add a delicious gravy on top for extra flavor.
Can I use a different type of meat for this recipe?
Yes, you can try using ground beef or ground sirloin if you prefer. It might change the taste a bit, but it should still be yummy.
Can I make the chopped steak ahead of time?
You can prepare the mixture in advance, but it's best to shape and cook the steaks just before eating for the freshest taste.
how to store Luby's Chopped Steak?
To store Luby's Chopped Steak, let it cool to room temperature, then place it in an airtight container in the refrigerator. It can be safely stored for up to 3-4 days. Reheat in the microwave or on the stovetop when you're ready to enjoy it again.
how to reheat Luby's Chopped Steak?
Reheat Luby's Chopped Steak by placing it in a microwave-safe dish and warming it in the microwave, covering it loosely to prevent drying out. Heat in 30-second intervals until it's hot. You can also reheat on the stovetop in a pan over low heat, adding a little broth or gravy for moisture.
Our Other Helpful Recipes:
Conclusion
Luby's Chopped Steak is a delicious and versatile dish that can be customized to suit your taste. You can add cheese, veggies, or spices to make it your own. Serving it with sides like mashed potatoes and gravy or fresh veggies makes for a satisfying meal.
Storing and reheating is easy, so you can enjoy leftovers later. This recipe offers a simple way to make a hearty and flavorful chopped steak. Whether you're a beginner or a cooking pro, it's a great choice for a tasty homemade meal that's sure to please your taste buds.