If you are a Lean And Green food lover then this Lean And Green Salmon Recipe is for you. In this post, I have shared the Best Lean And Green Salmon Recipe with some valuable tips that you will enjoy.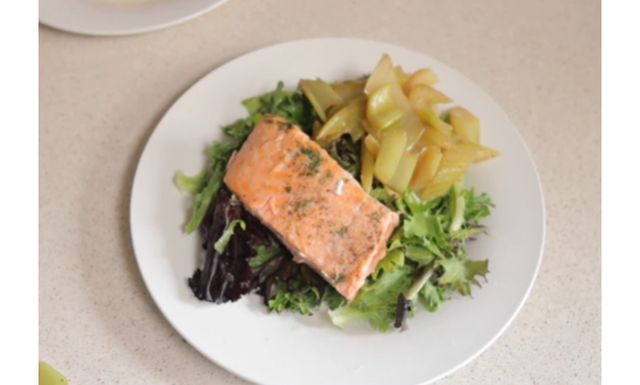 What Is a Lean And Green Meal?
A Lean & Green meal contains 5 to 7 ounces of cooked lean protein, three non-starchy vegetable servings, and up to two healthy fats depending on the lean protein choice.
Your Lean & Green meal can be enjoyed at any hour of the day. This Lean And Green Salmon Recipe contain all the necessary ingredients for lean protein, non-starchy vegetables, healthy fat, and other healthy fats.
What Ingredients And Equipment You Will Need For Lean And Green Salmon Recipe?
The debate about wild-caught vs farm-raised salmon has been a hot topic over the years. It is important to remember that wild-caught salmon is the best.
Salmon that is raised on farms is usually white and artificially colored to look like wild salmon. Salmon that is taken from the wild does not live the same life as the fish "grown" on farms.
Ingredients You Will Need: Salmon fillets, minced garlic, vegetable oil, soy sauce, celery, fresh asparagus, fresh dill, fresh lemon, Some sesame seeds, Salt, and black pepper.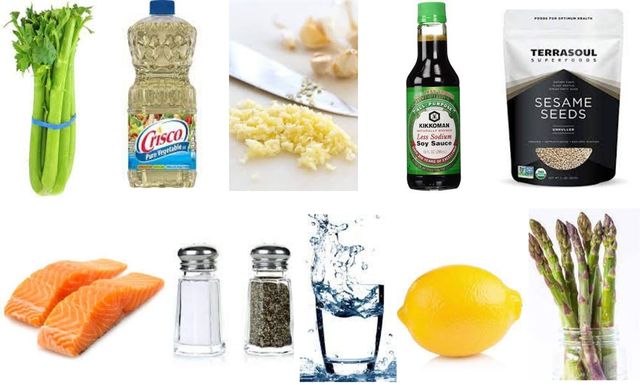 The Equipment You Will Need: Burner, Bowl, Nonstick Pan, Rubber Spatula, Measuring Spoon, Cutting Board, Knife, fork, and Paper Towel.
So without wasting time let's start the Lean And Green Salmon Recipe!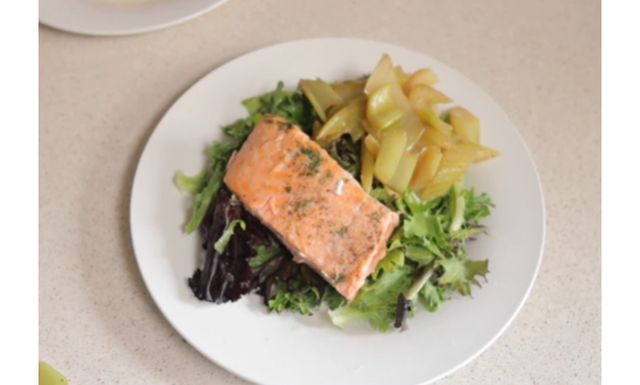 Best Lean And Green Salmon Recipe
Follow this Lean And Green Salmon Recipe ingredients and directions and make a perfect Lean And Green Salmon like Optavia.
Equipment & Tools
Burner

Bowl

Nonstick Pan

Rubber Spatula

Measuring Spoon

Cutting Board

Knife

fork

Paper Towel
Ingredients  
For Celery
1

Stalk

Celery

1

tsp

Minced Garlic
For Salmon
2

(100 Grams)

Salmon Fillets

Salt To Taste

Black Pepper To Taste

1

tbsp

Fresh Dill

3

tbsp

Water

1

tsp

Minced Garlic

½

Fresh Lemon Juice
For Asparagus
1

lb

Fresh Asparagus

1

tsp

Vegetable Oil

1

tsl

Minced Garlic

Salt To Taste

Black Pepper To Taste
Instructions 
For Celery
Wash celery and simply use a peeler to gently remove the outer ribs from the celery.

Cut the celery into small pieces and blanched for 1 to 5 minutes in boiling or hot water. Take out and place aside.

Sauté the celery in the pan with the oil, garlic, and soy sauce and finish with any desired amount of toasted sesame seeds.
For Salmon
Pat dry salmon fillets using a paper towel and season both sides with salt and pepper.

Add 3 tbsp water to the hot pan, and mix in minced garlic and fresh dill.

Cook the salmon in the pan for about 3 minutes on each side.

As salmon cooks, it turns from transparent to opaque.

Using a fork to pierce the thickest section, check the doneness.

The fish is cooked when it starts to flake but still has some translucency in the middle.

Remove the salmon and reserve it.
For Asparagus
Cut asparagus into bite-size pieces

Place in the bowl, add minced garlic, oil, salt & pepper.

Mix well and add asparagus to the same pan.

Sauté as per your desired consistency.
Nutrition
Serving:
10
0z
Calories:
194
kcal
(10%)
Carbohydrates:
4.8
g
(2%)
Protein:
20.9
g
(42%)
Fat:
10.9
g
(17%)
Saturated Fat:
1.5
g
(9%)
Polyunsaturated Fat:
0
g
Monounsaturated Fat:
0
g
Trans Fat:
0
g
Cholesterol:
44
mg
(15%)
Sodium:
584
mg
(25%)
Potassium:
528
mg
(15%)
Fiber:
1.1
g
(5%)
Sugar:
0.8
g
(1%)
Calcium:
81
mg
(8%)
Iron:
2
mg
(11%)
Tried This Recipe?
Let Us Know How It Was & Give Ratings.
Have a look at our Japanese Baked Mussels Recipe if you are interested.
Valuable Tips
How To Serve The Lean And Green Salmon As Per The Plan?
For your L&G:
Lean portion – 5oz. cooked salmon
3 – servings of vegetables (2 servings of celery – 2.65 oz each & 1 cup spring mix)
2 fats (1 oil + your choice)
2 condiments (garlic, soy sauce, dill)
How To Store Cooked Salmon And Vegetables?
Salmon: If stored correctly, cooked salmon can last for up to 2 days in the fridge. After discarding the foil, put the cooled salmon in an airtight container, seal it, and put it in the fridge. Salmon can be frozen if it is kept in airtight containers for up to a month.
Vegetables: Cooked vegetables can be kept in the refrigerator for up to 3 to 5 days if they are properly stored. Cooked veggies can be frozen in airtight containers, sturdy freezer bags, or covered freezer bags to increase their shelf life. Wrap them tightly with freezer wrap or aluminum foil. It will keep for one month.
How To Reheat Cooked Salmon And Vegetables?
Salmon: The best way to reheat salmon, according to experts, is in an oven. The oven should be preheated to 275F. Once the oven is at 300F, heat your salmon filet for 15 minutes.
Vegetables: The leftovers can be reheated in the microwave, or you can heat the oven to 400F and then spread them out on a baking tray. 1 tablespoon of olive oil is mixed with the vegetables. Bake them until they are fully done.
You can look at our Gordon Ramsay Chicken Parmesan Recipe If you're interested.
Take a peek at our Zippy's Macaroni Salad Recipe if you're interested.
Conclusion
Lean And Green Salmon Recipe is an absolute must-try recipe. This recipe for lean and green salmon just takes 35 minutes to make, and only a few basic items are needed to make it at home. It can be said that the Lean and Green Salmon is a wonderful, easy-to-prepare meal that is ideal for lunch or dinner.
Simply gather the components to quickly and easily prepare this tasty lunch for your family. If you enjoy our Lean And Green Salmon Recipe, kindly share it with your friends and let us know what you think by leaving a comment in the space below.