If you are a seafood lover then this Japanese Baked Mussels Recipe is for you. In this post, I have shared the Best Japanese Baked Mussels Recipe with some valuable tips that you will like a lot I hope.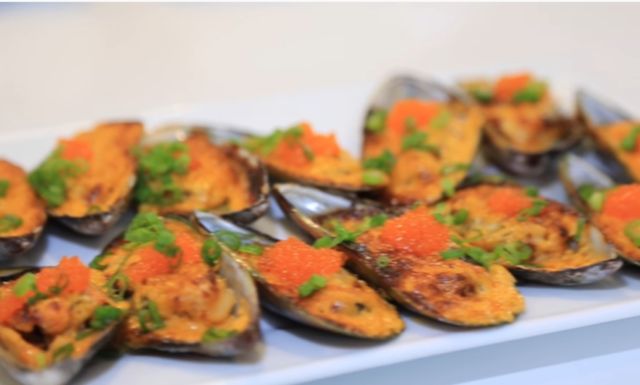 What Kind Of Mussels You Should Use For Japanese Baked Mussels Recipe?
Apart from the obvious one of colour, there are other variations between green mussels and black mussels. A medium-sized edible sea bivalve of the mussel family, the Mytilidae, the blue mussel is also referred to as the common mussel. This species is known for its large range of empty shells that can be found on beaches all over the world.
Blue mussels work well in Japanese Baked Mussells. Black mussels can be used, but it is more time-consuming to separate each shell and pour the sauce onto so many mussels.
There are also differences in the flavours of green and black mussels. The milder taste of green mussels is more common, while black mussels have a stronger "sea" flavour.
Both kinds of mussels can be found easily. Black mussels are frequently offered in baggies on ice while green mussels are typically found in the frozen area or on the half shell.
What Is Japanese Baked Mussels?
Baked mussels make a delicious and creamy seafood dish. You'll be amazed at the results, which take very little effort. This dish is frequently served at high-end Japanese restaurants.
The Ingredients You Will Need: Raw Mussels, Japanese Kewpie Mayonnaise, Sriracha Hot Sauce, soy sauce, Lemon juice, Fish Roe, Sesame Seeds and Green Onion For Garnish.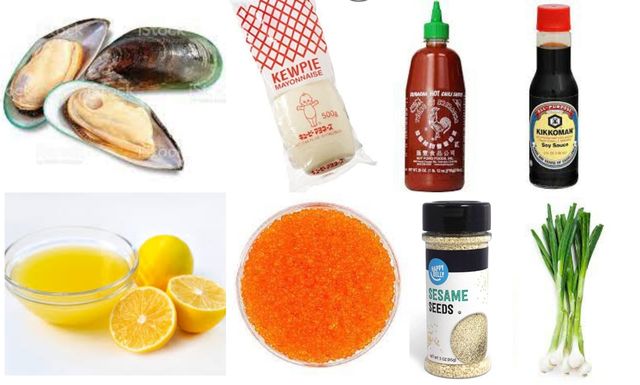 The Equipment You Will Need: Oven, Mixing Bowl, Knife, Measuring Cup, and Measuring Spoon.
So without wasting time let's start the JapaneseBaked Mussels Recipe!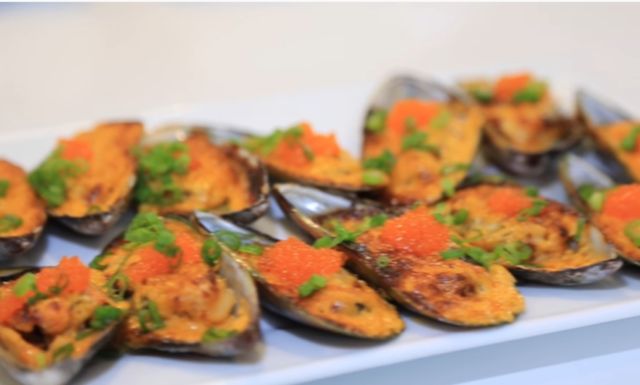 Best Japanese Baked Mussels Recipe
Mussels have a briny taste, similar to an ocean flavour, and are slightly sweet. Follow this Japanese Baked Mussels Recipe ingredients and directions and make perfect Baked Mussels like a Japanese Restaurant.
Equipment & Tools
Oven

Mixing Bowl

Knife

Measuring Cup

Measuring Spoon

Baking Sheet
Ingredients  
24

(2lb)

Raw Mussels

2

tsp

Lemon juice

6

tbsp

Fish Roe

Sesame Seeds For Garnish

Green Onion For Garnish
Instructions 
Preheat the oven to 350 degrees Fahrenheit

Clean the mussels in cold water. Cut the mussels in half after removing them from their shells

Then back into the shell. It's okay if you choose not to remove the mussels from their shells.

Add 4 tbsp of Fish Roe, Kewpie Mayonnaise, Sriracha Hot Sauce, Soy Sauce, and lemon juice to a bowl.

Use a spoon to mix the ingredients.

Reserve 2 tbsp of Fish Roe and Green Onion for future use.

Place the mussels on a baking tray lined with foil.

Use a small spoon to pour the sauce over the mussels.

The mussels should be baked for around 20 minutes.

Five minutes under the broiler or until the tops are golden.

Take the tray out of the oven.

Top with reserved fish roe, green onion and sesame seeds.
Nutrition
Serving:
4
Mussels
Calories:
418
kcal
(21%)
Carbohydrates:
5.8
g
(2%)
Protein:
21.1
g
(42%)
Fat:
31.1
g
(48%)
Saturated Fat:
4.7
g
(29%)
Polyunsaturated Fat:
0
g
Monounsaturated Fat:
0
g
Trans Fat:
0
g
Cholesterol:
148
mg
(49%)
Sodium:
820
mg
(36%)
Potassium:
490
mg
(14%)
Fiber:
0
g
Sugar:
0.1
g
Vitamin A:
0
IU
Vitamin C:
0
mg
Calcium:
40
mg
(4%)
Iron:
6
mg
(33%)
Tried This Recipe?
Let Us Know How It Was & Give Ratings.
Have a look at our Jason's Deli Broccoli Cheese Soup Recipe if you are interested.
Valuable Tips
What To Serve With Japanese Baked Mussels?
You can serve these baked mussels with Hawaiian Chicken Kabobs, Mini Quiches, Baked Coconut Shrimp, and Asparagus With Lemon Parmesan Breadcrumbs.
How to Store Japanese Baked Mussels?
Cooked mussels should be refrigerated in shallow airtight containers to extend their shelf life for quality and safety, or they can be securely wrapped in heavy-duty aluminium foil or plastic wrap. When stored correctly, baked mussels can be kept in the refrigerator for three to four days.
How To Reheat Japanese Baked Mussels?
Mussels should be taken out of their shells and reheated. Then, microwave them on a plate covered with damp paper towels.
What Do Baked Mussels Taste Like?
Mussels have a flavour that is slightly sweet and briny, resembling the flavour of the ocean. It has a chewy, soft texture. Sriracha and Japanese mayo are combined to make the sauce, giving it a creamy, rich flavour. These flavours come together to make a bake.
You can look at our Crockpot Turkey Wings With Onion Soup Mix Recipe If you're interested.
Take a peek at our Grandmother's Summer Sausage Recipe if you're interested.
Conclusion
Japanese Baked Mussels Recipe should be tried. The Japanese Baked Mussels Recipe takes only 40 minutes and can be made at home with just a few ingredients. This is one of those foods that doesn't take long to prepare.
Just gather the ingredients to make this delicious Japanese dinner for your family fast and simply. If you try our recipe for Japanese baked mussels, we'd appreciate your feedback in the comments below.