If you are a fan of martini then this Black Orchid Martini Recipe is for you. In this post, I have tried to share the Best Black Orchid Martini Recipe with Some valuable information that you will like a lot I hope.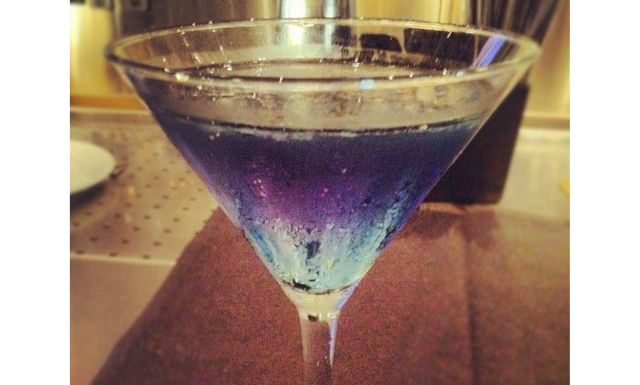 What Is Black Orchid Martini?
The Black Orchid Martini is a visually amazing and flavorful cocktail that combines fruity and tropical flavors. This martini features a unique combination of ingredients, resulting in a flavor profile that is both refreshing and enticing.
The foundation of the Black Orchid Martini is Watermelon Vodka, which adds a distinct watermelon flavor. This vodka enhances the overall flavor with a subtle sweetness and a refreshing flavor.
Blue Curacao is added to the martini for its visual attraction and to add a touch of elegance. This vibrant blue liqueur not only imparts a mesmerizing deep blue color but also adds a light orange flavor, thereby enhancing the drink's depth and complexity.
To enhance the fruity flavors, the recipe calls for Watermelon Pucker, which adds a burst of authentic watermelon flavor. This sweet and sour liqueur complements the other ingredients to create a well-rounded flavor experience.
Cranberry juice makes the mix by adding a subtle tartness and a gorgeous red color to the cocktail. Cranberry juice balances the richness of the other ingredients, resulting in a flavorful harmony.
These ingredients, when combined, make a visually captivating cocktail that resembles the mysterious beauty of a black orchid. The dark blue color, highlighted by red, is reminiscent of the wonderful petals of an orchid. The term "Black Orchid Martini" captures the allure and sophistication of this exquisite drink.
The Ingredients & Tools Needs For Black Orchid Martini
The ingredients and equipment are as follows:
Ingredients:
Vodka: You will need 1 oz of vodka. Use Three Olives Watermelon Vodka to get the best taste.
Blue Curacao: You will need 1/2 oz of Blue Curacao. Use Dekuyper brand Blue Curacao or you can use the best quality Blue Curacao.
Watermelon Pucker: You will need 1/2 oz of Watermelon Pucker. Dekuyper Watermelon Pucker is recommended.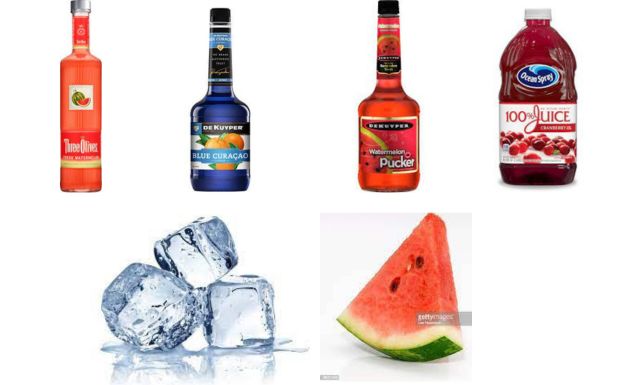 Cranberry Juice: You will need 2 oz of cranberry juice. Use freshly squeezed cranberry juice or you can use Ocean Spray brand cranberry juice.
Ice Cubes: You will need some best quality ice cubes.
Watermelon Slice: You will need a slice of watermelon as a garnish.
Tools:
You will need Cocktail Shaker, Jigger, Strainer, and Serving Glass.
So, let's see How To Make a Black Orchid Martini Recipe at Home!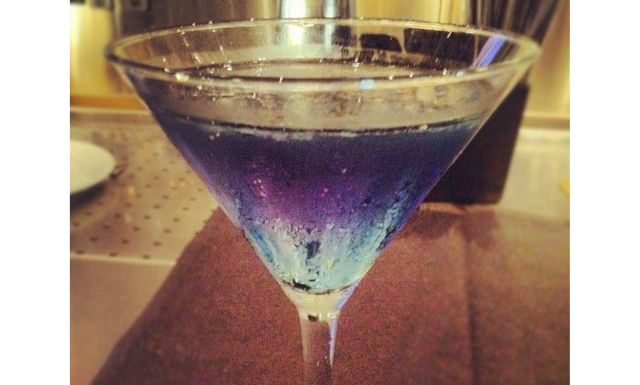 Black Orchid Martini Recipe
Follow this Black Orchid Martini Recipe ingredients and directions and make the perfect Black Orchid Martini like a professional mixologist.
Equipment & Tools
Cocktail Shaker

Jigger

Strainer

Serving Glass
Ingredients  
1

oz

Three Olives Watermelon Vodka

½

oz

Dekuyper Watermelon Pucker

Ice Cubes

Watermelon Slice For Garnish
Instructions 
Fill a cocktail shaker with some ice cubes.

Pour Three Olives Watermelon Vodka into the shaker.

Add Dekuyper Blue Curacao, Dekuyper Watermelon Pucker and Cranberry Juice to the shaker.

Shake the ingredients vigorously for about 15-20 seconds to mix and chill the drink.

Pour the mixture through a strainer into a martini glass.

Optionally, you can garnish the drink with a slice of watermelon or a twist of lemon peel.

Serve and enjoy your delicious Black Orchid Martini!
Notes
Shaking the ingredients vigorously in a cocktail shaker filled with ice cubes not only blends the flavors but also chills the martini, ensuring that it is both well-chilled and well-mixed.
The presentation is enhanced by straining the mixture into a chilled martini glass, which also assures a smooth texture.
To ensure a safe and enjoyable experience, remember to drink alcohol responsibly and within the legal drinking age in your area. Cheers!
Nutrition
Serving:
4
oz
Calories:
111
kcal
(6%)
Carbohydrates:
13.4
g
(4%)
Protein:
0
g
Fat:
0
g
Saturated Fat:
0
g
Polyunsaturated Fat:
0
g
Monounsaturated Fat:
0
g
Trans Fat:
0
g
Cholesterol:
0
mg
Sodium:
5
mg
Potassium:
96
mg
(3%)
Fiber:
2.1
g
(9%)
Sugar:
9.8
g
(11%)
Calcium:
9
mg
(1%)
Iron:
0
mg
Tried This Recipe?
Let Us Know How It Was & Give Ratings.
Our Other Drinks Recipes:
Variations And Tips
Variations:
Blackberry Twist: For a different fruity variation, replace the watermelon vodka with vodka flavored with blackberries. This variation provides the martini with rich blackberry flavors, adding a touch of tartness and complexity.
Minty Fresh: Before adding the other ingredients to your Black Orchid Martini, muddle a few fresh mint leaves in the cocktail shaker to give it a touch of freshness. This variant will add a cool and refreshing element to the drink, making it ideal for sweltering summer days.
Spiced Orchid: To add a spicy kick to your martini, shake in a pinch of cinnamon or a few slices of raw ginger. The warm and aromatic flavors will complement the delicacy of the other ingredients to create a flavor profile that is both unique and intriguing.
Tips:
Chilled Glassware: Before making the martini, put the martini glass in the freezer for a few minutes. This will help keep your drink cold for an extended period of time and enhance the drinking experience overall.
Garnish Creatively: Experiment with various garnishes in order to add an extra element of elegance and visual appeal. Try floating a watermelon slice or a few fresh berries on top of the cocktail. You can also add a mint sprig or a twist of lemon zest for a fragrant boost.
Play with Ratios: Don't be afraid to experiment with the ratios of the ingredients to create a cocktail that suits your tastes. You can adjust the ratios of vodka, blue curacao, watermelon pucker, and cranberry juice to get the ideal balance of flavours.
Remember that creating cocktails is an art and that customization is essential. Enjoy experimenting with these variations and tips to create a Black Orchid Martini that will delight your senses and amaze your guests.
What To Serve With Black Orchid Martini?
The Black Orchid Martini pairs with a variety of appetizers and small bites with its vibrant flavors. Here are some suggestions for what to serve alongside your Black Orchid Martini:
Canapés: Serve smoked salmon on toast points, cucumber, and cream cheese bites, or mini bruschetta with tomato and basil. These flavorful and light appetizers will offer a revitalizing contrast to the martini.
Cheese and Fruit Platter: Pair artisanal cheeses such as Brie, Gouda, and blue cheese with fresh fruits such as grapes, strawberries, and melon slices. The martini will pair well with the combination of buttery and tangy cheeses and the natural sweetness of the fruits.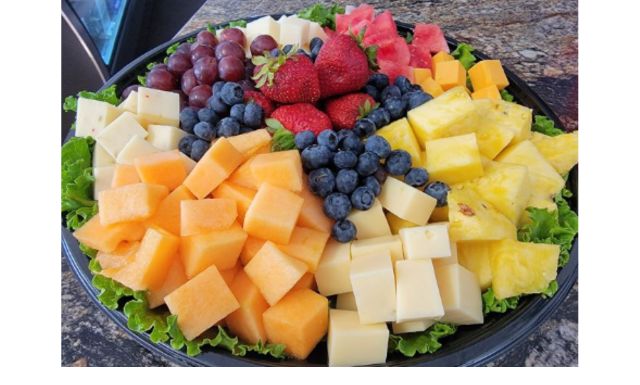 Caprese Skewers: Caprese Skewers: For a simple and wonderful appetizer, thread mozzarella balls, cherry tomatoes, and fresh basil leaves onto skewers. To enhance the flavors, drizzle the skewers with balsamic glaze or sprinkle with sea salt. The combination of creamy cheese, juicy tomatoes, and aromatic basil will pair with the martini well.
Spicy Chicken Skewers: For those who enjoy a touch of heat, marinate chicken pieces in a spicy sauce, thread them onto skewers, and grill or bake until thoroughly cooked. The spiciness of the chicken and the fruitiness of the martini will create a delectable balance of flavors.
Miniature Quiches: Quiches with various fillings, such as spinach and feta, bacon and cheddar, or mushrooms and gruyere, should be served in bite-size pieces. These savory pastries provide a satisfying contrast to the sweetness of the martini and make an excellent pairing.
When selecting appetizers, remember to consider your guest's dietary preferences and any specific dietary restrictions. The goal is to provide a variety of flavors and textures that enhance the overall appeal of the Black Orchid Martini. Savor your martini and the tasty culinary pairings!
Our Other Drinks Recipes:
Frequently Asked Questions About Black Orchid Martini Recipe
Can I substitute the Three Olives Watermelon Vodka with a different vodka?
Yes, you can use another fruit-flavored vodka in place of the watermelon vodka. However, it will alter the overall flavor profile of the martini.
Can I use a different brand of blue curacao or watermelon pucker?
Absolutely! You can use any blue curaçao or watermelon pucker brand that is available. There may be minor flavor differences between brands, but it will still work well in the recipe.
Can I use a different juice instead of cranberry juice?
Certainly! While cranberry juice pairs well with the flavors of the Black Orchid Martini, you can experiment with other fruit juices such as pomegranate, raspberry, or even pineapple juice to create your own unique variation.
Can I prepare the Black Orchid Martini in advance for a party?
Although the martini is best when freshly made, you can prepare the ingredients in advance and store them separately in the refrigerator. When your guests arrive, simply combine the ingredients, shake vigorously, and serve promptly for optimal flavor and presentation.
How can I adjust the sweetness of the martini?
If the martini is too sweet for your taste, reduce the amount of watermelon pucker and increase the amount of cranberry juice. Feel free to alter the proportions of the ingredients to suit your own tastes.
Our Other Drinks Recipes:
Conclusion
The attractive and flavorful Black Orchid Martini combines the refreshing flavor of watermelon vodka with the vibrant hues of blue curaçao and the sweet tang of watermelon pucker. The addition of cranberry juice makes the harmonious flavor combination with a hint of tartness.
The Black Orchid Martini is sure to impress whether you're hosting a sophisticated gathering or simply looking to indulge in a delicious cocktail. Experiment with variations and garnishes to create a customized cocktail.
Remember to drink responsibly and enjoy each sip as you immerse yourself in the Black Orchid Martini's extraordinary combination of fruity notes, elegant colors, and a touch of allure.