If you are a fan of a little spicy drinks then this Jet Juice Recipe is for you. In this article, I have shared the Best Jet Juice Recipe with some valuable information that you will like a lot I hope.
What Is Jet Juice?
Jet Juice recipe is a meticulously created cocktail that combines a one-of-a-kind combination of flavors to create an exceptional drinking experience. This cocktail features an ideal balance of smoky bourbon, spicy chili liqueur, sweet acai liqueur, refreshing white grape juice, and tart lemon juice.
Jet Juice requires Maker's Mark Bourbon Whiskey, Ancho Reyes Chili Liqueur, Fair Acai Liqueur, Great Value White Grape Juice, lemon juice, and ice cubes.
The bourbon whiskey serves as the drink's robust and smooth base, while the chili liqueur provides a spicy kick that stimulates the palate. The acai liqueur adds a layer of richness and complexity that pairs perfectly with the other ingredients.
White grape juice is added to enhance the overall flavor profile by balancing the flavors and giving a fruity note. Finally, a splash of tangy lemon juice provides a bright and zesty element, lifting the cocktail and adding a refreshing finish.
The Jet Juice cocktail is unique by its creative combination of ingredients, alluring scents, and balanced flavor profile. Whether you're hosting a party or just looking to indulge yourself, this exceptional cocktail is bound to impress.
So, indulge in the alluring flavors of Jet Juice and savor every sip of this extraordinary juice.
The Ingredients & Tools Needs For Jet Juice
The ingredients and tools are as follows:
Ingredients:
Bourbon Whiskey: You will need 1 1/2 oz of Bourbon Whiskey. Use Maker's Mark Bourbon Whiskey to get the best result.
Chili Liqueur: You will need 1/2 oz of chili liqueur. Use Ancho Reyes Chili Liqueur for the best outcomes.
Acaí Liqueur: You will need 1/2 oz of Acai liqueur. Use Fair or Cedilla Acai Liqueur for optimal result.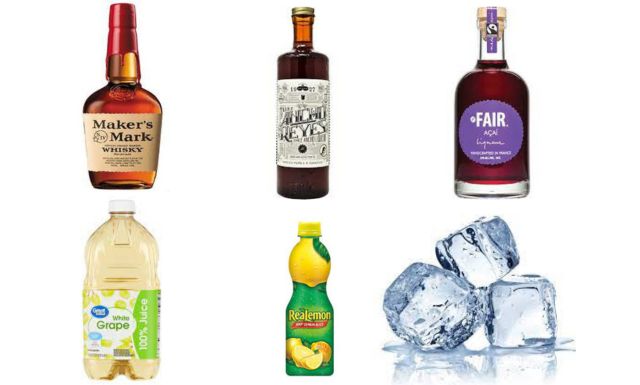 Grape Juice: You will need 1/2 oz of white grape juice. Use Great Value or Gerber white grape juice.
Lemon Juice: You will require 1/2 oz of lime juice. Use freshly squeezed lemon juice or you can use Realemon brand lemon juice.
Ice Cubes: You will need some good quality ice cubes.
Tools:
You will need Cocktail Shaker, Jigger, Strainer, and Serving Glass.
So let's see How To Make a Jet Juice Recipe at Home!
Jet Juice Recipe
Follow this Jet Juice Recipe ingredient and directions to make the perfect jet juice like a professional mixologist.
Equipment & Tools
Cocktail Shaker

Jigger

Strainer

Serving Glass
Instructions 
Fill a cocktail shaker with ice cubes.

Add Maker's Mark Bourbon Whiskey, Ancho Reyes Chili Liqueur, Fair Açaí Liqueur, White Grape Juice, and Lemon Juice to the shaker.

Shake all the ingredients vigorously for 10 to 15 seconds to mix and chill the cocktail.

Strain the cocktail into a glass.
Notes
The brands specified in the recipe can be replaced with similar alternatives based on personal preference and availability.
The Jet Juice cocktail is an excellent option for those in search of an adventurous and flavorful drink.
Feel free to experiment with the amounts of the ingredients to personalize the cocktail to your tastes.
Remember to drink Jet Juice responsibly and in moderation.
Nutrition
Serving:
4
oz
Calories:
168
kcal
(8%)
Carbohydrates:
2.5
g
(1%)
Protein:
10.5
g
(21%)
Fat:
1.1
g
(2%)
Saturated Fat:
0.4
g
(3%)
Polyunsaturated Fat:
0
g
Monounsaturated Fat:
0
g
Trans Fat:
0
g
Cholesterol:
26
mg
(9%)
Sodium:
38
mg
(2%)
Potassium:
114
mg
(3%)
Fiber:
0.1
g
Sugar:
2
g
(2%)
Calcium:
72
mg
(7%)
Iron:
0
mg
Tried This Recipe?
Let Us Know How It Was & Give Ratings.
Our Other Drinks Recipes:
Variations And Tips For The Jet Juice Recipe
Spicy Variation: Consider adding a few dashes of your preferred spicy sauce or a pinch of cayenne pepper to the Jet Juice cocktail if you prefer spicier drinks.
Herbal Twist: Add a splash of elderflower liqueur or muddle a few fresh basil leaves to give a herbal character to the cocktail. This variation enhances the drink's complexity by adding a unique flavor.
Fruit Infusion: Experiment with various fruit juices or purees to personalize your Jet Juice. Try substituting pineapple juice or cranberry juice for the white grape juice for a fruity variation.
Sweetness Adjustment: Adjust the sweetness by adding a dash of simple syrup or agave nectar if you prefer a sweeter flavor. If you prefer a drier flavor, reduce the amount you use of acai liqueur or choose a white grape juice with a drier consistency.
Experiment and Personalize: Don't be afraid to use your imagination and make Jet Juice your own. Adjust the ratios of the ingredients, use different spirits, and experiment with new flavor combinations to create your own signature variation of this enticing cocktail.
Remember to consume Jet Juice responsibly and customize it to your tastes. With these variations and suggestions, you can take the cocktail to the next level and offer your guests or yourself a genuinely unique and personalized drinking experience.
What To Serve With Jet Juice?
Spicy Appetizers: Giving the hint of heat in Jet Juice, consider pairing it with fiery appetizers such as buffalo chicken wings, jalapeno poppers, and spicy shrimp skewers. The spiciness in the cocktail will enhance the flavors of these dishes, creating a harmonious pairing.
Cheese and Charcuterie: The complex flavors of Jet Juice make it an ideal accompaniment to a thoughtfully curated cheese and charcuterie board. Choose a variety of cheeses, such as aged cheddar, gouda, or blue cheese, and combine them with cured meats, olives, almonds, and crackers. The contrasting flavors and textures will perfectly complement the cocktail.
Grilled Meats: Jet Juice's smoky nuances make it an ideal complement to grilled meats. Serve it with barbecued ribs, steak, or grilled chicken for a delectable pairing. The cocktail's strong taste will go well with the meat's savory richness, creating a delectable distinction.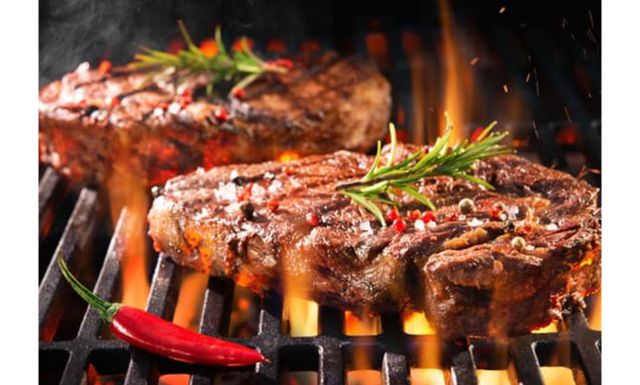 Spicy Seafood: Seafood dishes with a hint of heat are an excellent complement to Jet Juice. Try serving it with spicy shrimp tacos grilled spicy salmon, or blackened fish. The cocktail's spiciness and fruity variations will create a memorable culinary experience by complementing the seafood's flavors.
Our Other Drinks Recipes:
Frequently Asked Questions About the Jet Juice Recipe
Can I substitute the Maker's Mark Bourbon Whiskey with a different brand of bourbon?
Absolutely! While the recipe calls for Maker's Mark Bourbon Whiskey, you may substitute any bourbon whiskey that suits your flavor. Feel free to experiment to determine which brand you prefer.
Where can I find Ancho Reyes Chili Liqueur and Fair Açaí Liqueur?
Start your search at specialty liquor stores or supermarkets with well-stocked liquor sections. If you're having difficulty finding these specific brands, ask the store's employees for recommendations or explore online retailers with a wide selection of liqueurs.
Can I adjust the spiciness of the Jet Juice cocktail?
Certainly! If you prefer less heat, reduce the amount you have of Ancho Reyes Chili Liqueur or add more white grape juice. Alternatively, you can increase the amount you use of chili liqueur or add a few dashes of hot sauce to intensify the spiciness if you prefer more heat.
Can I make a larger batch of Jet Juice for a party?
Absolutely! Simply multiply the ingredient quantities and use a larger shaker or mixing pitcher to make a larger batch. Remember to maintain the ingredient amounts in order to achieve a balanced flavor profile.
Can I prepare the Jet Juice in advance?
While it's best to drink the Jet Juice cocktail immediately after preparation to fully appreciate its fresh flavors, you can prepare and store the individual ingredients in advance. When preparing to serve, combine the ingredients with ice in a shaker, shake vigorously, and strain into glasses. Consequently, you can simplify the process of entertaining guests.
Are there any recommended garnishes for the Jet Juice cocktail?
A garnish is a matter of personal preference, but a lemon twist, a chili pepper slice, or a sprig of fresh mint can enhance the presentation. In addition to adding visual appeal, these garnishes can impart subtle aromatic notes to the cocktail.
Our Other Drinks Recipes:
Conclusion
The Jet Juice recipe is an engaging cocktail with a dynamic combination of flavors. With the combination of smoky bourbon, fiery chili liqueur, sweet acai liqueur, white grape juice, and tart lemon juice, this cocktail offers a unique and balanced flavor experience.
Whether you prefer robust and fiery flavors or a well-balanced drink, Jet Juice's complex and intriguing flavor profile will satisfy you. It is a versatile recipe that allows for personalization and experimentation, inviting you to explore variations and adjust the drink to your tastes.
So, gather the ingredients, shake up a glass of Jet Juice, and embark on a flavorful journey that will surprise your taste senses. Cheers to the remarkable and adventurous Jet Juice cocktail!