If you are a fan of moonshine drinks then this Italian Rum Punch Recipe is for you. In this article, I have shared the Best Italian Rum Punch Recipe with some valuable information that you will like a lot I hope.
What Is Italian Rum Punch?
Italian Rum Punch, a lovely drink made with rum, sweet and sour mix, strawberry syrup, and amaretto, is a delicious combination. It is a cool, tropical cocktail that can take you to Italy's sunny beaches. This punch will entice your taste buds with the ideal mix of sweetness and tartness.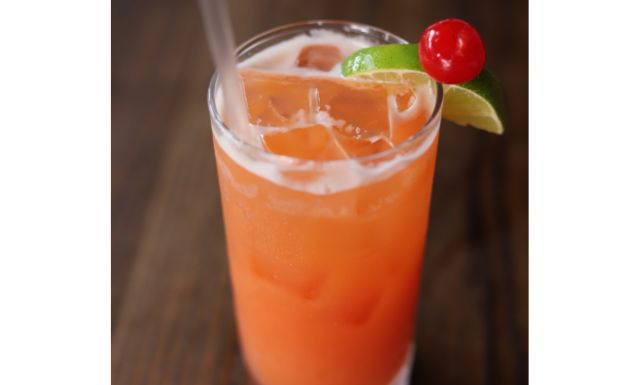 The Bacardi Superior Rum gives the drink a smooth and rich flavor character. This Italian rum punch is not only delectable but also looks great when garnished with a lime wedge. Sip on this delightful concoction and let its vibrant flavors take you on a mini vacation to Italy.
There are only 6 ingredients and some bar tools are needed to make this Italian Rum Punch, which I explained in more detail below for your convenience.
The Ingredients & Tools Needs For Italian Rum Punch
The ingredients and tools are as follows:
Ingredients:
Sweet & Sour Mix: You will need 4 oz of sweet & sour mix. Use Mr & Mrs T brand sweet & sour mix to get the best result.
Rum: You will need 1 1/2 oz of rum. Use Bacardi Superior Rum or you can use Malibu Coconut or Spiced Rum.
Strawberry Syrup: You will need 1 oz of strawberry passion syrup. Use Monin brand strawberry cocktail syrup or you can use homemade strawberry passion syrup.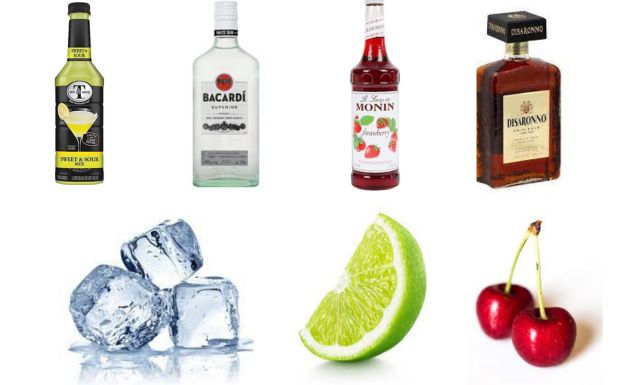 Amaretto: You will need 1/2 oz of Amaretto. Use Disaronno Originale Amaretto Liqueur to get the best punch.
Ice cubes: You will need 1 and 1/2 cups of good-quality ice cubes.
Lime wedge: You will need a lime wedge and cherry to garnish.
Tools:
You will need Cocktail Shaker, Jigger, Strainer, and Serving Glass.
So let's see How To Make an Italian Rum Punch Recipe at Home!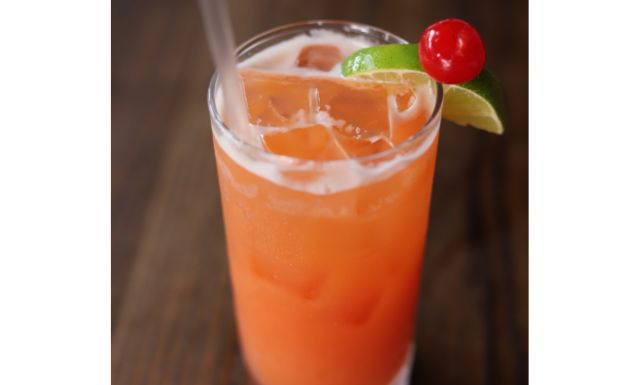 Best Italian Rum Punch Recipe
Follow this Italian Rum Punch Recipe ingredients and directions to make a perfect Italian Rum Punch, like a professional mixologist.
Equipment & Tools
Cocktail Shaker

Jigger

Strainer

Serving Glass
Instructions 
In a cocktail shaker, add 1 1/2 cups of ice to get started.

Add the sweet & sour mix, Bacardi Superior Rum, strawberry-passion syrup, and amaretto to the shaker.

Shake the mixture for about 15 seconds to thoroughly combine the ingredients.

Fill a glass about 1 1/2 cups with ice cubes.

Using a strainer, pour the rum punch from the shaker into the glass.

Garnish the drink with a lime wedge.

Enjoy your Italian Rum Punch!
Notes
The Italian Rum Punch is a tasty drink that's great for enjoying on a hot day or at social gatherings.
You are welcome to customize the recipe to your tastes by adjusting the sweetness or by including extra fruits or herbs for a more different flavor.
Keep in mind to enjoy your Italian Rum Punch in moderation and to drink responsibly.
Tried This Recipe?
Let Us Know How It Was & Give Ratings.
Our Other Drinks Recipes:
Variations and Tips for Italian Rum Punch:
Fruit Infusions: Try experimenting with various fruit infusions to give your Italian rum punch a unique flavor. To bring out the delicious qualities of fresh strawberries or raspberries, muddle them before putting them in the shaker. Alternatively, for a tropical twist, try using flavored syrups like peach or mango.
Sparkling Italian Rum Punch: Add some sparkling water or club soda to your punch to make it bubbly. This lightens the drink's overall character and adds a reviving effervescence.
Spiced Rum: To give your punch a warm and aromatic kick, try using spiced rum in instead of Bacardi Superior Rum. The flavors of sweet and sour can work nicely together with the subtleties of vanilla, cinnamon, and cloves.
Coconut Rum: To give the punch a tropical coconut flavor, substitute up some of the Bacardi Superior Rum with coconut rum. It gives the drink a creamy, exotic touch that makes you think of a Caribbean vacation.
Fresh Citrus Juices: Replace the sweet and sour mix with freshly squeezed lemon and lime juices for a zesty twist. Your punch will taste brighter and more lively as a result.
What To Serve With Italian Rum Punch?
Cocktails like the Italian Rum Punch can be sipped on a variety of occasions. Here are some suggestions for foods to pair with this lovely drink:
Appetizers: Pair your Italian Rum Punch with flavorful and light appetizers. Excellent options include Bruschetta with fresh tomatoes and basil, antipasto skewers with olives and cheese, and mini Caprese salads. These appetizers complement the flavorful and refreshing qualities of the cocktail.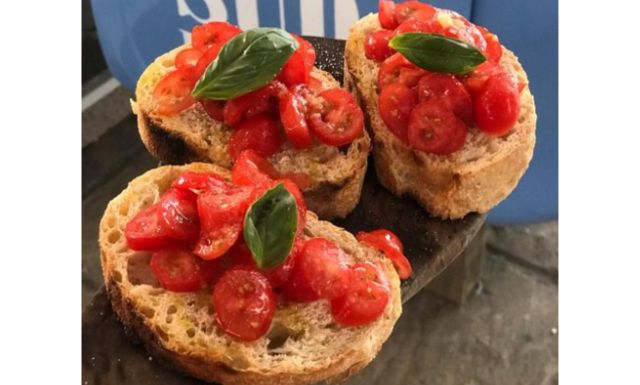 Seafood Dishes: Seafood meals go well with the punch because of the tropical overtones in it. Serve salmon with a lemon garlic butter sauce, grilled shrimp skewers, or seafood pasta recipes.
Italian Cuisine: Serve classic Italian foods with the punch to embrace the Italian theme. Think about choices like a Caprese salad, handmade spaghetti with marinara sauce, or margarita pizza. These traditional Italian tastes go nicely with the drink.
Light Desserts: Serve small sweets to round off your meal with a sweet finish. Lemon bars, fruit tarts, or a citrus-infused sorbet are some options that won't overpower the tongue while enhancing the taste of the Italian rum punch.
Our Other Drinks Recipes:
Frequently Asked Questions On
Can I use a different type of rum for this recipe?
While the recipe calls for Bacardi Superior Rum, you are free to experiment with other rums based on your personal taste. Consider that using a different rum may quietly change the final cocktail's flavor.
Can I make Italian Rum Punch in advance for a party?
The Italian Rum Punch is best served when it is still cool, but you may make the combination ahead of time and store it in the refrigerator until you're ready to serve. Give it a thorough shake when you're ready, then pour it into each glass with ice. Garnish the Italian Rum Punch with lime wedges, and your guests can enjoy it.
Can I adjust the sweetness of the Italian Rum Punch?
Absolutely! You can cut out the sweet-and-sour mix or strawberry-passion syrup in the Italian Rum Punch recipe if you find it to be excessively sweet. To add tartness and balance the sweetness, you may also add a squeeze of fresh lime juice.
Can I make a larger batch of Italian Rum Punch for a crowd?
Yes, the recipe is readily scaled up for making a bigger amount of Italian rum punch. To prepare the cocktail in a bigger container or pitcher, simply multiply the amounts of each ingredient, then when serving individual portions, adjust the ice and garnish. To ensure the proper balance of flavors, keep the ingredient ratios equal.
Can I customize the Italian Rum Punch with additional ingredients?
Absolutely! You are welcome to experiment and alter the Italian Rum Punch to suit your tastes. To enhance the fruity flavors, you can add chunks of fresh fruit like strawberries, raspberries, or pineapple. Basil or mint leaves can give the drink a cooling twist. Just keep in mind that if you add any extra ingredients, you should drain the drink before serving.
Our Other Drinks Recipes:
Conclusion
Italian Rum Punch is a delectable and refreshing cocktail that combines tropical flavors to perfection. With each taste of this punch, the combination of Bacardi Superior Rum, sweet and sour mix, strawberry passion syrup, and amaretto will transport you to the sunny shores of Italy.
This recipe's versatility allows for customization and creativity. You can experiment with various variations by infusing fruits, using spiced or coconut rum, or modifying the sweetness to your liking. Italian Rum Punch is a fantastic choice for impressing guests and enhancing the atmosphere, whether you are hosting a summer gathering, experiencing a relaxing afternoon, or commemorating a special event.
So gather your ingredients, give this tropical delight a good shake, and savor the exotic and alluring flavors of Italian Rum Punch. Cheers to an Italian flavor that will refresh and satisfy you. Savor the moments of pleasure that this cocktail brings with moderation.