If you are a sausage lover then this Grandmother's Summer Sausage Recipe is for you. In this post, I have shared the Best Grandmother's Summer Sausage Recipe with some valuable tips that you will like a lot I hope.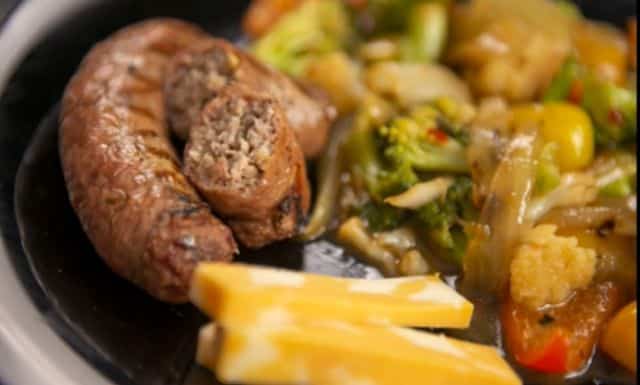 What Is Grandmother's Summer Sausage?
Grandmother's Sausage is a type of meat made mostly from ground meat. It can be pork, beef or chicken along with spices, salt, and other flavourings. As fillers and extenders, other ingredients such as breadcrumbs or grains may also be used.
The word sausage, when used as an adjective, can refer to loose sausage meat that can be shaped into patties or stuffed in the skin. The product is often referred to by the term "a sausage", and it is cylindrical and covered in skin.
Sausage is typically made using a casing that has been traditionally made from the intestine. However, sometimes it's made with synthetic materials. Sausages sold raw can be prepared in many ways including broiling, pan-frying and barbecuing. Some sausages may have their casing removed after cooking as a part of the making procedure.
What You Will Need For Grandmother's Summer Sausage Recipe?
This Grandmother's Summer Sausage Recipe only requires 9 handfuls of ingredients. They Are as follows: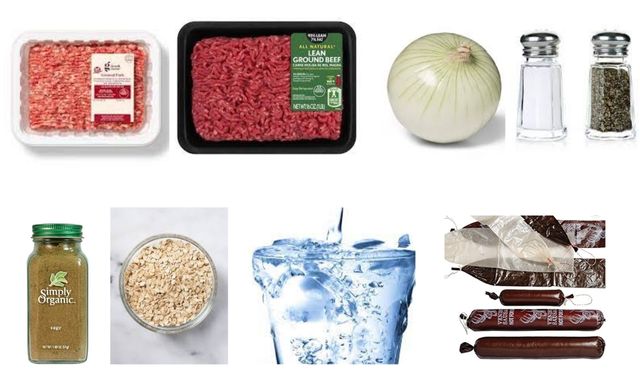 Ground Pork: we purchased our ground pork but if you want you can grind a pork shoulder yourself.
Ground Beef: The original recipe calls for venison but I did not have any so I substituted it with beef.
Onions: You can use red or white onion. It must be Finely Chopped.
Salt: The ratio is 3 tsp salt per 4 lbs of meat.
Dried Sage Leaves: The ratio is the same as the salt ratio.
Black Pepper: Ratio is 1 tsp per 4 lbs of meat.
Oatmeal: The Ratio is 1 cup per 4 lbs of meat.
Hog Casings: Run water through them to flush out the salt after soaking them in lukewarm water for two hours.
The Equipment You Will Need: Mixing Bowl Or Meat Mixer, Measuring Cup, Measuring Spoon, Tong And Traeger Pellet Grill.
So without wasting time let's start the Grandmother's Summer Sausage Recipe!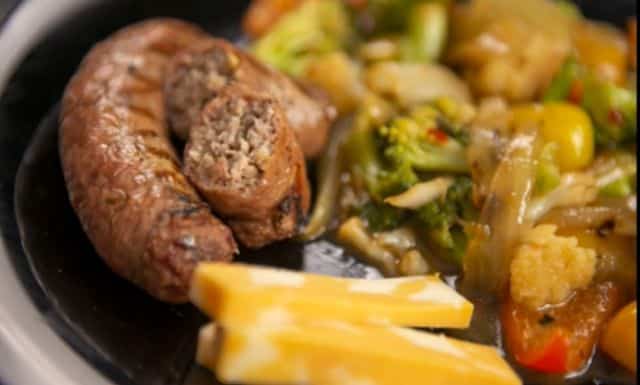 Best Grandmother's Summer Sausage Recipe
Follow this Grandmother's Summer Sausage Recipe ingredients and directions and make a perfect Grandmother's Summer Sausage at home.
Equipment & Tools
Mixing Bowl Or Meat Mixer

Measuring Cup

Measuring Spoon

Traeger Pellet Grill

Tong
Ingredients  
5

lb

Ground Pork

1

lb

Ground Beef

2

large

Onions, Finely Chopped

4 ½

tsp

Salt

1 ½

tsp

Black Pepper

1 ½

cup

Quaker Oatmeal, Recommended

2

cups

Ice-Cold Water
Instructions 
Add meat to a large bowl or meat mixer if you have one.

Add remaining ingredients and mix very well to spread all ingredients evenly.

Stuff in hog casings if you have or form patties if you do not have casings, then make 4-inch links.

Start your Traeger Pellet Grill and set the temperature to 400ºF.

Once your grill temp has been reached place sausage links on the grill.

Cook 10 minutes once side then flip over and cook an additional 10 minutes on the flip side or until internal sausage temperature reaches 155ºF.

Take the pan off the heat and give it five minutes to cool.
Nutrition
Serving:
150
grams
Calories:
247
kcal
(12%)
Carbohydrates:
4
g
(1%)
Protein:
41.3
g
(83%)
Fat:
6.3
g
(10%)
Saturated Fat:
2.2
g
(14%)
Polyunsaturated Fat:
0
g
Monounsaturated Fat:
0
g
Trans Fat:
0
g
Cholesterol:
115
mg
(38%)
Sodium:
2737
mg
(119%)
Potassium:
682
mg
(19%)
Fiber:
1.1
g
(5%)
Sugar:
0.8
g
(1%)
Vitamin A:
0
IU
Vitamin C:
0
mg
Calcium:
30
mg
(3%)
Iron:
7
mg
(39%)
Tried This Recipe?
Let Us Know How It Was & Give Ratings.
Have a look at our Outback Steakhouse Potato Soup Recipe if you are interested.
Valuable Tips
What Is The Best Meat For Sausages?
The ideal cuts for beef and pork sausages are the shoulders of the respective meats. It is also known as pork shoulder or Boston butt. It is extremely affordable. It is ideal for making sausages because it has a fat content of between 20-30%.
How To Store Grandmother's Summer Sausage?
Unopened, semi-dry sausage can be kept in the refrigerator for up to three months to avoid the meat getting contaminated with dangerous bacteria. Once the product has been partially consumed and opened, it is advisable to keep it in the refrigerator for no longer than three weeks.
How To Freeze Grandmother's Summer Sausage?
Each sausage meat should be wrapped in foil. To further protect the sausage meat from air and odours, wrap it in foil. Finally, you can put the bag of portioned sausage beef into the freezer. After being opened, summer sausage can be safely stored for one to two months in the freezer.
What To Serve With Grandmother's Summer Sausages?
You can Serve Grandmother's Summer Sausage with Grilled Vegetables, Mac & Cheese, Sauteed Peppers and Onions, Baked Beans, Potato Salad, Coleslaw, Rosemary and Garlic Baked Potato Wedges.
You can look at our Gordon Ramsay Scotch Eggs Recipe If you're interested.
Take a peek at our Salmon Cheesesteak Recipe if you're interested.
Conclusion
Grandmother's Summer Sausage Recipe is so simple to make and requires very few ingredients but the combination of these ingredients creates something so unique in flavour that is important that it is passed on. The Grandmother's Summer Sausage recipe takes just 35 minutes to make. This is one of those foods that doesn't take long to prepare.
We are always open to new ways to make sure you're aware of the wonderful foods we offer. It's easy to prepare this delicious sausage for your loved ones. I hope you enjoy the Recipe. Please leave a comment below if you liked our Grandmother's Summer Sausage Recipe.