If you are a Cheesesteak lover then this Salmon Cheesesteak Recipe is for you. In this post, I have shared the Best Salmon Cheesesteak Recipe with some valuable tips that you will like a lot I hope.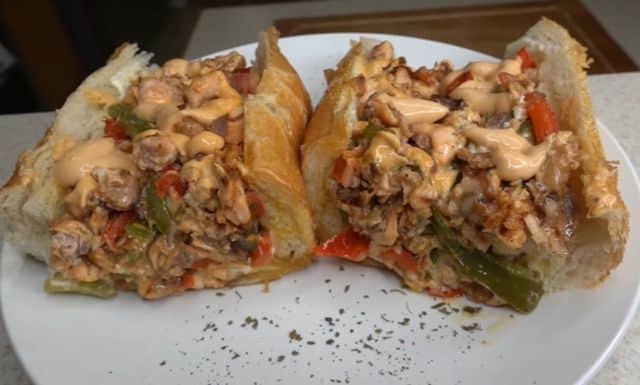 What Is Salmon Cheesesteak?
A cheesesteak is a lengthy hoagie roll-based sandwich made with thinly sliced beefsteak and melted cheese. Philadelphia cheesesteak, Philly cheesesteak, cheese steak, cheesesteak sandwich, and steak with cheese are additional names for it. Its origins can be found in the American city of Philadelphia, Pennsylvania, and is a well-liked local fast food.
Similar in preparation, this salmon cheesesteak recipe uses wild-caught salmon and includes a tasty Chipotle Aioli sauce that goes great with the seafood. For those who enjoy seafood, are pescatarians, don't consume red meat, etc., this is the ideal substitution.
What Ingredients And Equipment You Will Need For Salmon Cheesesteak Recipe?
The Ingredients are as follows:
Salmon:
Over the years, the issue of farm-raised vs wild-caught salmon has generated a lot of discussions. It's important to keep in mind that purchasing wild-caught salmon is ideal.
Salmon raised on farms is typically white and is coloured artificially to resemble salmon caught in the wild. Salmon taken from the wild do not have the same lifestyle as this fish, which is "grown" on a real farm.
Cheese:
The cheese used in classic Philly cheesesteaks is provolone. However, I use mozzarella and American cheese in this recipe; however, you may also use Gruyere, Swiss, and Parmesan if you'd like to try something different. It is advisable to use mild-flavoured cheese when serving fish with cheese.
Ingredients You Will Need: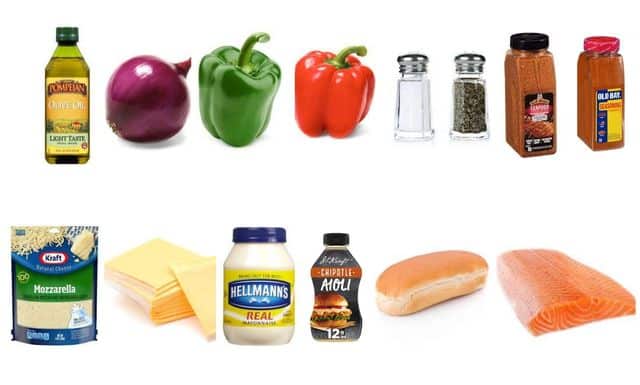 Salmon, Mozzarella Cheese, American Cheese, Olive Oil, Red Onion, Green Bell Pepper, Red Bell Pepper, Black Pepper, Salt, Seafood Seasoning Or Old Bay Seasoning, Mayonaise, Chipotle Aioli, Salmon, and Hoagie Roll.
The Equipment You Will Need:
Nonstick Pan, Rubber Spatula, Measuring Cup, Measuring Spoon, Cutting Board, Knife, Paper Towel, Bowl.
So without wasting time let's start the Salmon Cheesesteak Recipe!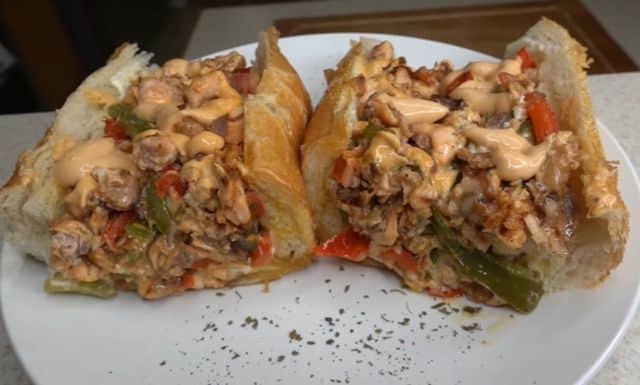 Best Salmon Cheesesteak Recipe
Follow this Salmon Cheesesteak Recipe ingredients and directions and make a perfect Salmon Cheesesteak like a restaurant chef.
Equipment & Tools
Nonstick Pan

Rubber Spatula

Measuring Cup

Measuring Spoon

Cutting Board

Knife

Paper Towel

Bowl
Ingredients  
2

tbsp

Olive Oil

½

Red Onion

1

Green Bell Pepper

1

Red Bell Pepper

2

tsp

Black Pepper

2

tsp

Salt

2

tsp

Seafood Seasoning Or Old Bay Seasoning

½

cup

Mozzarella Cheese, Shredded

2

tbsp

J.L. Kraft Chipotle Aioli

1

(200 gm)

Medium Cut Salmon Fillet
Instructions 
Dry off the salmon with a paper towel.

Peel the onion and slice the onion, green and red bell pepper and put them aside.

On med heat, add oil to a nonstick saucepan.

Add slices of onion and bell peppers.

Add little black pepper and salt and cook until soft.

Remove the vegetables from the pan and place them on a plate.

Add salmon to the same skillet.

Season salmon with salt, black pepper, and seafood seasoning.

Season another side as well.

Start to chop salmon as it cooks with a rubber spatula.

Add vegetables to salmon and cook.

Add 1/2 cup shredded mozzarella cheese.

Add 4 slices of American cheese, stir and cook.

Cut the Hoagie Roll in half and gut some of the bread out of the roll.

Add mayonnaise with a rubber spatula and evenly spread both sides.

Make sure to strain grease before placing to roll.

Add some chipotle aioli on top.

Close the roll and enjoy!
Nutrition
Serving:
1
Cheesesteak
Calories:
636
kcal
(32%)
Carbohydrates:
40.9
g
(14%)
Protein:
20.8
g
(42%)
Fat:
45
g
(69%)
Saturated Fat:
14.3
g
(89%)
Polyunsaturated Fat:
0
g
Monounsaturated Fat:
0
g
Cholesterol:
54
mg
(18%)
Sodium:
9830
mg
(427%)
Potassium:
594
mg
(17%)
Fiber:
5.6
g
(23%)
Sugar:
11.4
g
(13%)
Vitamin A:
0
IU
Vitamin C:
0
mg
Calcium:
347
mg
(35%)
Iron:
3
mg
(17%)
Tried This Recipe?
Let Us Know How It Was & Give Ratings.
Have a look at our Danny's Nachos Recipe if you are interested.
Valuable Tips
What To Serve With Salmon Cheesesteak?
You can serve Salmon Cheesesteak with avocado Fries, French Fries, Onion Rings, Potato Chips, Coleslaw, Fried Okra, Potato Wedges, Cookies, and Cream Milkshake
Can I Replace Some Ingredients?
You can use Provolone, Swiss, Gruyere, and Parmesan Cheese instead of American and Mozzarella Cheese. You can also use Farm-raised salmon instead of Wild-caught salmon.
How to Store Salmon Cheesesteak?
In The Refridgerator: Your prepared salmon cheesesteak should be kept in an airtight container in the refrigerator. If properly stored, it can remain fresh in the refrigerator for up to three days.
In The Freezer: Slice the sandwiches in half, then wrap them in foil if you like smaller amounts. Your salmon cheesesteak sandwiches will keep in the freezer for roughly two months.
How To Reheat Salmon Cheesesteak?
In The Oven: After removing the cheesesteak, wrap it in aluminum foil. Set the oven's temperature to about 375 degrees Fahrenheit. The aluminum-wrapped cheesesteak should be baked for 20 to 25 minutes.
In The Microwave: Place it on a microwave-safe plate after removing it from the refrigerator. Place your cheesesteak on top of a wet paper towel. Microwave your sandwich for one minute and thirty seconds on 80% power in the microwave.
You can look at our Gordon Ramsay Scotch Eggs Recipe If you're interested.
Take a peek at our Loaded Chicken Burrito Recipe if you're interested.
Conclusion
An outstanding must-try recipe is a Salmon Cheesesteak. With only a few simple ingredients and a rapid preparation time of only 25 minutes, you can make this salmon cheesesteak sandwich at home. It is one of those foods that can be made quickly and easily.
To easily prepare this delectable salmon cheesesteak for your family, just assemble the necessary materials. I hope you liked the recipe for the salmon cheesesteak. If you like our Salmon Cheesesteak Recipe, kindly leave your remarks in the space provided.