If you are a Harold's Chicken Shack food lover then this Harolds Chicken Recipe is for you. In this post, I have shared the Popular Harolds Chicken Recipe with some valuable tips that you are going to love.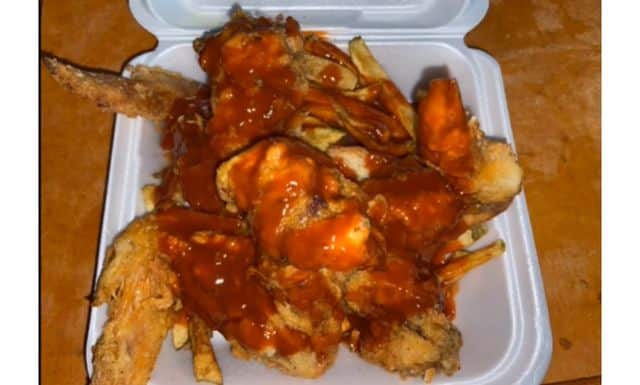 What Is Harolds Chicken Recipe?
Chicago, Illinois-based Harold's Chicken Shack is a well-known fried chicken establishment. The franchise mostly serves the predominantly black neighbourhoods of Chicago, although it also has outlets in Carbondale, Illinois, Springfield, Northwest Indiana, Indianapolis, Arizona, Phoenix, Atlanta, Georgia, Las Vegas, Missouri, Houston, Texas, and Los Angeles.
Harold's Chicken Shack offers many chicken options. Fried Chicken Wings are one such item and are extremely popular in the USA. You can easily make Harold's Chicken Fried at home with just a few ingredients.
The Equipment and Ingredients are as follows:
The Equipment You Will Nedd: Mixing Bowl, Measuring Cup, Measuring Spoon, Knife, Cutting Board, Frying Pan, Hand Gloves and Paper Towel.
The Ingredients You Will Need: Chicken Wings, Salt, Black pepper, Lemon pepper, Flour, Eggs, Vegetable Oil, Open Pit BBQ Sauce, and Louisiana Hot Sauce.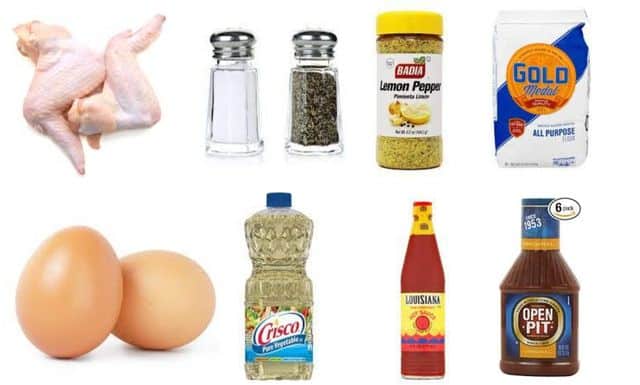 Unlike most restaurants, Harold's uses a mixture of beef tallow and vegetable oil to fry its chicken. This gives the chicken a more traditional taste than the fried chicken found in the American South.
So without wasting time let's start the Harolds Chicken Recipe!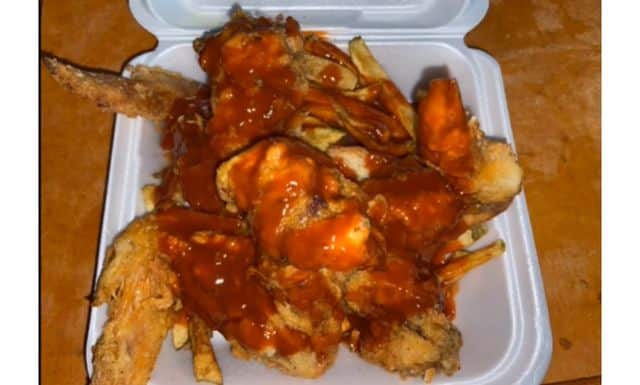 Popular Harolds Chicken Recipe
Follow this Harolds Chicken Recipe ingredients and directions and make perfect Fried Chicken Wings like Harold's Chicken Shack Restaurant.
Equipment & Tools
Mixing Bowl

Measuring Cup

Measuring Spoon

Knife

Cutting Board

Frying Pan

Hand Gloves

Spider Or Slotted Spoon

Paper Towel
Ingredients  
2

lb

Chicken Wings

1

tsp

Salt

1

tsp

Black pepper

1 ½

cup

Flour

2

Eggs, Beaten

5

cups

Vegetable Oil, For Deep-Frying

¼

cup

Artist Unknown Louisiana Hot Sauce, Recommended
Instructions 
First, wash the chicken wings and put them in a bowl.

Season the chicken wings with 1/2 tsp of Black Pepper, 1/2 tsp of salt, and 1/2 tsp of Lemon Pepper.

In a separate bowl mix flour, 1/2 tsp of Black Pepper, 1/2 tsp of salt, and 1/2 tsp of Lemon Pepper together. Sit for five to ten minutes.

Press wings into flour mixture to coat and set them aside.

Beat two eggs in a separate bowl.

Now the wings dip into the beaten eggs and put in the flour mixture to coat again.

Sit for 5 minutes before frying.

To make the sauce in a bowl add 1/2 cup Open Pit BBQ Sauce and 1/4 cup Louisiana Hot Sauce.

Mix both sauces with a spoon very well and put the sauce in a bottle.

Heat the 5 cups of oil at medium heat (350Degree Fahrenheit).

Fry the chicken wings for 8 to 10 minutes or until golden brown.

Use a spider or slotted spoon to transfer wings to the baking sheet.

Let cool for 5 minutes on a paper towel before serving

Place the chicken wings on a plate.

Sprinkle with lemon pepper on top.

Pour the hot sauce on top.

Enjoy your Harolds Chicken Wings at home!
Nutrition
Serving:
2
Wings
Calories:
453
kcal
(23%)
Carbohydrates:
13.1
g
(4%)
Protein:
18.1
g
(36%)
Fat:
36.2
g
(56%)
Saturated Fat:
7.2
g
(45%)
Polyunsaturated Fat:
0
g
Monounsaturated Fat:
0
g
Trans Fat:
0
g
Cholesterol:
72
mg
(24%)
Sodium:
1210
mg
(53%)
Potassium:
142
mg
(4%)
Fiber:
0.3
g
(1%)
Sugar:
2.8
g
(3%)
Vitamin A:
0
IU
Vitamin C:
0
mg
Calcium:
21
mg
(2%)
Iron:
0
mg
Tried This Recipe?
Let Us Know How It Was & Give Ratings.
Have a look at our Grandmother's Summer Sausage Recipe if you are interested.
Valuable Tips
What To Serve With Harolds Fried Chicken Wings?
You can serve your Harolds Chicken Wings Fry with Stuffed Mini Peppers, Sweet Potatoes, Avocado Fries, Fried Rice, Onion Rings, Cornbread, Macaroni Salad, Mac and Cheese, Pasta Salad, Cauliflower Salad, Potato Salad, Coleslaw, French Fries, and Garden Salad.
How to Store Harolds Fried Chicken Wings?
Harolds Fried Chicken Wings should be refrigerated in small airtight containers. To increase shelf life, you can also wrap the chicken in aluminium foil or plastic wrap. Fried chicken can be kept in a refrigerator for up to 3 to 4 days if it is properly stored.
How To Freeze Harolds Fried Chicken Wings?
The Harolds Fried Chicken Wings should be placed in the back of your freezer, where it is coldest. The containers and freezer bags should not be placed on top of one another. Otherwise, the chicken won't freeze properly. Place the freezer bag flatly if you are using it to freeze each chicken wing.
How To Reheat Harolds Fried Chicken Wings?
Preheat the oven to 350 Degrees Fahrenheit. Place the wings on a baking sheet or pan covered with foil. The wings should be baked for 15 minutes, or until well heated. Take out and enjoy
You can look at our Japanese Baked Mussels Recipe If you're interested.
Take a peek at our  Jason's Deli Broccoli Cheese Soup Recipe if you're interested.
Conclusion
Harolds Fried Chicken Wings Recipe is worth trying. You can quickly and easily make amazing Harolds Fried Chicken Wings at home with just a few basic ingredients. The preparation time is about 20 minutes. It is one of those foods that can be made quickly and easily.
To easily prepare these wonderful Harolds Fried Chicken Wings for your family, just gather the above-mentioned necessary things. I hope you enjoyed the Crack Sauce Recipe. If you enjoy our recipe, please let us know by leaving a comment below.