If you are a fan of queso then this Freebirds Queso Recipe is for you. In this post, I have shared the Popular Freebirds Queso Recipe with some useful information that you will like a lot I hope.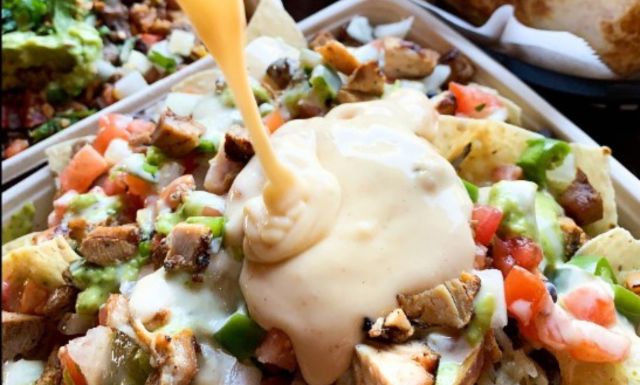 What Is Freebirds Queso?
Mark Orfalea founded Freebirds, a regional chain of fast-casual burrito restaurants, in 1987 in Santa Barbara, California, United States. Freebirds serves special queso for their customer as a dipping sauce which is very popular at the restaurant.
Freebirds Queso is a creamy and cheesy dip that's super tasty. It's made with white American cheese which is melted with half and half, water, cumin, and blended chipotle peppers for some smoky flavor.
Cut up white onion, Roma tomatoes, cilantro, and a little jalapeno without its seeds, mix them with lime juice, and add this mix to the melted cheese. Add a pinch of salt for taste. You serve this dip with your favorite chips for dipping fun.
If you have any leftovers, keep them in a closed container in the fridge. It will stay yummy for around three days after you make it. Only 11 ingredients and some kitchen equipment are needed to make this delicious queso which I explained in detail below.
The Ingredients & Equipment Needs For Freebirds Queso
The ingredients and equipment are as follows:
Ingredients:
American Cheese: You will need 1 1/2 lb of white American cheese. Use Kraft Velveeta Queso Blanco Cheese to get the best result.
Half And Half: You will need 3/4 cup of half and half. Use Land O Lakes brand half and half to get the best result.
Water: You will need 2/3 cup of fresh water.
Cumin: You will need 1 1/2 tsp of ground cumin. Use McCormick or Spicy World brand ground cumin.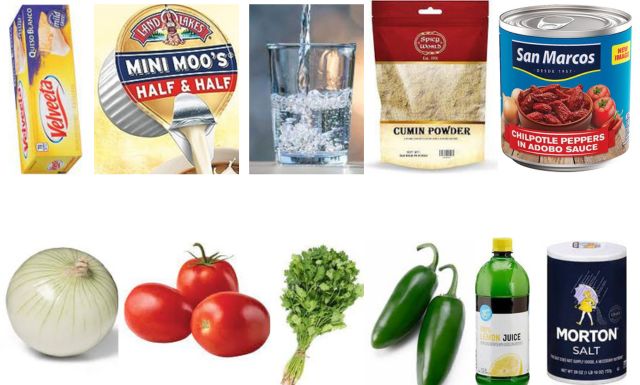 Chipotle Pepper: You will need 1 tbsp of canned chipotle peppers. Use San Marcos brand canned chipotle peppers or use what you have on hand.
Vegetables: You will need 3/4 white onion, 3 Roma tomatoes, 2 tbsp of cilantro, and 1/2 jalapeno pepper. Chop the onion, tomatoes, and cilantro as preparation.
Lime Juice: You will need 1 tbsp of lime juice. Use freshly queezed lime juice or you can use Happy Belly brand lime juice from the store.
Salt: You will need salt to taste. Use Morton brand salt or use what regularly use for cooking.
Tools:
You will need a Food Processor, Cutting Board, Knife, Mixing Bowl, Saucepan, Measuring Cup, Measuring Spoon, Stirring Spoon, and Glass Bowl Or Bottle.
So, let's see How To Make Freebirds Queso Recipe at Home!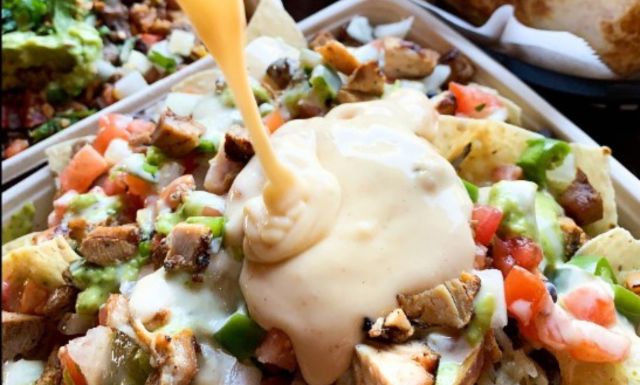 Freebirds Queso Recipe
Follow this Freebirds Queso Recipe ingredients and directions to make the perfect queso like Freebirds fast-food restaurant.
Equipment & Tools
Food Processor

Cutting Board

Knife

Mixing Bowl

Saucepan

Measuring Cup

Measuring Spoon

Stirring Spoon

Glass Bowl Or Bottle
Ingredients  
⅔

cup

Water

1 ½

tsp

Ground Cumin

¾

White Onion, Chopped

3

Roma Tomatoes, Chopped

2

tbsp

Cilantro, Chopped

½

Jalapeno Pepper, Seeds Removed

1

tbsp

Lime Juice

Salt To Taste
Instructions 
Blend the canned chipotle peppers in a food processor until they are smooth.

Cut the white American cheese into small cubes and place them in a large pot that has been sprayed with non-stick spray.

Add the half and half, water, cumin, and the blended chipotle peppers to the pot with the cheese.

Melt the cheese mixture over medium-low heat, stirring frequently to ensure even melting.

While the cheese is melting, finely dice the white onion, Roma tomatoes, cilantro, and 1/4 of a regular-sized jalapeno with its seeds removed.

Mix the chopped onion, tomatoes, cilantro, and jalapeno together in a bowl. Add lime juice and mix well.

Once the cheese has melted completely, add the mixed diced ingredients to the cheese pot and stir until everything is well combined.

Taste the queso and add salt as needed to suit your preference.

Serve the delicious queso with your favorite chips for dipping.
Notes
Any leftovers should be kept in the refrigerator in an airtight container. After making, the queso dip can be stored for up to three days.
Nutrition
Serving:
0.5
cup
Calories:
203
kcal
(10%)
Carbohydrates:
7.5
g
(3%)
Protein:
11.1
g
(22%)
Fat:
14.4
g
(22%)
Saturated Fat:
8.5
g
(53%)
Polyunsaturated Fat:
0
g
Monounsaturated Fat:
0
g
Trans Fat:
0
g
Cholesterol:
45
mg
(15%)
Sodium:
728
mg
(32%)
Potassium:
261
mg
(7%)
Fiber:
0.6
g
(3%)
Sugar:
5.9
g
(7%)
Calcium:
341
mg
(34%)
Iron:
1
mg
(6%)
Tried This Recipe?
Let Us Know How It Was & Give Ratings.
Our Other Sauce Recipes:
Variation & Tips for Freebirds Queso Recipe
Variations:
Cheesy Spinach Delight: Add a handful of chopped cooked spinach to the melted cheese mixture for a nutritious twist. The spinach adds a lovely green color and extra flavor.
Fiesta Beef Fiesta: Brown some ground beef with taco seasoning and mix it into the queso for a heartier version. It's like a mini taco party in your dip!
Zesty Avocado Burst: Mash a ripe avocado and mix it with lime juice before adding it to the melted cheese. This adds a creamy texture and a burst of fresh flavor.
Tips:
Smooth Chipotle Blend: Make sure to blend the canned chipotle peppers until they're really smooth. This will ensure that the smoky flavor is evenly distributed throughout the dip.
Stir, Stir, Stir: When melting the cheese, stir often to prevent it from sticking to the pot or burning. Low to medium-low heat is best to avoid scorching.
Customize Lime and Salt: Adjust the lime juice and salt according to your taste. Start with a little and add more if needed, so your queso is just right for you.
What To serve with Freebirds Queso?
Freebirds Queso goes great with a variety of dippable foods. Here are some tasty options:
Tortilla Chips: Classic tortilla chips are the perfect companion for this cheesy dip. Their crunchy texture and salty taste complement the creamy queso.
Vegetable Sticks: Serve a colorful variety of vegetable sticks, including carrot, celery, cucumber, and bell pepper. The fresh and crisp veggies contrast well with the rich queso.
Mini Quesadillas: Make small quesadillas with tortillas and cheese, then dip them in the queso for a double dose of cheesiness.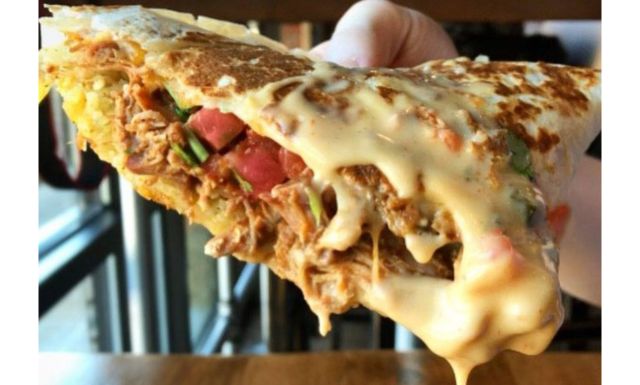 French Fries: If you're feeling adventurous, try dipping french fries into the queso. The cheesy and savory flavor combination is remarkably delicious.
Crispy Potato Wedges: Seasoned and baked potato wedges provide a hearty base for scooping up the queso.
Nachos: Create a nacho platter with layers of tortilla chips, queso, and other toppings like salsa, guacamole, and sour cream.
Our Other Recipes:
Frequently Asked Questions
Can I use a different type of cheese?
Yes, you can try using other types of cheese, but white American cheese like Velveeta is commonly used for its smooth melting texture. If you use a different cheese, the consistency and taste might change.
Can I make this queso ahead of time?
It's best to enjoy the queso shortly after making it for the freshest taste and texture. If you have leftovers, you can reheat them over a low flame or in the microwave.
Can I make this queso without a food processor?
Yes, you can. Instead of a food processor, you can finely chop the chipotle peppers by hand. The texture might not be as smooth, but it will still work.
Can I freeze the leftover queso?
Freezing can alter the texture of dairy-based dips, so it's not recommended to freeze this queso. It's best enjoyed fresh or stored in the fridge for a few days.
Is this queso suitable for vegetarians?
Yes, if you use a vegetarian-friendly version of American cheese and ensure that the chipotle peppers are free from animal products, this queso can be vegetarian-friendly.
Can I make a larger batch?
Yes, you can adjust the quantities to make a larger batch. Simply maintain the proportions of the ingredients to ensure flavor consistency.
Our Other Sauce Recipes:
Conclusion
Freebirds Queso is a delicious and cheesy dip that's easy to make. It's a creamy blend of white American cheese, chipotle peppers, and a touch of spice. You can customize it by adding veggies or meat, and it's perfect with chips, veggies, or even fries.
Remember, you can adjust the spice level and ingredients to suit your taste. Enjoy it fresh for the best flavor, and if you have any leftovers, keep it in the fridge. So, gather your ingredients, follow the simple steps, and get ready to dip into a bowl of yummy queso that's sure to be a hit at any gathering!