If you are looking for the Alfredo Montamore Recipe then you are on the right blog page. In this post, I have shared the Best Alfredo Montamore Recipe with some useful information that you will like a lot I hope.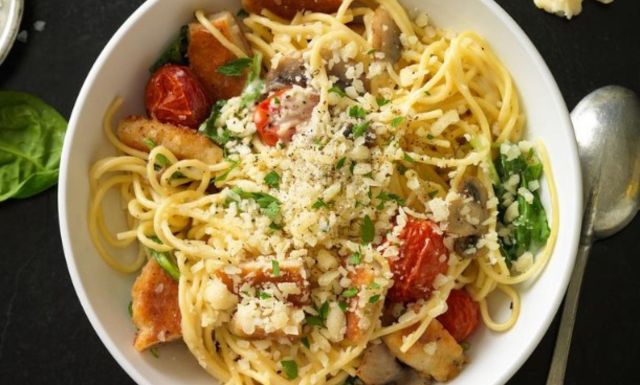 What is Alfredo Montamore?
Alfredo Montamore is a tasty and creamy Italian-inspired dish. It starts with boneless, skinless chicken breasts that are coated with a breadcrumb mixture for extra flavor and crunch. These chicken breasts are baked until they're cooked through and have a golden-brown edge.
Then, a creamy Alfredo sauce is poured over the chicken, and it's topped with melted mozzarella cheese and fresh, chopped tomatoes for a burst of freshness. The dish goes back into the oven briefly until the cheese is bubbly and the chicken looks delicious.
To finish it off, grated Parmesan cheese is sprinkled on top, and the remaining Alfredo sauce is heated up and poured over everything for an extra creamy touch. You can serve Alfredo Montamore over cooked spaghetti for a complete and satisfying meal.
In a nutshell, Alfredo Montamore is a delightful dish with baked chicken, creamy sauce, cheese, and spaghetti, making it a comforting and flavorful dinner option.
The Ingredients & Equipment Needs For Alfredo Montamore
The ingredients and Tools are as follows:
Ingredients:
Chicken Breast: You will need 4 skinless and boneless chicken breast halves. Use Fresh brand chicken breast to get the best result.
Egg: You will need 1 large size egg, beaten. Beat the egg in a small bowl with a spoon or whisk.
Alfredo Sauce: You will need 15 oz of Alfredo sauce. Use Classico or Rao's Homemade brand Alfredo Sauce to get the best result.
Garlic Powder: You will need 1/4 tsp of garlic powder. Use McCormick or Happy Belly brand garlic powder.
Paprika: You will need 1/4 tsp of paprika. Use McCormick or Happy Belly brand paprika.
Tomato: You will need 1 medium-sized tomato, finely chopped. Use 1/2 cup Mozzarella Cheese, finely shredded. Use a knife to chop the tomato as preparation.
Mozzarella Cheese: You will need 1/2 cup of Mozzarella cheese. Use Kraft or Nutristore brand mozzarella cheese.
Spaghetti: You will need 8 cups of spaghetti. Use Barrila brand spaghetti to get the best result.
Parmesan Cheese: You will need 1/4 cup of grated Parmesan cheese. Use Kraft brand Parmesan cheese to get the best taste.
Bread Crumbs: You will need 3/4 cup of dry Italian seasoned bread crumbs. Use Vigo Brand Italian Style Seasoned Bread Crumbs or use what you have on hand.
Italian Seasoning: You will need 1/2 tsp of Italian seasoning. Use McCormick or Simply Organic brand Italian seasoning.
Equipment:
You will need a Mixing Bowl, Knife, Cutting Board, Measuring Cup, Measuring Spoon, Stirring Spoon, 13×9-inch Baking Dish, Oven, and Serving Plate.
So, let's see How To Make Alfredo Montamore Recipe at Home!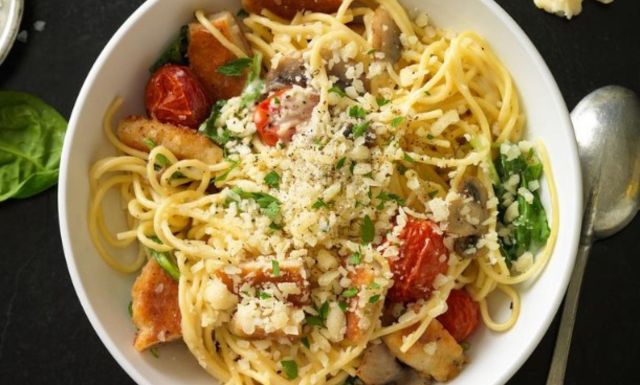 Alfredo Montamore Recipe
Follow this Alfredo Montamore Recipe ingredients and directions to make the perfect Alfredo Montamore like a professional chef.
Equipment & Tools
Mixing

Knife

Cutting Board

Measuring Cup

Measuring Spoon

Stirring Spoon

13×9-inch Baking Dish

Oven

Serving Plate
Ingredients  
4

Skinless and Boneless Chicken Breast Halves

1

Egg, Beaten

¼

tsp

Garlic Powder

¼

tsp

Paprika

1

Medium

Tomato, Finely Chopped

¼

cup

Grated Parmesan Cheese

½

tsp

Italian Seasoning
Instructions 
Preheat your oven to 400 degrees Fahrenheit (200 degrees Celsius).

In a mixing bowl, combine the garlic powder with the bread crumbs and beaten egg. Mix it well.

Dip each chicken breast half into the breadcrumb mixture, making sure they are coated evenly.

Take a 13×9-inch baking dish and place the coated chicken breasts in it.

Bake the chicken in the preheated oven for 20-23 minutes until they are cooked through and no longer pink in the center.

Pour one cup of Alfredo sauce evenly over the cooked chicken in the baking dish.

Sprinkle the shredded mozzarella cheese on top of the chicken, followed by the finely chopped tomato.

Place the baking dish back in the oven and bake for an additional 11-13 minutes, or until the chicken edges turn golden brown and the cheese is melted and bubbly. You can check if the chicken is fully cooked by cutting a piece with a knife to make sure there's no pink inside.

While the chicken is baking, heat the remaining Alfredo sauce in a saucepan on medium heat.

Sprinkle the grated Parmesan cheese over the baked chicken.

Once the chicken is done baking, pour the heated Alfredo sauce evenly over the top.

Serve your delicious Alfredo Montamore immediately.
Notes
For an optional serving suggestion, you can place the cooked chicken over a portion of hot-cooked spaghetti before adding the Alfredo sauce and enjoy!
Nutrition
Serving:
1
Bowl
Calories:
596
kcal
(30%)
Carbohydrates:
53.3
g
(18%)
Protein:
45.6
g
(91%)
Fat:
20.6
g
(32%)
Saturated Fat:
10.4
g
(65%)
Polyunsaturated Fat:
0
g
Monounsaturated Fat:
0
g
Trans Fat:
0
g
Cholesterol:
188
mg
(63%)
Sodium:
1186
mg
(52%)
Potassium:
535
mg
(15%)
Fiber:
1.6
g
(7%)
Sugar:
6.5
g
(7%)
Calcium:
317
mg
(32%)
Iron:
3
mg
(17%)
Tried This Recipe?
Let Us Know How It Was & Give Ratings.
Our Other Helpful Recipes:
Variations & Tips for Alfredo Montamore Recipe
Variations:
Vegetarian Alfredo Montamore: For a vegetarian twist, skip the chicken and instead use sautéed mushrooms or spinach as the main ingredient. Follow the same steps to make a creamy and delicious vegetarian Alfredo Montamore.
Spicy Alfredo Montamore: Add some heat to your dish by mixing a pinch of red pepper flakes into the Alfredo sauce. If you like your food a bit spicy, adding some red pepper flakes can make your meal have a nice kick.
Seafood Alfredo Montamore: Experiment with seafood by adding cooked shrimp, scallops, or crab meat to the dish. Simply place the cooked seafood on top of the chicken before adding the cheese and tomato. The combination of creamy sauce and seafood creates a delightful surf and turf experience.
Tips:
Thoroughly Cook Chicken: Make sure the chicken is fully cooked before adding the sauce and cheese. You can check by cutting into the thickest part of a chicken breast to ensure there's no pink inside.
Customize Your Alfredo Sauce: Feel free to adjust the Alfredo sauce to your taste. You can make it richer by adding extra Parmesan cheese or creamier by adding a bit of milk.
Serve Promptly: Alfredo Montamore is best when served hot and fresh out of the oven. So, try to serve it right after it's done baking to enjoy its full flavors and textures.
What to serve with Alfredo Montamore?
Alfredo Montamore is a creamy and flavorful dish, and there are several tasty options you can serve with it:
Salad: A fresh salad with crispy lettuce, tomatoes, cucumbers, and your favorite dressing is a great choice. It adds a refreshing contrast to the creamy Alfredo Montamore.
Garlic Bread: Slices of garlic bread or garlic toast go wonderfully with this dish. The buttery, garlicky flavor complements the creamy sauce.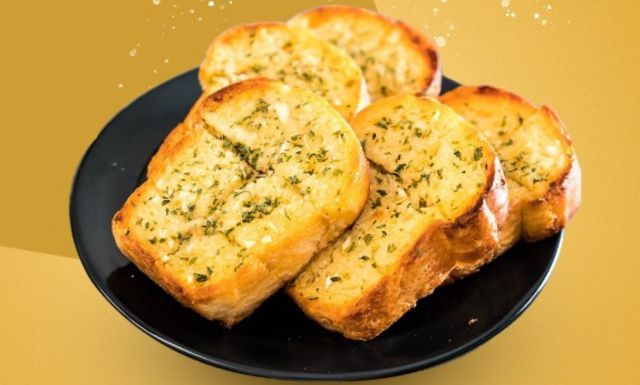 Steamed Vegetables: Serve some steamed vegetables like broccoli, asparagus, or green beans on the side. They add a healthy touch and balance to the meal.
Breadsticks: Soft and warm breadsticks are perfect for dipping into the Alfredo sauce. They make for a delightful accompaniment.
Fruit: A fruit salad or some fresh fruit slices can provide a sweet and juicy contrast to the richness of Alfredo Montamore.
Our Other Recipes:
FAQs about Alfredo Montamore Recipe
Can I use a different type of meat?
Yes, you can! Try this recipe with pork, beef, or shrimp for variety.
What kind of pasta should I use?
You can use spaghetti, fettuccine, or penne pasta. Cook it according to the package instructions.
Can I make Alfredo Montamore ahead of time?
While it's best when served fresh, you can prepare the chicken and store it separately from the sauce and toppings. When you're ready to eat, reheat the chicken and assemble the dish with the sauce and toppings.
How can I make it spicier?
To add some heat, sprinkle red pepper flakes into the Alfredo sauce or use a spicier cheese like pepper jack or add some hot sauce.
What can I do with leftovers?
Leftover Alfredo Montamore can be refrigerated and reheated for a tasty meal the next day. Leftover chicken from this recipe can be used in sandwiches or salads for a quick and tasty lunch.
How do I store leftovers?
Store any leftovers in an airtight container in the refrigerator for up to a few days. Reheat in the microwave or on the stovetop.
How To Reheat Alfredo Montamore?
To reheat Alfredo Montamore, follow these simple steps. First, take the leftover spaghetti out of the fridge. Next, put it in a microwave-safe bowl. Cover the bowl with a microwave-safe lid or microwave-safe plastic wrap. Heat it in the microwave for about 1-2 minutes, stirring halfway through. Check if it's hot enough for you. If not, you can heat it for a bit longer in 30-second intervals.
Our Other Helpful Recipes:
Conclusion
Alfredo Montamore is a delicious and creamy dish that's easy to make. To make Alfredo Montamore, start by baking chicken breasts covered in crispy breadcrumbs. Then, add creamy Alfredo sauce, melted cheese, and fresh tomatoes on top. It's a comforting and flavorful meal that can be customized with variations like vegetarian or spicy options.
Serving it with garlic bread, salad, or steamed vegetables completes the meal. Plus, you can make it ahead or use leftovers creatively. Whether you follow the recipe as is or add your twist, Alfredo Montamore is a crowd-pleaser that brings Italian-inspired flavors to your table without a lot of fuss.