If you are looking for Prison Spread Recipe thenyou are on the right blog page. In this post, I have tried to share the Best Prison Spread Recipe with Some valuable information that you will like a lot I hope.
What Is Prison Spread?
Prison Spread is a tasty dish that is made using ingredients often found in prison stores. The cleverness and creativity in making this dish are clear, even though it was created in not-so-great circumstances.
Prison Spread Recipe is made with ramen noodles, Cheetos, tuna, sausage, olives, jalapeno slices, Casabella peppers, cooked chicken, cooked white rice, black beans, and Sriracha sauce.
Commonly cooked in an improvised "Microwave" using an empty chip bag, this creation showcases the creativity and adaptability of those behind bars. Even though it started in an unusual way, the Prison Spread shows how people can be strong and smart even when things are tough.
The Ingredients & Equipment Needs For Prison Spread
The ingredients and equipment are as follows:
Ingredients:
Ramen Noodles: You will need 3 packets of ramen noodles. Use Maruchan or Nissin brand ramen noodles to get the best result.
Mackerel Or Tuna: You will need 15 oz mackerel or tuna. Use Pampa mackerel or AMERICAN TUNA to get the best result.
Sausage: You will need 4 oz summer sausage. Use Old Wisconsin Premium Summer Sausage or you can use another brand.
Casabella Peppers: You will need 1 oz Casabella peppers. Use Mezzetta Cascabella Peppers or use any brand.
Jalapeno: You will need 1 oz jalapeno slices. Mezzetta Sliced Hot Jalapeno Peppers are recommended.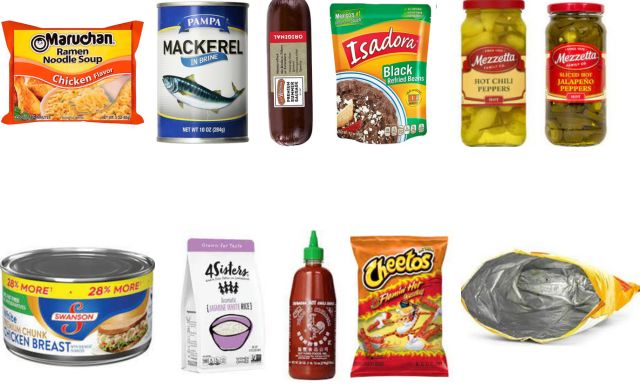 Chicken: You will need 12 oz chicken chunks. Use Swanson White Premium Chunk or use what you have on hand.
White Rice: You will need 1 cup of cooked white rice. Use Mahatma or 4Sisters brand white rice.
Black Beans: You will need 15 oz of black beans. Use Isadora Black Refried Beans to get the best result.
Sriracha Sauce: You will need some Sriracha sauce according to your taste.
Cheetos: You will need 1 small bag of Hot Cheetos.
Chip Bag: You will need 1 empty chip bag, cleaned and dried.
Equipment:
You will need Mixing Bowl, Measuring Cup, Measuring Spoon, Stirring Spoon, Microwave, Towel, and Serving Plate.
So, let's see How To Make Prison Spread Recipe at Home!
Prison Spread Recipe
Follow this Prison Spread Recipe ingredients and directions to make the perfect Prison Spread like a professional chef.
Equipment & Tools
Mixing Bowl

Measuring Cup

Measuring Spoon

Stirring Spoon

Serving Plate

1 Empty Chip Bag (cleaned and dried)

Towel

Microwave
Ingredients  
3

(3oz) packets

Maruchan Ramen Noodles, Recommended

1

oz

Casabella Peppers

1

oz

Jalapeno Slices

12

oz

Chicken Chunks

1

cup

Cooked White Rice

1

Small

Bag of Hot Cheetos

Sriracha Sauce

Hot Water
Instructions 
Break up the ramen noodles into smaller pieces inside the chip bag.

Open the ramen seasoning packet and add it to the noodles in the chip bag.

Seal the bag and shake it to evenly distribute the seasoning.

Cut the summer sausage into bite size and add in a mixing bowl.

If using canned mackerel, drain the liquid and remove any bones. Flake the fish and add it to a bowl.

If using canned chicken chunks, drain the liquid and add them to the bowl.

Dice the Casabella peppers and jalapeno slices and add them to the bowl.

Mix the meats and peppers thoroughly.

Add a generous amount of Sriracha sauce or preferred hot sauce to the meat mixture. Mix well.

Crush the Hot Cheetos in the chip bag until they are finely crushed.

Add the crushed Hot Cheetos to the meat mixture and mix until well combined.

Add the cooked white rice and black beans to the mixture. Mix well.

Gradually add hot water to the mixture, a little at a time, while stirring. Be cautious not to add too much water; the mixture should be moistened but not soggy.

Lay out the empty chip bag and spread it open.

Carefully spoon the mixture into the bag, spreading it evenly.

Seal the chip bag, removing excess air. Fold the open end of the bag over a few times and secure it with a paperclip.

Cover the sealed chip bag with a towel.

Place the wrapped spread into a microwave-safe dish and microwave on high for 3 to 5 minutes, checking occasionally to prevent overcooking. The goal is to heat and meld the flavors without overcooking the ingredients.

Carefully open the bag and transfer the mixture to a plate or bowl.

Garnish with additional crushed Hot Cheetos and shredded cheese if desired.
Notes
This recipe is a creative interpretation of a prison spread and should be made with a lighthearted spirit. While the circumstances in which it is often prepared are challenging, the ingenuity and culinary skills displayed by those who create these dishes are commendable. Enjoy the experience of trying a unique blend of flavors and textures that result in an unexpectedly tasty meal.
Nutrition
Serving:
1
cup
Calories:
707
kcal
(35%)
Carbohydrates:
62.4
g
(21%)
Protein:
47.8
g
(96%)
Fat:
28.2
g
(43%)
Saturated Fat:
9.4
g
(59%)
Polyunsaturated Fat:
0
g
Monounsaturated Fat:
0
g
Trans Fat:
0
g
Cholesterol:
110
mg
(37%)
Sodium:
1433
mg
(62%)
Potassium:
635
mg
(18%)
Fiber:
5.7
g
(24%)
Sugar:
0.2
g
Calcium:
62
mg
(6%)
Iron:
6
mg
(33%)
Tried This Recipe?
Let Us Know How It Was & Give Ratings.
Our Other Recipes:
Variation & Tips For Prison Spread Recipe
Variations:
Vegetarian Prison Spread:
For a vegetarian twist on the classic Prison Spread, omit the canned meats and focus on plant-based ingredients. Replace mackerel and chicken chunks with canned beans (such as kidney beans or black beans) for a protein boost. Include additional vegetables like diced bell peppers, corn kernels, and chopped spinach for added nutrients and flavor.
Spicy Mexican-Inspired Spread:
Infuse your Prison Spread with a zesty Mexican flair by incorporating ingredients like spicy salsa, diced tomatoes, and a Mexican cheese blend. Swap out the jalapenos for chopped chipotle peppers in adobo sauce to intensify the heat. Add a sprinkle of ground cumin and chili powder to the mixture for an extra kick.
Mediterranean-Inspired Spread:
Elevate your Prison Spread with Mediterranean flavors by using ingredients like canned artichoke hearts, kalamata olives, and crumbled feta cheese. Replace the Sriracha sauce with a drizzle of olive oil and a squeeze of lemon juice for a lighter touch.
Tips:
Mind the Water: When adding hot water to moisten the mixture, be cautious not to overdo it. The goal is to achieve a slightly moist consistency without turning the spread overly soggy.
Customize Flavors: Experiment with different seasonings and sauces to suit your taste preferences. Whether you prefer a spicier kick or a milder flavor profile, adjust the spices and hot sauce accordingly.
Portion Control: The Prison Spread can be quite filling, so portion control is key. Start with a smaller serving to gauge how much you'll need to satisfy your appetite, as the mixture's density can be deceiving.
What To Pair With Prison Spread?
Pairing the Prison Spread with complementary sides can enhance the dining experience. Here are a few options to consider:
Fresh Veggies: Create a refreshing balance by offering a platter of fresh vegetable sticks such as carrots, cucumbers, bell peppers, and celery. These vegetables give a fresh and healthy balance to the rich spread.
Coleslaw: A creamy coleslaw can add to the meal. The coleslaw's creaminess can complement the spread's texture while providing a refreshing touch.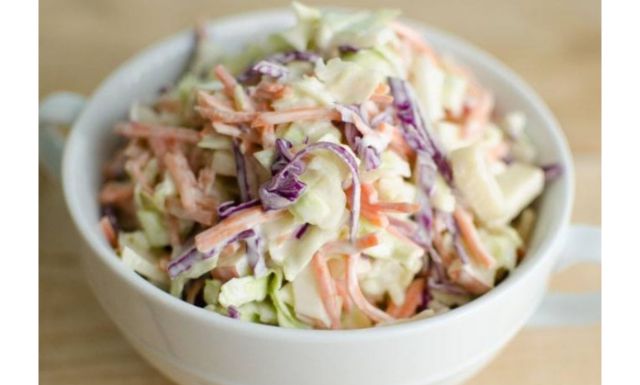 Side Salad: A simple side salad made with mixed greens, tomatoes, red onions, and a light vinaigrette can provide a refreshing accompaniment. The salad's crunchiness and tanginess help balance the rich and savory taste of the spread, making it even better to eat.
Fruit Slices: Balance the meal with slices of fresh fruits like watermelon, pineapple, and cantaloupe. The natural sweetness of the fruits can cut through the savory flavors of the spread.
Pickles and Relishes: Offer a variety of pickles, relishes, and chutneys on the side. These tangy and flavorful condiments can add an extra layer of complexity to each bite of the spread.
Our Other Helpful Recipes:
Frequently Asked Questions About Prison Spread Recipe
Can I customize the ingredients in a Prison Spread?
Absolutely! The beauty of a Prison Spread is its adaptability. Feel free to customize the recipe by adding or substituting ingredients based on your preferences or what's available. Experiment with different canned meats, vegetables, and seasonings to create your own unique variation.
How does the "Microwave" method work?
The "Microwave" method involves wrapping the spread mixture in an empty chip bag, sealing it, and heating it in a microwave. This mimics the cooking process in a confined environment. The bag traps steam and heat, allowing the ingredients to meld and flavors to develop.
Is this recipe safe to eat?
Yes, when prepared properly, the Prison Spread recipe is safe to eat. Ensure that the canned meats are drained and that all ingredients are cooked or prepared according to food safety guidelines. Also, be cautious while microwaving the spread in the "Microwave" to avoid overheating the chip bag.
Can I use different sauces or seasonings?
Yes, feel free to experiment with different sauces, seasonings, and hot sauces to match your taste preferences. Adjust the flavor profile to create a spread that suits your palate.
Can I store leftovers of the Prison Spread?
Leftovers can be stored in an airtight container in the refrigerator for a day or two. However, keep in mind that the texture and flavor may change upon reheating. It's best to enjoy the spread fresh.
Can I make a larger batch for a group gathering?
Certainly! You can easily scale up the ingredients to accommodate larger groups. Just make sure to adjust cooking times accordingly and consider making multiple smaller bags rather than one large one for even cooking.
Our Other Helpful Recipes:
Conclusion
The Prison Spread recipe shows how clever ideas come from tough situations. It's made from basic things you can buy in prison and made in creative ways. This dish is more than where it comes from – it's about making cool food.
Even though it's not usual, there are many different ways to make it, and you can change it to taste how you want. The Prison Spread isn't just interesting to cook; it stands for being strong, changing when needed, and wanting to make something awesome even when you don't have a lot.
We can observe how people can generate brilliant ideas in any circumstance using this unique recipe. I hope you enjoyed our recipe for prison spread. If you do, tell your loved ones—friends and family—about it.