If you are a fan of meatloaf then this Joanna Gaines Meatloaf Recipe is for you. In this post, I have tried to share the Popular Joanna Gaines Meatloaf Recipe with Some valuable information that you will like a lot I hope.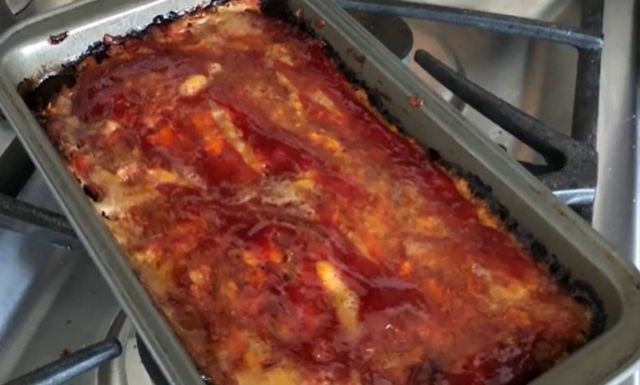 What Is Joanna Gaines Meatloaf?
Joanna Gaines Meatloaf has become an iconic recipe, popularised by television personality, designer, and cookbook author Joanna Gaines. Joanna Gaines has become known for her comfort food inspired meatloaf recipe in her cookbook "The Magnolia Table", and this version has gained immense attention and praise. Combining simple ingredients into a flavorful yet hearty dish makes this an effective comfort meal option.
Joanna Gaines Meatloaf typically consists of ground beef, sauteed onions, eggs, cheese, tomato sauce, Worcestershire sauce, and some ketchup. All these ingredients are combined and thoroughly mixed before shaping into an inedible loaf and baking it to perfection.
Joanna Gaines Meatloaf stands out due to its simple preparation and delectable results, both hallmarks of success for any recipe. You need minimal ingredients and effort for maximum delicious results – perfect for weekend gatherings or weeknight dinners alike!
With its moist and flavorful meatloaf filling combined with various sides such as salad or vegetables. Joanna Gaines Meatloaf perfectly captures the spirit of classic comfort food, while also demonstrating Joanna's culinary skill and penchant for crafting recipes that bring warmth and pleasure to any table setting.
The Ingredients & Equipment Needs For Joanna Gaines Meatloaf
The ingredients and equipment are as follows:
Ingredients:
Beef: You will need 1 1/ lb of Ground Beef. Use Laura's or Fresh brand ground beef to get the best meatloaf.
Onion: You will need 1/2 cup onion, chopped. Use white onion or you can also use red onion.
Butter: You will need 2 tablespoons of salted butter. Use Kerrygold brand salted butter or you can use what you have on hand.
Eggs: You will need 2 large eggs for the loaf mixture at room temperature.
Cheddar Cheese: You will need 1 1/2 cups of cheddar cheese, shredded. Use Kraft brand cheddar cheese or use any good quality cheddar cheese.
Salt: You will need 1 1/2 tsp of Kosher salt. Use Morton or ant best brand of kosher salt.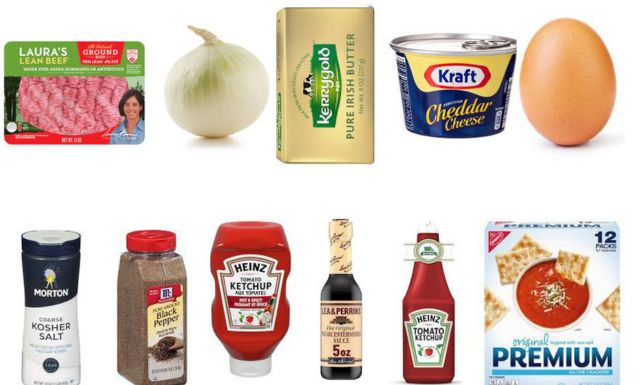 Black Pepper: You will need 1/4 tsp of ground black pepper. Use McCormick brand black pepper or use what you have on hand.
Tomato Sauce: You will need 1/2 cup of tomato sauce. Use Heinz brand tomato sauce or use what you have on hand.
Worcestershire Sauce: You will need 1 tsp of Worcestershire Sauce. Use Lea & Perrins brand Worcestershire Sauce or you can use another brand.
Ketchup: You will need 2 tbsp of tomato ketchup. Use Heinz brand tomato ketchup.
Saltine Crackers: You will need 1 sleeve of saltine crackers, crushed. Use Premium brand saltine crackers to get the best result.
Equipment:
You will need Stove, Oven, Mixing Bowl, Measuring Cup, Measuring Spoon, Cutting Board, Knife, Stirring Spoon, and Loaf Pan.
So, let's see How To Make Joanna Gaines Meatloaf Recipe at Home!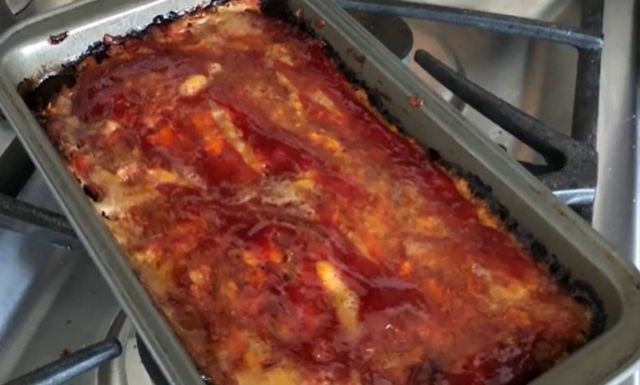 Joanna Gaines Meatloaf Recipe
Follow this Joanna Gaines Meatloaf Recipe ingredients and directions and make the perfect meatloaf like Joanna Gaines.
Equipment & Tools
Stove

Saucepan

Mixing Bowl

Measuring Cup

Measuring Spoon

Cutting Board

Knife

Stirring Spoon

Loaf Pan

Oven
Instructions 
Preheat the oven to 350 degrees Fahrenheit (175 degrees Celsius).

Melt the butter in a pan over medium heat.

Add the chopped onion and cook until translucent, approximately 5 minutes.

Combine the ground turkey, sautéed onion, eggs, cheddar cheese, salt, pepper, tomato sauce, Worcestershire sauce, and crushed saltine crackers in a large bowl.

Mix everything together until well combined. Avoid overmixing the meat.

Transfer the meat mixture to a loaf pan, shaping it into a loaf shape.

Drizzle the top of the meatloaf with ketchup.

Bake the loaf pan in a preheated oven for approximately one hour, or until the internal temperature reaches 165 degrees Fahrenheit (74 degrees Celsius).

Remove the baked meatloaf from the oven and allow it to settle for a few minutes.

Slice the meatloaf and serve it warm.

Enjoy your delicious Joanna Gianes meatloaf!
Notes
The recipe calls for ground beef; however, ground turkey makes an easy and healthier alternative option.
Resting the meatloaf for at least five minutes prior to cutting allows its juices to redistribute, creating a flavorful and moist meal.
Joanna Gaines Meatloaf perfectly captures the comfort food experience and can easily be made for weeknight dinners or family get-togethers.
Nutrition
Serving:
1
Slice
Calories:
394
kcal
(20%)
Carbohydrates:
4
g
(1%)
Protein:
43.8
g
(88%)
Fat:
21.8
g
(34%)
Saturated Fat:
11.5
g
(72%)
Polyunsaturated Fat:
0
g
Monounsaturated Fat:
0
g
Trans Fat:
0
g
Cholesterol:
196
mg
(65%)
Sodium:
1052
mg
(46%)
Potassium:
607
mg
(17%)
Fiber:
0.6
g
(3%)
Sugar:
2.9
g
(3%)
Calcium:
220
mg
(22%)
Iron:
22
mg
(122%)
Tried This Recipe?
Let Us Know How It Was & Give Ratings.
Our Other Recipes:
Variations And Tips For Joanna Gaines Meatloaf Recipe
Variations:
BBQ Glazed Meatloaf: Before baking the meatloaf, brush it with your preferred barbecue sauce instead of ketchup for an irresistibly smokey and sweet dish!
Italian Style Meatloaf: Add Italian herbs and seasonings such as dried oregano, basil leaves, and garlic powder for an authentic Italian-style meatloaf experience. Use Parmesan cheese gratings if desired to add an authentic Mediterranean flare. Serve your delicious Italian-style meatloaf alongside marinara sauce for the full Mediterranean experience!
Veggie-Packed Meatloaf: Add vegetables such as carrots, bell peppers, and zucchini for an enhanced texture while simultaneously increasing its vegetable content. Doing this not only gives this dish its signature flavors and textures but also increases its vegetable intake!
Tips:
Use Panko Breadcrumbs: For an alternative approach, replace saltine crackers with Panko breadcrumbs to achieve a lighter and crispier texture in your meatloaf. Panko will provide an attractive crust that adds both crunchiness and elegance.
Allow Meatloaf to Rest: Once removed from the oven, let your meatloaf rest for approximately 10 minutes before cutting it up for serving. This allows its juices to redistribute evenly throughout its interior layers for an ideal moistness and more robust flavor profile.
Make and Freeze: Meatloaf is an ideal dish to prepare ahead of time and freeze, whether as one batch or two. Just store it securely wrapped in plastic wrap and aluminum foil in the freezer for up to three months; once frozen, thaw it in the refrigerator overnight before reheating it in your microwave oven.
What To Serve With Joanna Gaines Meatloaf?
Joanna Gaines Meatloaf provides you with numerous delicious choices to complete and enhance the meal, and here are some suggestions for accompaniments:
Mashed Potatoes: Creamy mashed potatoes are a classic accompaniment to meatloaf, offering a smooth texture and buttery flavor that perfectly complements its rich, meaty taste.
Roasted Vegetables: Roasting vegetables like carrots, Brussels sprouts, and potatoes adds both caramelized flavor and crispy texture to any plate of food. Plus they provide healthy nutrition without taking up space!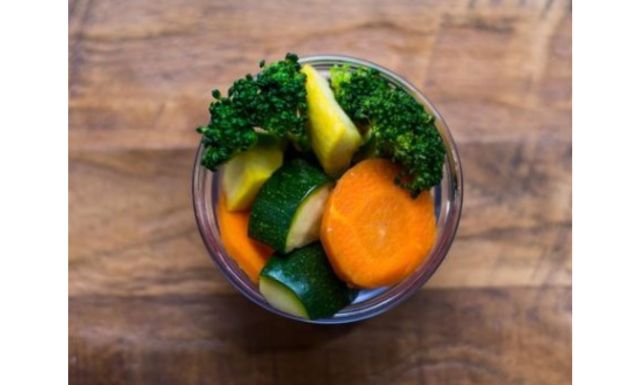 Salad: To add some zest and lightness to the meal, a crisp salad featuring mixed greens, cherry tomatoes, and cucumbers with tangy vinaigrette dressing provides an effective contrast in textures while providing some much-needed lightness that complements meatloaf perfectly.
Remember, side dishes depend on your personal tastes and dietary restrictions, so feel free to mix and match our suggestions or explore other alternatives for a complete and satisfying meal alongside Joanna Gaines Meatloaf.
Our Other Helpful Recipes:
Frequently Asked Questions About Joanna Gaines Meatloaf Recipe
Can I prepare Joanna Gaines Meatloaf ahead of time?
Yes, this dish can be assembled ahead of time and stored in the fridge until baking time rolls around – perfect for meal planning and entertaining.
Can I Freeze Joanna Gaines Meatloaf?
Absolutely, cooked Joanna Gaines Meatloaf can be frozen by tightly wrapping it in plastic and aluminum foil and keeping it frozen for at least three months after being made.
Can I customize Joanna Gaines Meatloaf with my own variations?
Absolutely. Feel free to experiment by adding your own twist. Consider switching up spices, herbs, or vegetables for an original take on Joanna Gaines Meatloaf!
Can I reheat the leftover Joanna Gaines Meatloaf in the oven or microwave?
Yes, leftovers of Joanna Gaines Meatloaf can easily be rewarmed to enjoy again while cutting food waste.
Our Other Helpful Recipes:
Conclusion
Joanna Gaines Meatloaf is an iconic dish that epitomizes home cooking comfort. This comfort food staple boasts flavorful combinations of ingredients that come together easily in preparation and yield delicious results – providing an enjoyable culinary experience each and every time! Whether following its classic recipe or adding your own flare, Joanna Gaines' meatloaf provides a satisfying and flavorful dining experience!
Joanna Gaines Meatloaf can serve as the centerpiece of an elegant and delicious meal when served alongside delicious side dishes such as creamy mashed potatoes, roasted vegetables, or fresh salad. It brings people together, evoking feelings of nostalgia and warmth while satisfying all family members or at social events alike. This meatloaf will certainly delight both family and friends!
Gather your ingredients, follow the recipe, and savor the delightful flavors and textures that Joanna Gaines Meatloaf offers. Home cooking demonstrates its joys while basic ingredients create unforgettable dining experiences.