If you are looking for Kylie Jenner Shrimp Taco Recipe then you are on the right blog page. In this post, I have shared the Popular Kylie Jenner Shrimp Taco Recipe with some useful information that you will like a lot I hope.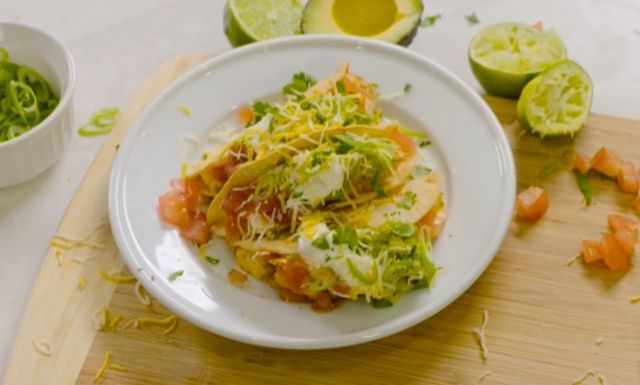 What Is Kylie Jenner Shrimp Taco?
Kylie Jenner Shrimp Taco is a tasty dish made famous by the celebrity Kylie Jenner. It's a type of taco that includes flavorful ingredients like fresh shrimp, onions, tomatoes, cilantro, and Mexican cheese.
To make these tacos, you first season the shrimp with spices like Old Bay Seasoning and onion powder, then cook them until they turn orange. Next, you prepare soft taco shells by frying white corn tortillas until they are pliable.
The special touch to Kylie Jenner's shrimp tacos is the guacamole, made by blending avocados, lime juice, green onions, and more.
To assemble, you fill the tortillas with the cooked shrimp, guacamole, and sour cream. Top it all off with shredded cheese and cilantro for extra flavor. It's a delicious and popular dish that's both easy to make and satisfying to eat.
The Ingredients & Equipment Needs For Kylie Jenner Shrimp Taco
The ingredients and equipment are as follows:
Ingredients:
Shrimp: You will need 1 1/2 lb of shrimp, peeled and deveined. Use Charleston Seafood or Amazon Fresh brand shrimp to get the best taste.
Onion Powder & Seasoning: You will need onion powder and Old Bay Seasoning to taste. Use McCormick brand onion powder and Old Bay Seasoning.
Oil: You will need 3 tbsp of olive oil to cook the shrimp and some canola oil to fry the tortillas. Use Pompeian brand extra virgin olive oil and Wesson brand canola oil.
Vegetables: You will need 3 cups of chopped onions, 1 1/2 cups of fresh cilantro, 3 avocados, 3 cups of diced tomatoes, 3/4 cups of shredded green onion, and some cilantro for garnish.
Tortillas: You will need 6 white corn tortillas. Use Mission Foods brand white corn tortillas to get the best taste.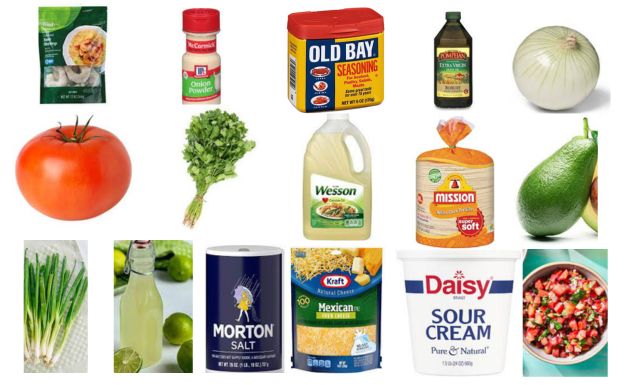 Lime Juice: You will need 2 large lime for lime juice. Squeeze the limes to get the juice as preparation.
Salt: You will need some salt to taste. Use Morton brand salt or use it from your kitchen.
Mexican Cheese: You will need 1 1/2 cups of shredded Mexican cheese. Use Kraft brand Mexican cheese to get the best outcomes.
Sour Cream: You will need 1 cup of sour cream. Use Daisy brand sour cream or you can use Happy Belly brand sour cream.
Fresh Salsa: You will need some fresh salsa for topping.
Equipment:
You will need a Mixing Bowl, Stove, Saucepan, Paper Towel, Hand Grinder, Measuring Cup, Measuring Spoon, Cutting board, Knife, and Serving Plate.
So, let's see How To Make Kylie Jenner Shrimp Taco Recipe at Home!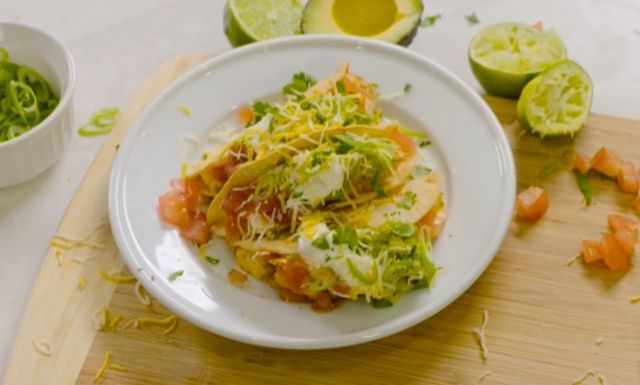 Kylie Jenner Shrimp Taco Recipe
Follow this Kylie Jenner Shrimp Taco Recipe ingredients and directions to make the perfect Shrimp Taco like Kylie Jenner.
Equipment & Tools
Mixing Bowl

Stove

Skillet

Paper Towel

Hand Grinder

Measuring Cup

Measuring Spoon

Cutting Board

Knife

Serving Plate
Ingredients  
1 ½

lb

Fresh Shrimp

Onion Powder (to taste)

3

tbsp

Olive Oil

3

cups

Chopped Onions

3

cups

Diced Tomatoes

1 ½

cups

Chopped Cilantro

Canola Oil

3

Avocados, Peeled And Cut Into Cubes

¾

cup

Shredded Green Onion

2

Large

Lime Juice

Salt (to taste)

Fresh Salsa

Cilantro (for garnish)
Instructions 
Start by preparing the shrimp. Remove the heads and peel them. Rinse the shrimp in cold water in a perforated bowl. Drain the excess water, then cut the shrimp into pieces, about 1 inch in size. Place the cut shrimp in another bowl.

Sprinkle Old Bay Seasoning and onion powder over the shrimp. Stir to make sure the shrimp absorbs the seasoning. Set this aside.

Heat a skillet over medium-low heat and add the olive oil. Add half of the chopped onions, diced tomatoes, and cilantro to the skillet. Cook for about 2-3 minutes.

Add the seasoned shrimp to the skillet and mix everything together. Cook for 6-8 minutes or until the shrimp turns orange. Stir occasionally to prevent burning. Once done, remove from heat and set aside.

In a separate deep skillet, heat the canola oil for frying the tortillas. Wait for about 1 minute to heat the oil properly.

Place a tortilla into the heated oil one at a time. Fry it for about 30 seconds or less until the tortilla becomes soft enough to fold.

To create a taco shell, fold the tortilla in half. Flip it occasionally to prevent over-frying. Once done, place it on a plate lined with paper towels to soak up excess oil. Repeat this process for all tortillas.

To make guacamole, combine the avocados, shredded green onion, lime juice, onion powder, salt, and the remaining chopped onions, cilantro, and diced tomatoes in a bowl. Use a hand grinder or blender to grind them until smooth.

Assemble your tacos by adding guacamole, the cooked shrimp, and a dollop of sour cream into the taco shells. Top with shredded Mexican cheese.

Garnish your shrimp tacos with cilantro and serve with fresh salsa.

Enjoy your homemade Kylie Jenner shrimp tacos!
Nutrition
Serving:
1
Taco
Calories:
668
kcal
(33%)
Carbohydrates:
36.2
g
(12%)
Protein:
37.3
g
(75%)
Fat:
46
g
(71%)
Saturated Fat:
15.3
g
(96%)
Polyunsaturated Fat:
0
g
Monounsaturated Fat:
0
g
Trans Fat:
0
g
Cholesterol:
265
mg
(88%)
Sodium:
781
mg
(34%)
Potassium:
1089
mg
(31%)
Fiber:
11.8
g
(49%)
Sugar:
7.6
g
(8%)
Calcium:
352
mg
(35%)
Iron:
5
mg
(28%)
Tried This Recipe?
Let Us Know How It Was & Give Ratings.
Our Other Helpful Recipes:
Variations & Tips For Kylie Jenner Shrimp Taco Recipe
Variations:
Spicy Shrimp Tacos: Add some red pepper flakes or hot sauce to the shrimp seasoning mix for a spicy kick. You can also include sliced jalapeños or a spicy salsa for extra heat.
Veggie Shrimp Tacos: If you're looking for a vegetarian option, skip the shrimp and substitute it with sautéed bell peppers, onions, and zucchini. Season the veggies with the same spices for a flavorful alternative.
Grilled Shrimp Tacos: Instead of cooking the shrimp in a skillet, you can grill them for a smoky flavor. Marinate the shrimp in a mix of olive oil, garlic, and lime juice before grilling until they're pink and slightly charred.
Tips:
Fresh Ingredients: Always use fresh ingredients, especially for the guacamole. Ripe avocados, fresh cilantro, and juicy limes will make your tacos taste even better.
Watch the Tortillas: When frying the tortillas, be careful not to overcook them. They should be soft and pliable, not crispy. Keep an eye on them to avoid burning.
Customize Your Toppings: Don't be afraid to get creative with your toppings. You can add shredded lettuce, diced red onions, or pickled jalapeños to suit your taste. Customizing your tacos makes them even more delicious!
What To Serve With Kylie Jenner Shrimp Taco?
To go along with Kylie Jenner's Shrimp Tacos, you can serve some tasty side dishes. Here are some simple ideas:
Mexican Rice: Cook up some fluffy white rice and season it with a bit of tomato sauce, cumin, and chili powder for a classic Mexican rice dish.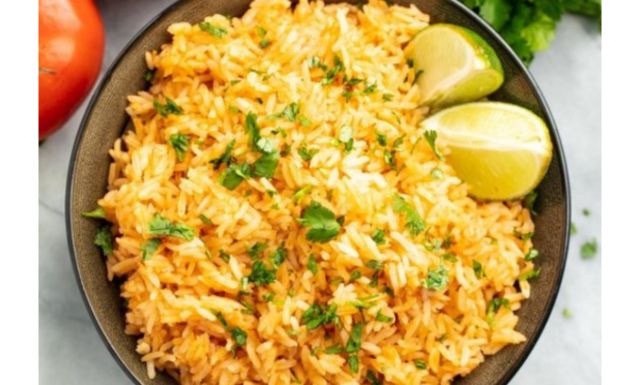 Refried Beans: Warm up a can of refried beans or make your own by mashing cooked pinto beans with a bit of cheese and seasoning.
Tortilla Chips: Have a bowl of tortilla chips on the side for some extra crunch. They're perfect for scooping up guacamole and salsa.
Coleslaw: A simple coleslaw with cabbage, carrots, and a creamy dressing can provide a refreshing contrast to the spicy shrimp tacos.
Corn Salad: Make a corn salad with sweet corn, diced bell peppers, red onions, and a lime vinaigrette for a fresh and vibrant side.
Our Other Recipes:
FAQs About Kylie Jenner Shrimp Taco Recipe
Can I use frozen shrimp for Kylie Jenner's Shrimp Tacos?
Yes, you can use frozen shrimp, but make sure to thaw them first by placing them in cold water for about 15-20 minutes before cooking.
What if I don't have Old Bay Seasoning?
If you don't have Old Bay Seasoning, you can substitute it with a mixture of paprika, salt, pepper, and a pinch of cayenne pepper for a similar flavor.
How do I know when the shrimp are cooked?
Shrimp are done when they turn pink and opaque, with a slightly curled shape. It usually takes about 6-8 minutes to cook on medium heat.
Can I make the guacamole ahead of time?
Yes, you can prepare the guacamole a few hours in advance, but it's best to cover it with plastic wrap directly touching the surface to prevent browning. Fresh guacamole is still preferred.
What can I use instead of canola oil for frying the tortillas?
You can use vegetable oil, corn oil, or any neutral cooking oil as a substitute for canola oil when frying the tortillas.
How do I store leftover shrimp tacos?
Store leftover shrimp tacos by wrapping them in foil or placing them in an airtight container in the refrigerator. They should stay good for up to 2-3 days.
Our Other Helpful Recipes:
Conclusion
Kylie Jenner Shrimp Tacos are a delicious and flavorful dish that anyone can make. With fresh ingredients like shrimp, onions, and cilantro, and simple seasonings like Old Bay and onion powder, these tacos are easy to prepare. You can customize them to your taste by adding spice or choosing vegetarian options.
Don't forget to make some creamy guacamole and serve them with side dishes like Mexican rice, beans, and salsa for a complete meal. Whether you're cooking for a special occasion or a quick weeknight dinner, these shrimp tacos are a tasty choice that's sure to satisfy your cravings.