If you are looking for the best custard for your children then this Strawberry Tubby Custard Recipe is for you. In this post, I have shared the Best Strawberry Tubby Custard Recipe with some valuable tips that you will like a lot I hope.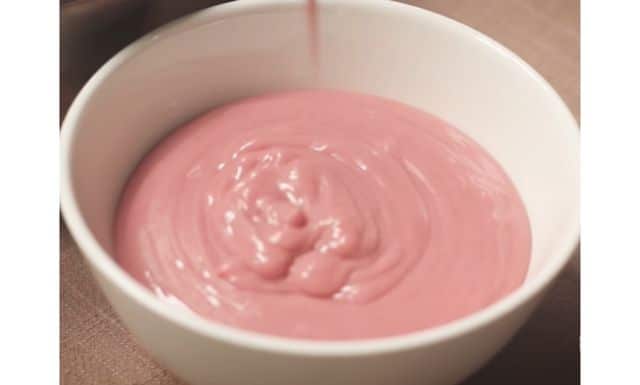 What Is Tubby Custard Recipe?
Tubby Custard Recipe gained notoriety as a result of the well-known children's television program that debuted in 1997 and ran as a family-friendly program for a considerable amount of time.
The Tubby Custard that appears in the television program is simply mashed potatoes that have been painted with acrylic paint and aren't actually audible. This pink, oozy tubby custard is eaten by the Teletubbies from the Tubby Custard machine.
As it gained attention thanks to a popular TV program, it gained appeal among young viewers all over the world. Parents are constantly stressed out trying to find something wholesome and delectable because of all the duties and meal preparation tasks.
Cooking will be easier if you use this recipe. To feed your children as an excellent source of nutrition, you can make this Tubby Custard Recipe from scratch by adhering to a similar principle.
The Equipment And Ingredients You Will Need For Strawbery Tubby Custard Recipe:
Types of equipment You Will Need: Cutting Board, Knife, Strainer, Burner, Pan, Bowl, Measuring Cup, Measuring Spoon, and Whisk.
Ingredients You Will Need: Egg Yolks, Granulated Sugar, Whole Milk, Fresh Strawberry, Drops Of Strawberry Paste Or Red Food Colour, Corn Starch, and Vanilla Extract.
So without wasting time, let's start the Strawbery Tubby Custard Recipe!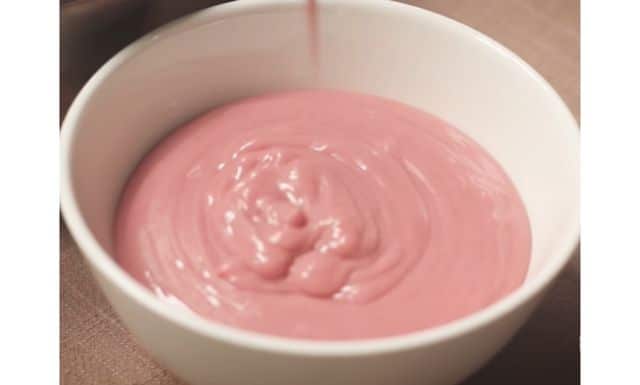 Best Tubby Custard Recipe With Strawberry
Follow this Strawberry Tubby Custard Recipe ingredients and directions and make a perfect Strawberry Tubby Custard like a professional chef.
Equipment & Tools
Cutting Board

Knife

Strainer

Burner

Pan

Bowl

Measuring Cup

Measuring Spoon

Whisk
Instructions 
First, wash all the strawberries and cut them in half.

In a blender, blend the fresh strawberries until smooth well.

Strain into a bowl with a strainer and set them aside.

In a separate bowl, add two egg yolks, and granulated sugar and whisk together until well combined.

Add corn starch and whisk again.

Bring the milk to a simmer in a big saucepan.

Turn off the heat and pour some milk into the mixing bowl and whisk again

Now turn on the heat again simmer and pour the mixture into the pan and continuously whisk.

When the mixture is thick, add vanilla extract and whisk continuously.

Now add strawberry puree to the pot and mix again.

Now add strawberry paste or red food colour and mix again.

When your custard is creamy, turn off the heat.

Pour your custard into a bowl and let it cool.

wrap it with plastic wrap and keep it in the refrigerator.

It can be served warm or cold!
Nutrition
Serving:
0.5
cup
Calories:
141
kcal
(7%)
Carbohydrates:
22.6
g
(8%)
Protein:
3.6
g
(7%)
Fat:
4.4
g
(7%)
Saturated Fat:
2
g
(13%)
Polyunsaturated Fat:
0
g
Monounsaturated Fat:
0
g
Trans Fat:
0
g
Cholesterol:
111
mg
(37%)
Sodium:
30
mg
(1%)
Potassium:
147
mg
(4%)
Fiber:
0.6
g
(3%)
Sugar:
17.4
g
(19%)
Calcium:
87
mg
(9%)
Iron:
0
mg
Tried This Recipe?
Let Us Know How It Was & Give Ratings.
You can look at our Best Jello With Fruit Cocktail Recipe If you're interested.
Valuable Tips
What Foods Pair Well With Tubby Custard?
Some of our favourite desserts that go well with tubby custard include fruit strudel, fruit crumble, and baked apples. Sliced banana should be placed in a bowl, followed by custard, desiccated coconut, and excellent coco-banana custard. Pour warm custard over fresh or canned fruit.
Do You Prefer Your Tubby Custard Cold Or Warm?
The custard is often served hot as a compliment to a variety of delicacies such as pies, crumbles, tarts, and pastries. The major component of a trifle is chilled tubby custard, which is spread over a layer of sponge cake and fruit before being covered in whipped cream.
Refrigeration is the best method for storing custard. Custard that has just been prepared or baked can be refrigerated, but first, let it cool for 8 to 10 minutes at room temperature. Cover it with plastic wrap once it has cooled.
Can Tubby Custard Be Stored Outside Of The Fridge?
It is a quick and easy answer, but it is categorically unsafe. Similar to other prepared foods, 4 hours are advised as a safe period outside of the refrigerator. That's it, whether you have eggs or anything else within.
Have a look at our Maggiano's Lemon Cookies Recipe if you are interested.
Take a peek at our Danny's Nachos Recipe if you're interested.
Conclusion
An absolute must-try recipe is tubby custard. With only 30 minutes of prep time, this Tubby Custard Recipe is quick and simple to create. Just a few simple ingredients are required, along with a dash of the show's magic. When viewing the show, parents who are concerned about their children's diet can encourage their children to eat this Teletubby Custard.
Children are avid fans of their favourite characters, therefore you should just follow Tubby's quick recipe for custard. They'll be devoured right away. I hope you liked the Strawberry Tubby Custard Recipe. If you try our Strawberry Tubby Custard Recipe, we would appreciate your feedback in the comments below.