If you are a fan of Gumbo then this Pappadeaux Gumbo Recipe is for you. In this post, I have shared the Popular Pappadeaux Gumbo Recipe with some useful tips that you will like a lot I hope.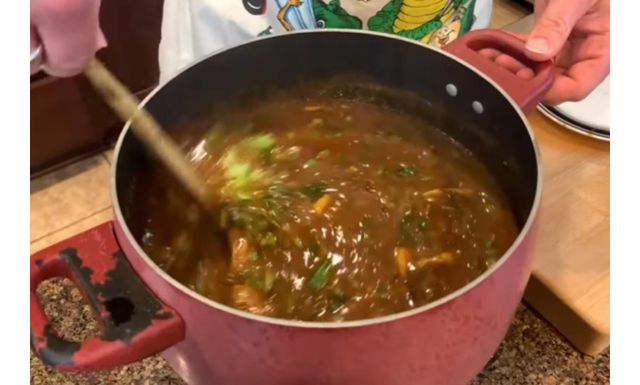 What Is Pappadeaux Gumbo?
The largest concept in one of the largest family-owned and operated restaurant companies in the United States is Pappadeaux Seafood Kitchen. The Pappas restaurant chain offers a variety of cuisines and traditions, but they all share a concern with exceptional food and superior service, which is reflected in all parts of the Guest experience.
On their menu, they offer a wide variety of appetizers, soups, salads, Cajun specialties, seafood, steaks, desserts, and drinks. Cajun Gumbo is one of their specialty. There are only 23 ingredients and some kitchen equipment needed to make this Pappadeaux Gumbo at home which I explained in detail below.
The Ingredients Needs For Pappadeaux Gumbo:
Vegetables: You will need celery, bell pepper, white & green onion, garlic, fresh parsley, frozen okra, and sprigs of thyme. Chop the celery, bell pepper, white & green onion, garlic, and fresh parsley and set aside.
Flour: Use Gold Medal or King Arthur brand all-purpose flour for best outcomes.
Butter: Use Kerrygold or President brand unsalted butter or you can use another brand.
Oil: Use AmazonFresh Italian Extra Virgin Olive Oil or use what you have on hand.
Vegetable Broth: Use Pacific Foods or Imagine Foods Brand Vegetable Broth for this gumbo recipe.
Paprika: Use McCormick Or Badia Brand Paprika.
Garlic Powder: Use McCormick Or Badia Brand garlic powder.
Cajun Seasoning: Use Slap Ya Mama Cajun Seasoning for the best flavor.
Worcestershire Sauce: Use Heinz Or Lea & Perrins Brand Worcestershire Sauce.
Beer: Use Amber Ale – Austin Beer or you can use another beer brand.
Tomato Sauce: Use Heinz or Hunt's brand tomato sauce or use it from your kitchen.
Shrimp: Use wild-caught shrimp or you can use Great Value brand peeled shrimp.
Crab Meat: Boil the fresh crab and use the meat for this gumbo recipe.
Wine: Use Pinot Gris White Wine or Sauvignon Blanc White Wine for best results.
Seasoning: Use The Spice Lab Brand Sicilian Italian Seasoning or you can use another Sicilian Seasoning Brand.
Bay Leaves: Use Spice Classics or Spice Islands Brand Bay Leaves.
The Equipment Needs For Pappadeaux Gumbo:
Oven, Stove, Skillet, Mixing Bowl, Measuring Cup, Measuring Spoon, Knife, Cutting Board, Wooden Spoon, And Serving Plate
So let's see How To Make Pappadeaux Gumbo Recipe!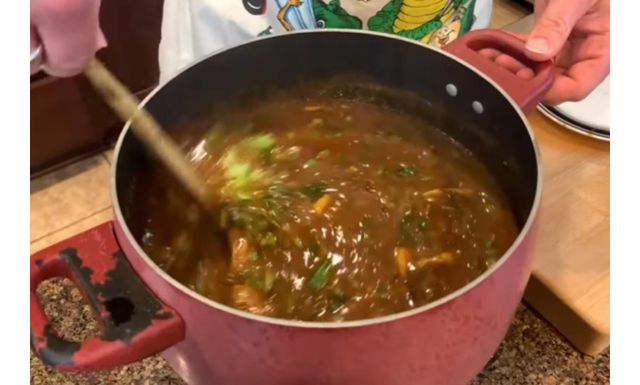 Pappadeaux Gumbo Recipe
Follow this Pappadeaux Gumbo Recipe ingredients and directions to make a perfect gumbo like Pappadeaux restaurant.
Equipment & Tools
Oven

Stove

Pan Or Skillet

Measuring Cup

Measuring Spoon

Knife

Cutting Board

Wooden Spoon

Serving Plate
Ingredients  
1

cup

All-Purpose Flour

½

lb

Crab Meat

4

tbsp

Extra Virgin Olive Oil

8

tbsp

Unsalted Butter

1 ½

tbsp

Paprika

2

tbsp

Garlic Powder

1

tsp

Sicilian Seasoning

1

Amber Ale – Austin Beer Works

2

tbsp

Worcestershire Sauce

4

Sprigs

Fresh Thyme

2

Bay Leaves

1

cup

Frozen Okra

1

cup

Celery, Chopped

1 ½

cup

White Onion, Chopped

1

Medium

Green Bell Pepper, Chopped

4

tbsp

Chopped Garlic

1

lb

Shrimp Peeled

¼

cup

White Wine

¼

cup

Chopped Green Onions

¼

cup

Chopped Fresh Parsley
Instructions 
Bake all-purpose flour at 415 degrees for thirty minutes to achieve a browned appearance.

Boil the crab in a pot of boiling water for five minutes, then remove and set aside.

Heat the olive oil and butter In a large pan at medium heat.

When the butter has melted, gradually add 1/3 of the flour, stirring frequently until incorporated.

Allow for around five minutes to bubble and thicken.

Vegetable broth is added in three additions, stirring after each addition.

Add the Paprika, Garlic Powder, Sicilian Seasoning, Slap Ya Mama Cajun Seasoning, Amber Ale – Austin Beer Works, Worcestershire Sauce, Fresh Thyme, Tomato Sauce, and Bay Leaves.

Cook with the lid on over medium-low heat for 45 minutes.

Cook defrosted okra in oil for 10 minutes in a large pan.

Add the chopped celery, green bell pepper, white onion, and garlic.

Cook for 10 minutes more, covered. Set aside and keep warm.

Melt 4 tablespoons of butter in a large pan.

Cook for 5 minutes after adding peeled shrimp.

Add 1 tbsp of Sicilian seasoning and 1/4 cup of white wine.

Cook the shrimp for a further two minutes, or until pink.

Remove the crab's shell and crack it to prepare the meat.

Stir in sautéed vegetables, seafood, parsley, and green onions.

Your Pappadeaux Gumbo is ready to serve!
Nutrition
Serving:
1
Bowl
Calories:
545
kcal
(27%)
Carbohydrates:
47.7
g
(16%)
Protein:
43
g
(86%)
Fat:
18.7
g
(29%)
Saturated Fat:
3
g
(19%)
Polyunsaturated Fat:
0
g
Monounsaturated Fat:
0
g
Cholesterol:
252
mg
(84%)
Sodium:
3655
mg
(159%)
Potassium:
1040
mg
(30%)
Fiber:
6.9
g
(29%)
Sugar:
11.1
g
(12%)
Calcium:
383
mg
(38%)
Iron:
11
mg
(61%)
Tried This Recipe?
Let Us Know How It Was & Give Ratings.
Our Other Recipes:
Valuable Tips
What To Serve With Pappadeaux Gumbo?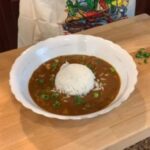 Rice & Beer: Serve with white rice, and for a drink accompaniment, have a glass of ice-cold Austin Beer Works Amber Ale.
Potato Salad: Potatoes are a great choice for sides every time. When it comes to Pappadeaux Gumbo, potato salad is nearly always my go-to side dish option.
Coleslaw: Coleslaw is another dish that pairs wonderfully with gumbo because of its creamy and refreshing nature.
How To Store Pappadeaux Gumbo?
In The Fridge: Place the Pappadeaux Gumbo in an airtight plastic container and refrigerate. Gumbo will only keep in the fridge for three or four days. The refrigerator temperature should be no higher than 40 degrees Fahrenheit.
In The Freezer: Gumbo can be kept in the freezer for three months. Put the gumbo into serving-sized containers, leaving about an inch of space above each one. Then, put the containers in the middle of your freezer after carefully sealing each container and checking the seal.
How To Reheat Pappadeaux Gumbo?
Stovetop: Defrost the gumbo if it was in the freezer by moving it to the refrigerator or letting it sit in a sealed bag in a bowl of cold water before reheating it. Reheat your gumbo in a saucepan to 165 degrees Fahrenheit and serve immediately.
In The Microwave: Follow the defrosting directions for your specific microwave model before placing the gumbo in the microwave on the defrost setting.
Our Other Recipes:
Conclusion
A great dinner that will please both you and your guests is the Pappadeaux Gumbo Recipe. You only need a few kitchen tools, 23 ingredients, and 2 hours, and 10 minutes to make homemade Pappadeaux Gumbo at home. This gumbo is perfect to serve the main entrée at any occasion or get-together.
Simply grab the ingredients and prepare the Pappadeaux Gumbo for your loved ones. I hope you like this Pappadeaux Gumbo Recipe. Please leave a comment and spread the word about this gumbo recipe to your friends and family if you liked it.