If you are a lasagna lover then this Molten Lasagna Recipe is for you. In this post, I have shared Best Molten Lasagna Recipe with some valuable tips that you will like a lot I hope.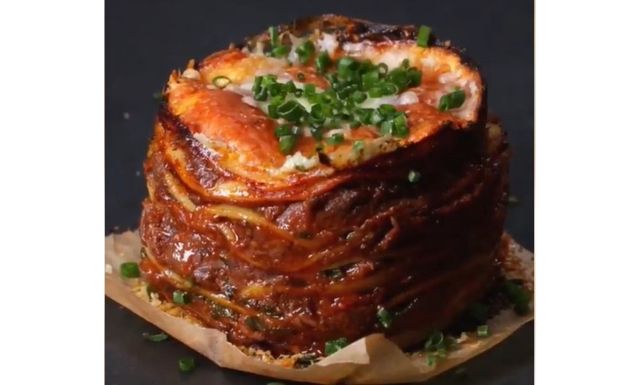 What Is Molten Lasagna?
A lasagna is a form of pasta, made of exceptionally wide, flat sheets. The Italian meal known by either name is made by layering lasagna sheets and filling them with meat sauce, veggies, and herbs like garlic, basil, and oregano.
The Molten Lasagna making process is a little bit different and this delicious lasagna is delight your taste buds. Nowadays In the United States, it has a great deal of popularity. Molten Lasagna is made with 22 ingredients and some kitchen equipment which are listed below.
The Ingredients You Will Need For Molten Lasagna:
Shortribs, Onion, Carrot, Celery Stalk, Garlic Cloves, Red Wine, Tomato, Fresh Basil, Salt, Black Pepper, Sugar, Butter, Flour, Milk, Swiss Cheese, Mozzarella cheese, Parmesan Cheese, Oil, White Pepper, Lasagna Sheets, Chives, and Parmesan cheese.
Shortribs: Use 4 pieces of shortribs meaty for this recipe.
Vegetables: You should use fresh vegetables for ragu making and some chives for garnish.
Wine: Use Cabernet Sauvignon or Iberia brand cooking red wine.
Tomato: Use 14.5 oz can Muir Glen Organic Crushed tomatoes.
Sugar: Use Domino brand granulated white sugar for this recipe.
Butter: Use the President Unsalted Butter brand for good results.
Flour: Use Gold Medal brand All Purpose Flour or use from your kitchen.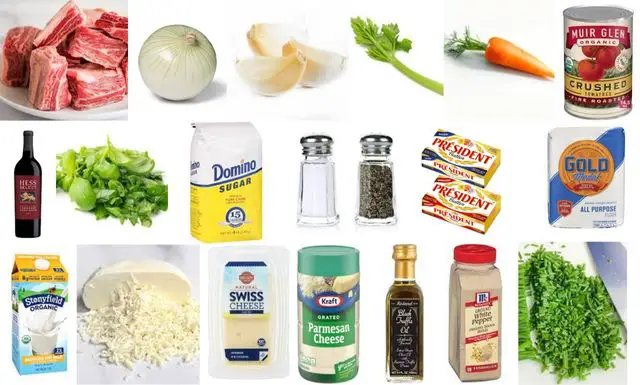 Milk: Use milk from your kitchen.
Oil: Use Roland Foods Black Truffle Oil or you can use another brand.
Spices: Use spices from your kitchen which are regularly used.
Cheese: Use the best brand of Swiss Cheese, Mozzarella cheese, and Parmesan Cheese from Amazon.com.
Lasagna Sheets: Us square Lasagna sheets for this recipe.
Salt: Use regular cooking salt.
The Equipment & Tools You Will Need For Molten Lasagna:
Stove, Stainless Steel pot, Mixing Bowl, Measuring Spoon, Measuring Cup, Knife, Cutting Board, Wooden Spoon, Oven, and Cooling Tray.
So, let's see How To Make a Molten Lasagna Recipe!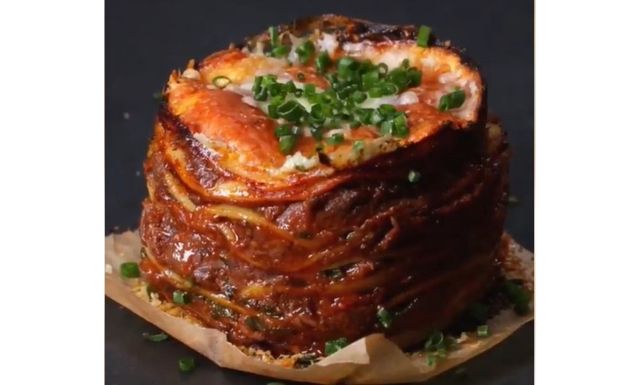 Best Molten Lasagna Recipe
If you follow the steps and ingredients in this Molten Lasagna Recipe, you will be able to make a perfect Molten Lasagna just like a professional chef.
Equipment & Tools
Stove

Stainless Steel Pot

Mixing Bowl

Measuring Spoon

Measuring Cup

Knife

Cutting Board

Wooden Spoon

Oven

Cooling Tray
Ingredients  
Short Ribs Ragu:
4

Pieces

Shortribs (Meaty)

½

Medium

Onion, Diced

3

Cloves

Garlic, Minced

1

Celery Stalk, Sliced Thin

1

Small

Carrot, Diced

1

tbsp

Fresh Basil Finely Chopped

1

tsp

White Sugar

Salt & Black Pepper To Taste
For Swiss Truffle Bechamel:
1

tbsp

Unsalted Butter

1

tbsp

All-purpose Flour

1 ½

cup

Milk

2

tbsp

Mozzarella cheese

½

cup

Swiss Cheese

1

tbsp

Parmesan Cheese

1

tbsp

Truffle Oil

Salt & White Pepper To Taste
For Pasta Dough:
Garnish
Chives, Finely Chopped

Grated Parmesan Cheese
Instructions 
For Ragu:
Place a stainless steel pot over high heat on the stove.

Add salt and pepper to the shortribs.

When the pot is heated, sear the shortribs to obtain excellent color on all sides.

Remove from the fire and add the onions, carrots, celery, and garlic.

Cook for around four to five minutes with the heat set to medium.

Return the shortribs to the saucepan, along with the wine, crushed tomatoes, fresh basil, and sugar.

Mix it up, then cover and reduce the heat to a simmer.

It will take between 2:40 and 3 hours for the meat to be cooked, stirring frequently.

When the meat is fork tender, take it from the pot, shred it, and return it to the ragu, stirring constantly.

Taste the ragu and season with salt and pepper to taste.
Swiss Truffle Béchamel:
In a stainless steel pot set over medium heat, melt the butter.

Once melted, mix in the flour and 1 cup milk, whisked in.

When the flour and butter are well combined, bring the water to a boil.

When the milk mixture begins to boil, reduce to low heat.

Mix in the Swiss and mozzarella cheeses.

Take it off the fire once the cheeses have melted and stir in the remaining half a cup of milk.

Mix the truffle oil and parmesan cheese together.

Add salt and white pepper to taste.

Freeze the sauce on trays.
For Assembly:
Assembly is simple once you have everything prepared and on hand.

Line your molds with parchment paper to make removing easy after baking.

To build, layer pasta, ragu, parmesan, and chives until the mold reaches the desired height.

At this stage, use a pairing knife to cut out the center, which will hold your frozen cheese sauce.

Fill with frozen cheese sauce and layer to the desired height, then top with mozzarella and parmesan cheese.
For Baking:
Preheat the oven to 375°F and bake for 16 to 20 minutes, or until the top is golden brown.

Remove from the oven and set aside for 10 minutes before unmolding.

To avoid cheese sticking to the mold near the bottom, use a paring knife.

Sprinkle with chive and serve.
Nutrition
Serving:
200
grams
Calories:
586
kcal
(29%)
Carbohydrates:
20
g
(7%)
Protein:
27.7
g
(55%)
Fat:
22.9
g
(35%)
Saturated Fat:
9.2
g
(58%)
Polyunsaturated Fat:
0
g
Monounsaturated Fat:
0
g
Trans Fat:
0
g
Cholesterol:
137
mg
(46%)
Sodium:
617
mg
(27%)
Potassium:
382
mg
(11%)
Fiber:
6.5
g
(27%)
Sugar:
11
g
(12%)
Calcium:
338
mg
(34%)
Iron:
4
mg
(22%)
Tried This Recipe?
Let Us Know How It Was & Give Ratings.
Our Other Useful Recipes:
Valuable Tips
What To Serve With Molten Lasagna?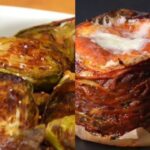 Roasted Veggies: All roasted vegetables pair well with Molten Lasagna, but we're focusing on Brussels sprouts today. Cooked Brussels sprouts taste sweet, nutty, and caramelized. A well-roasted vegetable meal will be delicious and browned. Prosciutto, garlic, and Molten Lasagna make a delicious side dish.
Tomato Feta Salad: Because Molten Lasagna is already a hearty dish, you might want to pair it with something light and refreshing. A light salad of tomatoes, red onion, dill, and feta cheese serves as a healthful counterpoint to the richness of the lasagna.
Steamed Veggies: Although asparagus and green beans have a relatively bland flavor, they make an excellent side dish when properly cooked and seasoned. To prepare, steam green beans and asparagus with the lemon zest until soft and delicious. It takes only 10 minutes!
How to Store Molten Lasagna?
Refrigerate cooked Molten Lasagna in airtight containers to extend its shelf life and ensure its safety and quality. Baked Molten Lasagna will keep in the refrigerator for 4 to 5 days if properly refrigerated.
How To Freeze Molten Lasagna?
Remove the Molten Lasagna from the baking dish by holding the foil edges together and folding the foil fully over the lasagna. Wrap with more foil, ensuring sure it's well-wrapped to keep air out. Keep frozen for up to a month.
How To Reheat Molten Lasagna?
Preheat the oven to 350°F and line an oven-safe dish with aluminum foil. Bake the Molten Lasagna for 30 minutes, or until it is heated throughout and the sauce is bubbling on the edges.
Our Other Useful Recipes:
Conclusion
The Molten Lasagna Recipe is worth trying. Making this delectable Molten Lasagna at home is simple and requires only 22 ingredients, some basic kitchen tools, and 3 hours and 50 minutes of your time. The Molten Lasagna Recipe is perfect as a main course, and it's also great for dinner parties and other social gatherings.
To please your loved ones, all you need to do is gather the ingredients for Molten Lasagna and make it. I hope you liked this Molten Lasagna Recipe. We'd love it if you'd rate this lasagna recipe and share it with your friends and family if you tried it and liked it.
Recipe Source: Molten Lasagna by Chef Thiago Silva