If you are a fan of cheesecake then this Maggianos Cheesecake Recipe is for you. In this post, I have shared the Popular Maggianos Cheesecake Recipe with some valuable tips that you will like a lot I hope.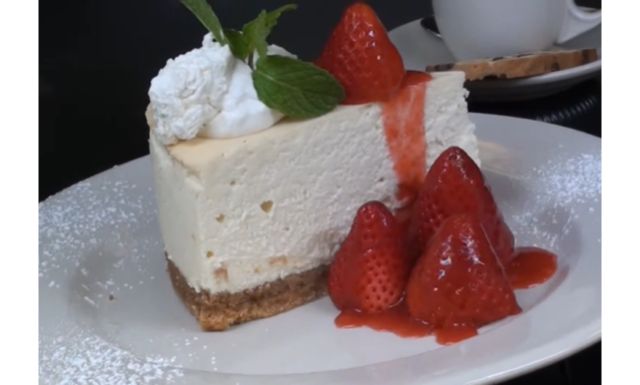 What Is Maggianos Cheesecake?
Maggiano's Little Italy is a casual dining restaurant franchise in the United States that specializes in Italian-American cuisine. Rich Melman's (LEYE) company was founded at Clark Street and Grand Avenue in Chicago's River North neighborhood in 1991 and was named after Melman's late business associate, Marvin Magid.
The restaurant Maggiano's Little Italy serves a variety of Italian and American dishes. In the restaurant Maggiano's, cheesecake is one of the finest desserts.
Maggiano's cheesecake is creamy, smooth, and delicious, and is made with Ladyfingers, butter, cream cheese, ricotta cheese, sour cream, vanilla extract, lemon juice, sugar, and eggs.
There are only 12 ingredients required to prepare this cheesecake, which I go into more detail about below.
The Ingredients & Equipment Needs For Maggianos Cheesecake
The ingredients and equipment are as follows:
Ingredients:
For Crust:
Lady Fingers: You will need 12 Ladyfingers. Use Alessi Brand Lady Fingers to get the best result.
Butter: You will need 1/4 cup of melted unsalted butter. Use unsalted butter from the Kerrygold or Land O Lakes brands.
For Filling:
Cream Cheese: You will need 24 oz of cream cheese, softened. Use Philadelphia or Organic Valley brand cream cheese for the best outcomes.
Ricotta Cheese: You will need 8 oz of sour cream. Use Polly-O Original Ricotta Cheese to get the best result.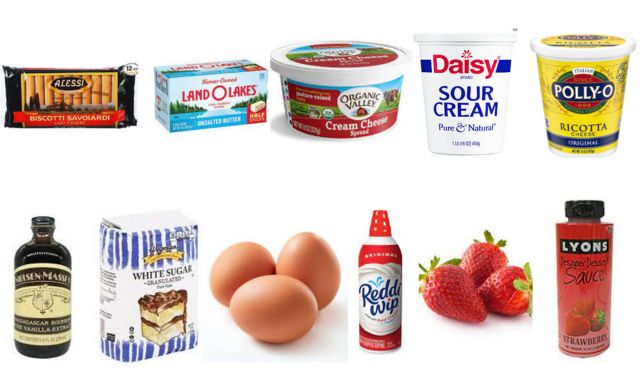 Sour Cream: You will need 16 oz of sour cream. Use Daisy or Breakstone's brand sour cream for optimal results.
Vanilla Extract: You will need 1 1/2 tbsp of vanilla extract. Use McCormick or Nielsen-Massey brand vanilla extract.
Lemon Juice: You will need 1 tbsp of lemon juice. Use fresh lemon juice or you can use store-bought lemon juice.
Sugar: You will need 1 cup of white sugar. Use Domino or Wegmans brand white sugar is recommended.
Eggs: You will need 3 large-size eggs. Use Cal-Maine Foods Inc brand eggs.
To Serve:
Whipped Cream: You will need whipped cream to serve this Maggianos Cheesecake. Use Reddiwip brand whipped cream to get the best taste.
Strawberry & Strawberry Sauce: You will need fresh strawberries and strawberry sauce to serve this cheesecake. Lyons brand strawberry dessert sauce is recommended.
Equipment:
You will need a 9-inch Springform Pan, Food Processor, Oven, Mixing Bowl, Hand Mixer, Measuring Cup, Measuring Spoon, and Knife.
So, let's begin Maggianos Cheesecake Recipe!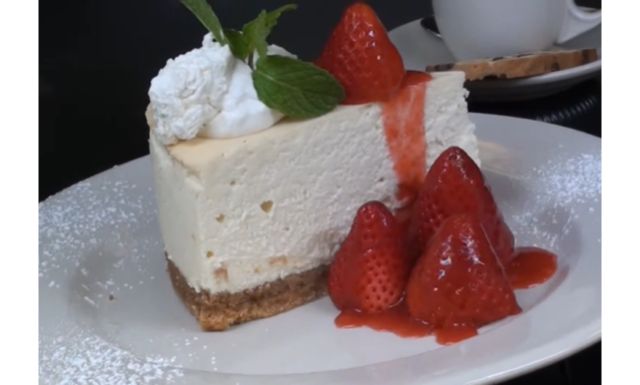 Maggianos Cheesecake Recipe
Follow this Maggianos Cheesecake Recipe ingredients and instructions and make a perfect Cheesecake like Maggianos Little Italy restaurant.
Equipment & Tools
9-inch Springform Pan

Food Processor

Oven

Mixing Bowl

Hand Mixer

Measuring Cup

Measuring Spoon

Knife
Ingredients  
For Filling:
24

oz

Cream Cheese, Softened

1 ½

tbsp

Vanilla Extract

1

tbsp

Lemon Juice

1

cup

White Sugar

3

Large

Eggs
To Serve:
Whipped Cream

Fresh Strawberry
Instructions 
For Crust:
Combine broken ladyfingers and unsalted butter in a food processor until the mixture resembles fine crumbs.

Only press the underside of a 9-inch springform pan with a 3-inch height.

Wrap a double layer of aluminum foil around the bottom and up the sides of the pan's exterior.
For Filling:
With an electric hand mixer, beat cream cheese, sour cream, ricotta cheese, vanilla, and lemon juice in a large mixing bowl for 8 minutes, or until light and fluffy.

Add sugar and continue beating for 4 to 5 minutes, or until the mixture is very smooth

Add the eggs one at a time, vigorously beating after each addition.

Pour the mixture into the crust-lined baking pan.
For Baking:
Place the springform pan inside a larger baking dish and add the heated water to reach a third of the way up the sides of the springform pan.

Bake in an oven preheated to 250 degrees Fahrenheit for four hours, or until set and a knife inserted near the center comes out clear, and the top is pale golden.

Remove the springform pan from the larger baking dish and allow it to settle at room temperature.

While the cake is still warm, loosen it from the pan by running the tip of a sharp knife around the sides.

Cool in the refrigerator for at least 4 hours or more.
To Serve:
Remove the springform pan side with care.

Slice the cheesecake using a sharp knife dipped in hot water and wiped it dry.

Serve cooled with whipped cream, fresh strawberries, and strawberry sauce.
Nutrition
Serving:
1
Slice
Calories:
727
kcal
(36%)
Carbohydrates:
49.9
g
(17%)
Protein:
15.3
g
(31%)
Fat:
50.8
g
(78%)
Saturated Fat:
32.2
g
(201%)
Polyunsaturated Fat:
0
g
Monounsaturated Fat:
0
g
Trans Fat:
0
g
Cholesterol:
242
mg
(81%)
Sodium:
388
mg
(17%)
Potassium:
132
mg
(4%)
Fiber:
0
g
Sugar:
34.4
g
(38%)
Calcium:
187
mg
(19%)
Iron:
2
mg
(11%)
Tried This Recipe?
Let Us Know How It Was & Give Ratings.
Our Other Recipes:
Valuable Tips
What To Serve With Maggianos Cheesecake?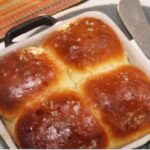 Milk Buns: Japanese milk buns are incredibly soft and practically melt in your mouth. They are the perfect complement to cheesecake because they are around the size of dumplings.
Fruit Salad: Your Maggiano's Cheesecake pairs beautifully with a mixed fruit salad.
Mango Kulfi: You should have some Kulfi ice cream to go along with your cheesecake.
Pandesal: The Filipino pandesal has a similarity to the French baguette. In the Philippines, pandesal is similar to a French baguette. The Pandesal is a great choice if you like your buns to be less airy or soft.
How To Store Maggianos Cheesecake?
At room temperature, Maggianos Cheesecake can be kept for up to 12 hours. We advise placing them in the refrigerator as soon as possible.
According to USDA food safety guidelines, cheesecake can be refrigerated for three days. We recommend storing it in a secure container to avoid it from absorbing refrigerator odors. Put it in the freezer if you need to store it for more than a few days.
What Are The Health Benefits Of Maggianos Cheesecake?
Maggiano's Cheesecake promotes dental health and can help prevent osteoporosis. Eating cheesecake can help someone gain weight in a healthy way. It is one of the most important sources of calcium and vitamins. Additionally, it is an excellent source of protein.
Our Other Recipes:
Conclusion
Maggianos Cheesecake Recipe is worth trying. With only 12 ingredients, 4 hours, 20 minutes of preparation time, and a few pieces of equipment, you can make this cheesecake at home This Maggianos Cheesecake is best served as a holiday confection on Thanksgiving, Christmas, and Valentine's Day.
You can easily make this delicious cheesecake for your family by gathering the required ingredients. I hope you liked this Maggianos Cheesecake Recipe. If you liked the recipe, kindly let us know by leaving a comment and spreading the word to your loved ones.