If you are a fan of Lebanese-style hummus then this Aladdin's Hummus Recipe is for you. In this post, I have tried to make the Popular Aladdin's Hummus Recipe with some valuable information that you will like a lot I hope.
What Is Aladdin's Hummus?
In the Midwest and Southeast of the United States, there is a chain of franchised restaurants called Aladdin's Eatery that serves Lebanese food. The locations are fast-casual eateries that also provide takeout and have been tailored to American interests.
Alladin's Eatery serves Appetizers, Pita Pitzas, Rolled Pitas, Vegetarian Rolled Pitas, Salads, Soups, Smoothies, Raw Juices, and many types of Beverages.
One of their special appetizer items is hummus, which is a very popular item in the restaurant. This hummus is made with Garbanzo Beans, Tahini, Fresh Lemon Juice, Garlic, Salt, and Water. Also, use Olive Oil, Paprika, and Chopped Parsley for garnish.
There are 9 ingredients and some kitchen equipment needed to make this Alladin's Hummus, which I explained in more detail below.
The Ingredients & Equipment Needs For Aladdin's Hummus Recipe
The ingredients and equipment are as follows:
The Ingredients Needs For Aladdin's Hummus Recipe:
Chickpeas Or Garbanzo Beans: Garbanzo beans and chickpeas are both names for the same legume. Use Kelava or Goya brand Garbanzo Beans for the best results. You'll need 16 ounces of rinsed and drained Garbanzo beans.
Tahini: This is the traditional hummus taste. Use Kevala or World Market brand Tahini for the best outcomes.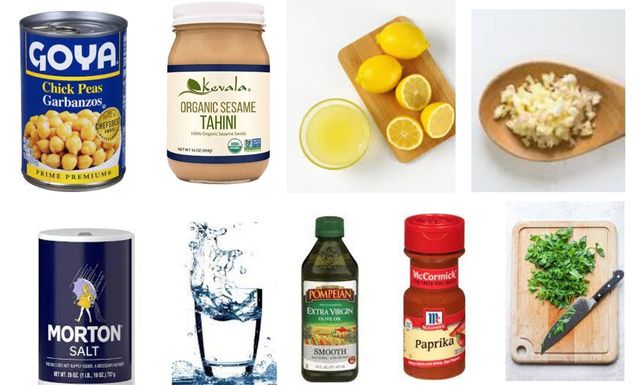 Lemon: You should use fresh lemon juice for the best flavor. This enhances the flavor of Aladdin's hummus (Don't use store-bought lemon juice.)
Garlic: You will need 1 tablespoon of fresh chopped garlic.
Salt & Water: It's recommended that you use Morton brand salt and use fresh water.
For Garnish: Use Pompeian brand extra virgin olive oil, McCormick brand paprika, and use freshly chopped parsley.
The Equipment Needs For Poyo Poyo Sauce:
You will need High-Powered Blender, Measuring Cup, Measuring Spoon, Cutting Board, Knife, and Bowl. Everything used in the preparation of food must be clean and hygienic, including the workspace, cutting boards, knives, measuring cups, and utensils.
So let's see How To Make Aladdin's Hummus Recipe!
Aladdin's Hummus Recipe
If you want to make hummus as good as the kind served at Alladin's Eatery, then use the ingredients and method mentioned in this recipe.
Equipment & Tools
High-Powered Blender

Measuring Cup

Measuring Spoon

Cutting Board

Knife

Bowl
Instructions 
Drain and rinse the Garbanzo Beans.

Add the Garbanzo Beans, Tahini, Fresh Lemon Juice, Chopped Garlic, Salt, and Water to a high-powered blender or food processor.

Make a smooth mixture by blending all the ingredients together.

Before you serve the hummus, you should chill it in the refrigerator for at least an hour.

Garnish with Olive Oil, Paprika, and Chopped Parsley.

Enjoy your Alladin's Hummus at home!
Nutrition
Serving:
4
tbsp
Calories:
125
kcal
(6%)
Carbohydrates:
14.4
g
(5%)
Protein:
5.4
g
(11%)
Fat:
5
g
(8%)
Saturated Fat:
0.6
g
(4%)
Polyunsaturated Fat:
0
g
Monounsaturated Fat:
0
g
Trans Fat:
0
g
Cholesterol:
0
mg
Sodium:
278
mg
(12%)
Potassium:
120
mg
(3%)
Fiber:
3.4
g
(14%)
Sugar:
1.2
g
(1%)
Calcium:
31
mg
(3%)
Iron:
1
mg
(6%)
Tried This Recipe?
Let Us Know How It Was & Give Ratings.
Our Other Helpful Recipes:
Valuable Information
What To Serve With Alladin's Hummus?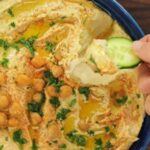 Hummus can be eaten in a variety of ways. Carrots, cucumber slices, celery, radishes, bell pepper, broccoli, snap or snow peas, and other vegetables in a dip.
Pita bread, Flatbread, pita chips, pretzel chips, crackers, bagel chips, and crostini are some examples of dip for bread or chips.
How To Store Aladdin's Hummus?
Store your Alladin's Hummus in the fridge in an airtight container or bowl (cover with plastic wrap if using a bowl). Use the hummus within 4 days.
Health Benefits Of Aladdin's Hummus
Alladin's Hummus is high in plant-based protein. It contains important vitamins and minerals such as calcium, iron, folate, zinc, and B vitamins.
Tahini, which is found in hummus, provides vitamin E. It's high in calcium, which helps to build strong bones. It contains fiber, which is beneficial to intestinal health. It is high in heart-healthy fats.
Our Other Helpful Recipes:
Conclusion
Aladdin's Hummus Recipe is worth trying. This Aladdin's Hummus Recipe takes about 6 minutes to prepare and requires only 9 ingredients and basic cooking equipment. The magic of Aladdin's Hummus can be recreated in the comfort of your own kitchen with only a few simple ingredients.
I hope you liked this Aladdin's Hummus Recipe. If you found this article helpful and would like to pass along this recipe for hummus to others, please feel free to forward it to your friends and family as well as leave a comment below.