If you're a fan of cocktail drinks, then this Statesman Cocktail Recipe is ideal for you. In this article I've shared the Best Statesman Cocktail Recipe with complete details about it that you will enjoy, I hope.
What Is Statesman And Statesman Cocktail?
Statesman:
Old Forester Statesman was inspired by the vivacious characters in the film "Kingsman: The Golden Circle" and offers powerful taste blended to a smooth 95 proof from hand-selected casks of renowned Kentucky Straight Bourbon Whisky from the warmest locations in the warehouse. The Statesman product offers a remarkable blend of heat and spice since the true character is only apparent after a little heat.
Statesman bourbon, a variation of the venerable Old Forester brand made by Brown-Forman of Louisville, Kentucky, since 1870, is what is kept in the safe. Statesman bourbon has been discreetly showing up on liquor shop shelves since the spring, and it is not a made-up spirit.
Statesman Cocktail:
Statesman Cocktail Drink is a straightforward concoction that only needs a few basic components to create a delicious and hassle-free cocktail. This Cocktail Drink is made of Canadian Rye Whisky, Maple Syrup, Lemon Juice, Angostura Bitters, Forest Fire Bitters, Laphroaig Scotch, and Cedar Smoke, and of course, ice.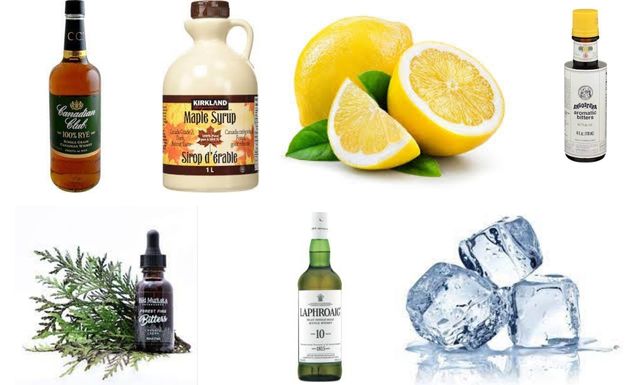 So without wasting time let's make Statesman Cocktail!
Best Statesman Cocktail Recipe
Follow this Statesman Cocktail Recipe ingredients and directions and make a perfect Statesman Cocktail Drink like a professional bartender.
Equipment & Tools
Mixing Glass

Jigger

Bar Spoon

Strainer

Rock Glass

Smoking Gun
Instructions 
Add Canadian Rye Whisky, lemon juice, Maple Syrup, Angostura Bitters, Forest Fire Bitters and some ice cubes into a mixing glass.

Mix all the ingredients for 20 seconds with a bar spoon.

Take a rock glass and place one ice ball into it.

Strain the cocktail mixture into the glass.

Top with Laphroaig Scotch and garnish with a lemon twist.

Now smoke with a smoking gun.

Enjoy your Statesman Cocktail!
Nutrition
Serving:
4
oz
Calories:
184
kcal
(9%)
Carbohydrates:
9.6
g
(3%)
Protein:
0
g
Fat:
0
g
Saturated Fat:
0
g
Polyunsaturated Fat:
0
g
Monounsaturated Fat:
0
g
Trans Fat:
0
g
Cholesterol:
0
mg
Sodium:
1
mg
Potassium:
29
mg
(1%)
Fiber:
0
g
Sugar:
7
g
(8%)
Vitamin A:
0
IU
Vitamin C:
0
mg
Calcium:
10
mg
(1%)
Iron:
0
mg
Tried This Recipe?
Let Us Know How It Was & Give Ratings.
Our Other Drinks Recipes:
Conclusion
Statesman Cocktail Recipe is worth trying. The drink simply requires a few simple ingredients to make and it takes only five minutes at home. Your thirst will be sated by this drink. This cocktail recipe is simple to prepare and great for gatherings and holiday celebrations.
We're constantly seeking creative methods to let you know about all the delectable cocktails we have to offer. You may easily make this delectable cocktail for family members without any hassles. I sincerely hope you enjoyed this  Statesman Cocktail Drink Recipe. Please share your opinions on the Statesman Cocktail Drink Recipe in the comments section.