If you are looking for Meiloorun Juice Recipe then you are on the right blog page. In this post, I have tried to share the Best Meiloorun Juice Recipe with Some valuable information that you will like a lot I hope.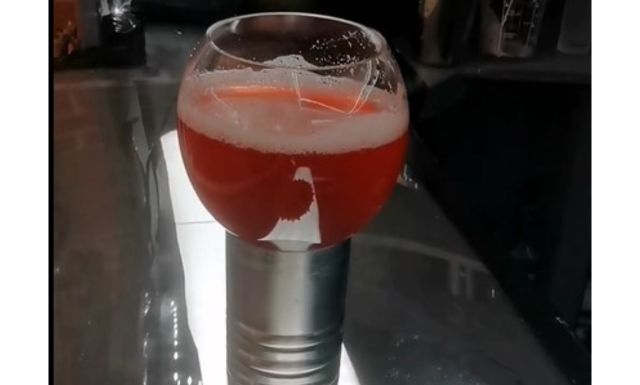 What Is Meiloorun Juice?
The Meiloorun Juice is a delicious and refreshing beverage inspired by the fictional universe of Star Wars. This unique recipe combines a medley of flavors to create a tantalizing drink.
The mix of cranberry juice, blueberry juice, pineapple juice, and Minute Maid Lemonade offers a balanced mixture of sweet and sour flavors. The addition of Monin Desert Pear Syrup enhances the fruity flavors with a hint of sweetness.
The use of an ice-filled cocktail shaker ensures a cold and thoroughly mixed drink. By straining the mixture into a glass, the texture becomes smooth and pulp-free. The experience of Meiloorun Juice can be completely appreciated by sipping this enchanting beverage through a straw.
This recipe invites you to enjoy a drink that will transport you to a galaxy far, far away. Whether you're a Star Wars fan or just looking for a flavorful thirst-quencher, this Meiloorun Juice recipe will captivate your taste senses.
The Ingredients & Tools Needs For Meiloorun Juice
The ingredients and equipment are as follows:
Ingredients:
Lemonade: You will need 9 oz of lemonade. Use MinuteMaid brand lemonade or use what you have on hand.
Cranberry Juice: You will need 3 oz of cranberry juice. Use Ocean Spray brand cranberry juice or use fresh juice.
Blueberry Juice: You will need 3 oz of blueberry juice. Use Ocean Spray brand blueberry juice or use fresh juice.
Pineapple Juice: You will need 3 oz of pineapple juice. Use Dole brand pineapple juice or you can use fresh pineapple juice.
Syrup: You will need 1/2 oz of desert pear syrup. Use Monin brand desert pear syrup for sweetness.
Ice: You will need 2 cups of good quality ice cubes to shake and chill the juice.
Tools:
You will need Cocktail Shaker, Jigger, Strainer, and Serving Glass.
So, let's see How To Make Meiloorun Juice Recipe at Home!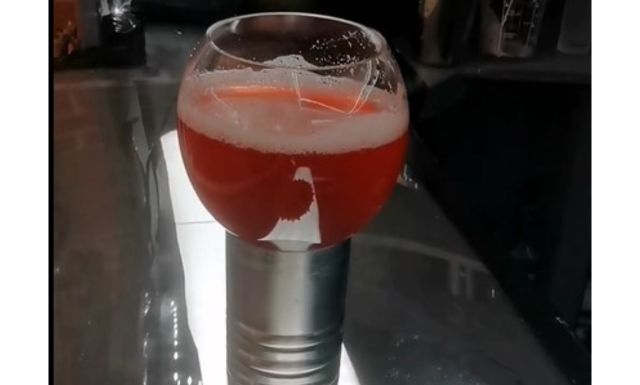 Best Meiloorun Juice Recipe
Follow this Meiloorun Juice Recipe ingredients and directions and make the perfect juice like a professional mixologist.
Equipment & Tools
Cocktail Shaker

Jigger

Strainer

Serving Glass
Ingredients  
3

oz

Ocean Spray Blueberry Juice

3

oz

Dole Pineapple Juice

Ice Cubes
Instructions 
In a cocktail shaker, combine Minute Maid Lemonade, Cranberry Juice, Blueberry Juice, Pineapple Juice, and Monin Desert Pear Syrup.

Add a few ice cubes to the shaker.

Shake all the ingredients vigorously for 10 to 15 seconds to ensure they are well combined and chilled.

Place a strainer over a 24 oz glass and strain the Meiloorun Juice mixture into the glass, discarding any ice.

Put a straw into the glass and enjoy your refreshing Meiloorun Juice!
Notes
Using a cocktail shaker with ice cubes helps to chill the Meiloorun Juice and ensures that the ingredients are thoroughly combined.
By straining the juice into a glass, the drinking experience is made smooth and pulp-free.
The recommended serving size for glass is 24 ounces, but you can adjust it to your liking.
To add visual appeal, feel free to garnish the glass with a slice of lemon or a sprig of mint.
Adjust the sweetness of the juice to your liking by varying the amount of Monin Desert Pear Syrup.
Experiment with various variations of Meiloorun Juice by adding a splash of lime juice or by substituting different fruit juices.
Nutrition
Serving:
18
oz
Calories:
284
kcal
(14%)
Carbohydrates:
69.7
g
(23%)
Protein:
0.3
g
(1%)
Fat:
0.1
g
Saturated Fat:
0
g
Polyunsaturated Fat:
0
g
Monounsaturated Fat:
0
g
Trans Fat:
0
g
Cholesterol:
0
mg
Sodium:
25
mg
(1%)
Potassium:
387
mg
(11%)
Fiber:
3.6
g
(15%)
Sugar:
59.3
g
(66%)
Calcium:
34
mg
(3%)
Iron:
1
mg
(6%)
Tried This Recipe?
Let Us Know How It Was & Give Ratings.
Our Other Drinks Recipes:
Variations And Tips For Meiloorun Juice Recipe
Variations:
Meiloorun-Mango Twist: Add 2 ounces of mango juice to the original recipe for a tropical variation and to enhance the fruity flavors.
Sparkling Meiloorun Fizz: Replace the Minute Maid Lemonade with lemon-lime soda to create a sparkling and fizzy version of Meiloorun Juice.
Meiloorun Mocktail: For a non-alcoholic version of the Meiloorun Mocktail, omit the Monin Desert Pear Syrup and add a dash of sparkling water or ginger ale.
Frozen Meiloorun Slushie: Blend all the ingredients with crushed ice to create a cool and refreshing summertime treat.
Meiloorun Cocktail: Meiloorun Juice can be turned into a delicious alcoholic cocktail by adding a splash of your preferred liquor, such as vodka or rum.
Tips:
Adjust the sweetness by adding more or less Monin Desert Pear Syrup according to your taste preferences.
For a stronger citrus flavor, squeeze fresh lemon or lime juice into the mixture.
Experiment with various combinations of fruit juices to create your own variants of Meiloorun Juice.
To add a dash of elegance and flavor, garnish the glass with a slice of starfruit or a sprig of mint.
Before serving, place the glasses in the freezer to keep the Meiloorun Juice chilled for longer.
If serving a larger group, double the recipe to ensure that everyone can enjoy this tasty cocktail.
Have fun with the presentation by using distinctive glassware or by decorating with colorful paper umbrellas.
What To Serve With Meiloorun Juice?
Meiloorun Juice goes with a variety of foods and snacks. Here are some suggestions for Meiloorun Juice accompaniments:
Cheese and Crackers: Provide a combination of cheeses, such as brie, cheddar, or goat cheese, along with a variety of crackers or breadsticks for a savory and satisfying accompaniment.
Light Salads: Serve a salad with a light vinaigrette dressing, a variety of greens, and citrus slices. The crispness and tartness of the salad will go well with the sweetness and tartness of the Meiloorun Juice.
Finger Sandwiches: Prepare a variety of mini sandwiches with fillings such as cucumber and cream cheese, smoked salmon, and chicken salad. These delicate sandwiches are a delectable and simple pairing.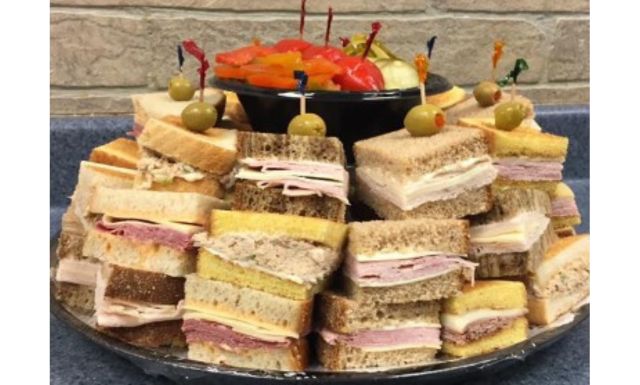 Grilled Chicken Skewers: Prepare marinated chicken skewers that are flavorful and tender. The savory protein will create a satisfying balance with the sweet and tangy flavors of the juice.
Mini Quiches: Serve mini quiches with various fillings, such as spinach and feta, mushroom and cheese, or bacon and onion. These savory pastries make for a delicious and enjoyable pairing.
Remember that Meiloorun Juice is a versatile and refreshing beverage, so feel free to experiment with different food pairings in order to discover the ones that best suit your tastes.
Our Other Drinks Recipes:
Frequently Asked Questions
Can I adjust the sweetness of the Meiloorun Juice recipe?
Yes, you can adjust the sweetness of the Meiloorun Juice according to your tastes by adding more or less Monin Desert Pear Syrup.
Can I use fresh fruit juices instead of bottled ones?
Absolutely! Adding fresh fruit juices to Meiloorun Juice can enhance its flavor. Simply squeeze or use a juicer to get the juice from raw cranberries, blueberries, and pineapples.
Can I make a larger batch of Meiloorun Juice?
Certainly! To make a larger amount, you can double or triple the ingredients while maintaining the same ratios. Adjust the measurements according to your desired serving size.
Can I make a Meiloorun Juice slushie?
Absolutely! Blend the Meiloorun Juice recipe with ice cubes until slushie-like consistency is reached. Adjust the amount of ice to get the desired consistency.
Can I store Meiloorun Juice for later consumption?
While it is ideal to drink Meiloorun Juice immediately after preparation, any leftovers can be refrigerated for up to 24 hours in an airtight container. Mix thoroughly before serving.
Our Other Drinks Recipes:
Conclusion
Meiloorun Juice recipe offers a tantalizing and refreshing beverage inspired by the mythical Star Wars universe. Combining cranberry juice, blueberry juice, pineapple juice, Minute Maid Lemonade, and a touch of Monin Desert Pear Syrup makes a unique flavor profile with a balance of sweet and sour ingredients.
This recipe allows for experimentation and customization, whether shaken in a cocktail shaker or incorporated into a slushie. Serving suggestions and variations provide ideas for accompanying dishes and methods to give the beverage a personal touch.
Although Meiloorun Juice is fictitious, this recipe presents a touch of imagination and fantasy in the real world. Therefore, enjoy a glass of Meiloorun Juice and allow its flavors to transport you to a distant galaxy. May your experience with Meiloorun Juice be refreshing, pleasurable, and full of delightful flavors.