If you like Mexican-style salsa then this Casa Ole Salsa Recipe is for you. In this post, I have tried to make Popular Casa Ole Salsa Recipe with some valuable information that you will like a lot I hope.
What Is Casa Ole Salsa?
In December 1973, Larry Forehand founded the first Casa Ole Mexican Restaurant in Pasadena, Texas. In Houston, Texas, a second restaurant debuted in 1976. The restaurants were so successful that Casa Ole Franchise Services, Inc. was formed in 1978, and the first Casa Ole franchise opened its doors within a year.
Casa Ole serves many food items like enchiladas,tacos, nachos, fajitas, burritos, and many more. In addition, they serve a special salsa as a side salsa, which is quite well-liked at the restaurant. Today i am going to share this red salsa with you.
Casa Ole Salsa is made with Tomato Juice, V-8 Juice, Whole Tomatoes, Onion, Jalapeno Peper, Garlic Cloves, Cilantro, Salt, and Black Pepper. Making homemade Casa Ole Salsa at home is simple and only requires a few kitchen tools and the 9 ingredients which I've explained in detail below.
The Ingredients & Equipment Needs For Casa Ole Salsa
The ingredients and equipment are as follows:
Ingredients:
Tomato Juice: Use Campbell's Brand tomato juice or you can use homemade tomato juice.
V-8 Juice: Use V8 Original 100% Vegetable Juice, Blend with Tomato Juice.
WholeTomatoes: Use Muir Glen Organic Whole Peeled Tomatoes to get the best result.
Onion: Use half a white onion. Peel and slice the onion with a knife.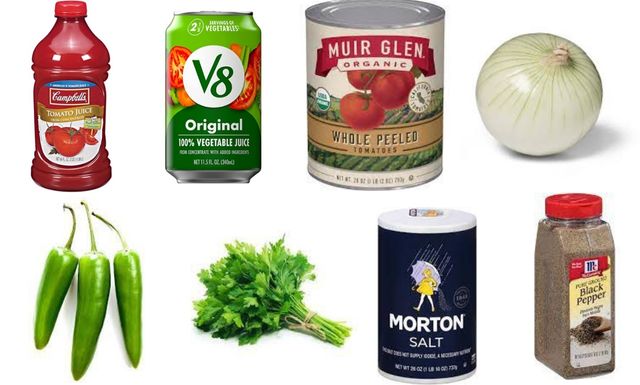 Garlic: You will need 6 garlic cloves. As part of the preparation, peel and wash the garlic cloves. 
Jalapeno: Take the jalapenos and wash them thoroughly, removing the stems.
Salt: Use Morton brand salt or 365 by Whole Foods Market salt.
Black Pepper: Use McCormick or Badia black pepper, or whatever you have on hand.
Equipment:
Electric Blender, Measuring Cup, Measuring Spoon, Cutting Board, Knife, And Glass Jar With Lid.
So, let's see How To Make Casa Ole Salsa Recipe!
Casa Ole Salsa Recipe
Just follow this Casa Ole Salsa Recipe ingredient and directions to make a perfect Mexican-style salsa like Casa Ole restaurant.
Equipment & Tools
Electric Blender

Knife

Cutting Board

Measuring Cup

Measuring Spoon

Bowl

Glass Jar With Lid
Ingredients  
½

White Onion, Chopped

3

Large

Jalapeno Pepper (Use Jalapeo peppers according to the desired level of spice in the salsa)

⅓

cup

Fresh Cilantro

Salt To Taste

Black Pepper to Taste
Instructions 
Remove the stems from the jalapenos, peel the garlic cloves, and wash the cilantro.

Now put all the ingredients in an electric blender.

Blend all of the ingredients until well blended or desired constancy.

Pour the salsa into a bowl and wrap it with plastic wrap.

Refrigerate for 1 hour to allow the flavor to infuse or you can use it immediately.

Put the leftover salsa in a glass jar and fridge it.
Nutrition
Serving:
3
tbsp
Calories:
40
kcal
(2%)
Carbohydrates:
8.5
g
(3%)
Protein:
1.7
g
(3%)
Fat:
0
g
Saturated Fat:
0
g
Polyunsaturated Fat:
0
g
Monounsaturated Fat:
0
g
Trans Fat:
0
g
Cholesterol:
0
mg
Sodium:
562
mg
(24%)
Potassium:
359
mg
(10%)
Fiber:
1.8
g
(8%)
Sugar:
6
g
(7%)
Calcium:
8
mg
(1%)
Iron:
0
mg
Tried This Recipe?
Let Us Know How It Was & Give Ratings.
Our Other Sauce Recipes:
Valuable Information
Where To Use Casa Ole Salsa?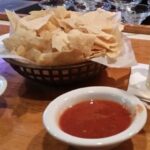 You can use Casa Ole Salsa as a spread, a dip, or a topping.
Serve this Casa Ole Salsa with tortilla chips.
This salsa complements enchiladas, fajitas, tacos, nachos, burritos, and quesadillas well.
It would also be fantastic in a Mexican-style soup or stew to really enhance the flavor.
Serve with grilled chicken, fish, or beef as an appetizer or side dish in southwestern egg rolls, potato skins, or other small dishes.
How To Store Casa Ole Salsa?
Transfer your salsa to a glass jar with a lid. It can be stored in the refrigerator for up to 6 days without going bad. The texture of your salsa could be affected negatively by freezing, avoid doing that.
What Are The Health Benefits Of Casa Ole Salsa?
Tomato: Most of the ingredients in this Casa Ole Salsa are tomato products. Including more tomatoes in your diet may reduce your risk of having a stroke, which occurs when blood flow to a portion of your brain is cut off.
According to research, they may reduce inflammation, improve your immune system, lower your cholesterol, and prevent your blood from clotting.
Vegetables: Casa Ole Salsa Recipe includes vegetables that are beneficial to your health. Vegetables contain important vitamins, minerals, and nutrients such as antioxidants and fiber. The risk of many diseases, including cancer and heart disease, is lowest in people who consume at least five daily servings of vegetables.
Our Other Sauce Recipes:
Conclusion
Casa Ole Salsa Recipe is worth trying. This salsa requires only 9 ingredients, a few common equipment, and ten minutes to prepare time. Tacos, burritos, nachos, quesadillas, fajitas, and enchiladas go great with this salsa. Also delicious with tortilla chips.
To prepare this Casa Ole Salsa at home, gather the necessary ingredients and get started. I hope you liked this Casa Ole Salsa Recipe. If you enjoyed this article and would like to help spread the salsa recipe, please leave a comment and share it with your friends.