If you like restaurant-style salsa then this El Fenix Salsa Recipe is for you. In this post, I have tried to make Popular El Fenix Salsa Recipe with some valuable information that you will like a lot I hope.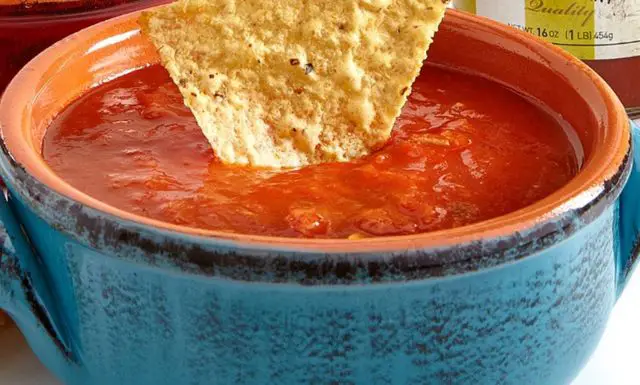 What Is El Fenix Salsa?
El Fenix is a famous Mexican restaurant chain in Dallas. Worth Metroplex (Texas) and the country's oldest Mexican restaurant franchise. Miguel (Mike) Martinez started it in 1918.
El Fenix is recognized for its "Tex-Mex cuisine," as well as its Wednesday "Enchilada Dinner Special," which includes two cheese enchiladas, refried beans, and rice. They also provide a special salsa as a side with their food, which is highly popular at the restaurant.
This El Fenix Salsa is made with Roma Tomatoes, Onion, Garlic, Jalapeno Pepper, White Vinegar, Vegetable Oil, Sugar, Cumin, and Kosher Salt. Only 9 ingredients and a few kitchen equipments are needed to make this El Fenix Salsa at home, which I explained in detail below.
The Ingredients & Equipment Needs For El Fenix Salsa
The ingredients and equipment are as follows:
Ingredients:
Tomatoes: Use Cento Certified San Marzano Whole Peeled Plum Tomatoes or you can use Muir Glen Organic Whole Peeled Tomatoes. Chop tomatoes into slightly smaller chunks and set aside.
Onion: Use white onion. Peel the onion and mince it with a knife.
Garlic: Peel a garlic and mince 3 garlic cloves.
Jalapeno: Remove the jalapeno stems, wash them, and mince them.
White Vinegar: To get the best results, use Heinz or Great Value Brand Distilled White Vinegar.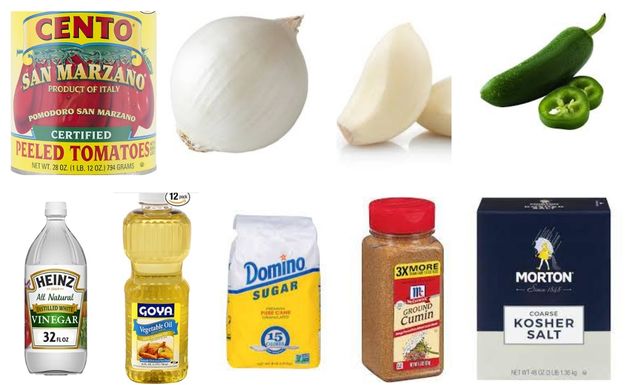 Vegetable Oil: Vegetable oil like Goya Foods or the Wesson brand is recommended.
Sugar: Anthony's or Domino brand white sugar is recommended for this salsa recipe.
Cumin: Use Badia or McCormick brand ground cumin or you can use it from your kitchen.
Salt: Use 365 by Whole Foods Market or Morton brand kosher salt.
The Equipment & Tools Needs For El Fenix Salsa:
Stove, Pan, Bowl, Measuring Cup, Measuring Spoon, Cutting Board, Knife, Wooden Spoon, And Glass Jar With Lid.
So, let's see How To Make El Fenix Salsa Recipe!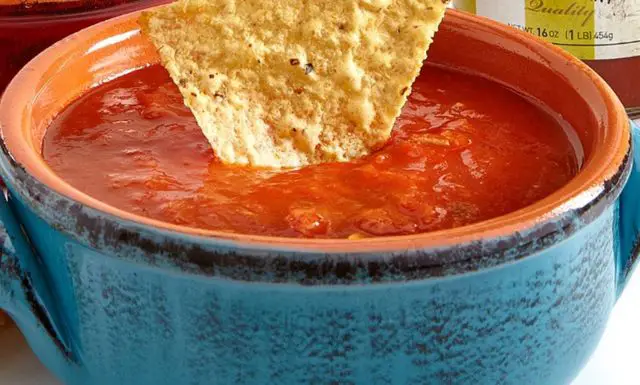 El Fenix Salsa Recipe
Just follow this El Fenix Salsa Recipe ingredient and directions to make a perfect Mexican-style salsa like El Fenix restaurant.
Equipment & Tools
Stove

Pan

Bowl

Measuring Cup

Measuring Spoon

Cutting Board

Knife

Wooden Spoon

Glass Jar With Lid
Ingredients  
½

Medium

White Onion, Minced

3

Cloves

Garlic, Minced

1

Jalapeno Pepper, Minced

1

tsp

White Sugar

1

tsp

Ground Cumin
Instructions 
Finely mince the onion, garlic cloves, and jalapenos with a knife and mix them together in a small bowl.

Put the oil in a saucepan and heat it over medium heat.

Put in the minced garlic, onion, and jalapeno pepper.

Saute together for a few minutes, or until the vegetables have become tender, stir in the salt and ground cumin.

Add chopped Roma tomatoes, white vinegar and sugar.

Stir and mix all together until the sugar is dissolved

Remove from the heat and let the salsa cool for some time

Place the salsa in a glass bowl or jar and cover it with plastic wrap or a lid.

Refrigerate the homemade El Fenix Salsa before serving.
Nutrition
Serving:
2
tbsp
Calories:
10
kcal
(1%)
Carbohydrates:
1.6
g
(1%)
Protein:
0.3
g
(1%)
Fat:
0.3
g
Saturated Fat:
0.1
g
(1%)
Polyunsaturated Fat:
0
g
Monounsaturated Fat:
0
g
Trans Fat:
0
g
Cholesterol:
0
mg
Sodium:
122
mg
(5%)
Potassium:
7
mg
Fiber:
0.3
g
(1%)
Sugar:
0.9
g
(1%)
Calcium:
6
mg
(1%)
Iron:
0
mg
Tried This Recipe?
Let Us Know How It Was & Give Ratings.
Our Other Sauce Recipes:
Valuable Information
Where To Use El Fenix Salsa?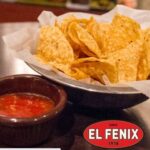 Salsa is an extremely versatile ingredient, dip, and topping.
With tortilla chips, serve this El Fenix Salsa.
This salsa is best topping for enchiladas, fajitas, tacos, nacho, burrito, and quesadillas.
Serve with salads, grain bowls, grilled chicken, fish, or steak.
Serve with savoury bread or open-faced sandwiches (like avocado toast.)
Serve alongside eggs and baked eggs.
Serve alongside southwestern egg rolls, potato skins, and other small plates.
How To Store El Fenix Salsa?
Transfer your salsa to a freezer-safe container or bag. It can be kept in the refrigerator for up to 7 days. Freezing can definitely change the texture of your salsa, thus avoid freezing the El Salsa.
What Are The Health Benefits Of El Fenix Salsa Recipe?
Tomato: Tomatoes are used in El Fenix Salsa. These are high in folic acid, which is essential for the fetus' nutrition and development throughout pregnancy.
Vegetables & Spices: El Fenix Salsa Recipe contains veggies and spices that are good for your health because they lower cholesterol and help you lose weight.
White Vinegar: White vinegar may have significant health advantages due to its high acetic acidic nature, including the ability to control blood sugar, manage weight, decrease cholesterol, and fight bacteria.
Vegetable Oil: Vegetable oils provide many health advantages, such as lowering the risk of heart disease, reducing the risk of breast cancer, enhancing digestion and metabolism, and giving the body omega-3 fatty acids.
Our Other Sauce Recipes:
Conclusion
El Fenix Salsa Recipe is worth trying. This salsa requires only 9 ingredients, a few standard kitchen utensils, and 20 minutes to complete. This salsa is perfect for spreading over tacos, burritos, nachos, quesadillas, fajitas, and enchiladas.
To make this El Fenix Salsa at home, simply gather the ingredients and get started. I hope you liked this El Fenix Salsa Recipe. Please leave a comment and share this recipe article with your loved ones if you liked it and want to help spread the salsa recipe.