If you're a fan Of Starbucks, then this Starbucks Sunset Drink Recipe is ideal for you. In this article I've shared my Best Starbucks Sunset Drink Recipe with complete details about it that you will enjoy the most, I'm sure.
What Is Starbucks Sunset Drink?
It is believed that the Starbucks Sunset Drink has its roots in Tik Tok. The drink was well-liked in August 2021, and its popularity grows daily.
It's an iced cocktail that's layered consisting of Mango Dragonfruit Lemonade, peach juice and herbal tea. The various layers create an ombre effect that gives the drink a look of sunset.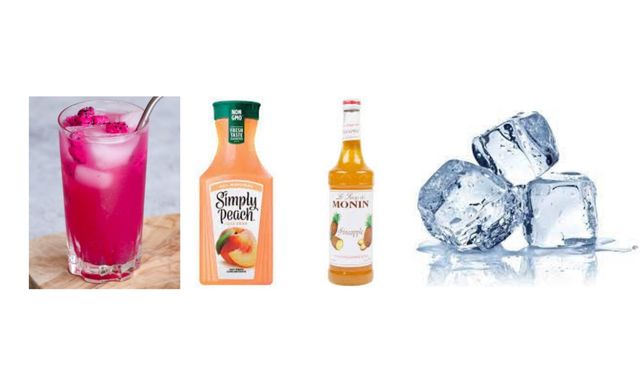 Sunset Drinks gets its name due to the dramatic effect caused by the colours of the ingredients. It's as magical as viewing the sunset. It's refreshing, fun and fruity. It provides the ambience of a stunning sunset. Continue reading to find this amazing recipe.
Starbucks Sunset Drink Recipe With Variations
This Sunset Drink is amazingly delicious, creative, tasty and stunning. Follow this Starbucks Sunset Drink Recipe ingredients and directions and make a perfect Sunset Drink like Starbucks.
Equipment & Tools
Cocktail Shaker

Measuring Cup

Plastic Glass

Straw
Ingredients  
½

cup

Light Passion Tea

1

cup

ice
Instructions 
In a cocktail shaker add Mango Dragonfruit Lemonade, Peach Juice, and Pineapple Syrup with a cup of ice.

Shake all the ingredients for 20 seconds.

Pour into a big plastic glass.

Now pour the light passion tea on top of the ice.

Enjoy your Starbucks Sunset Drink.
Nutrition
Serving:
2
cups
Calories:
190
kcal
(10%)
Carbohydrates:
46
g
(15%)
Protein:
2.8
g
(6%)
Fat:
0
g
Saturated Fat:
0
g
Polyunsaturated Fat:
0
g
Monounsaturated Fat:
0
g
Trans Fat:
0
g
Cholesterol:
2
mg
(1%)
Sodium:
53
mg
(2%)
Potassium:
278
mg
(8%)
Fiber:
1
g
(4%)
Sugar:
43.5
g
(48%)
Vitamin A:
0
IU
Vitamin C:
0
mg
Calcium:
130
mg
(13%)
Iron:
1
mg
(6%)
Tried This Recipe?
Let Us Know How It Was & Give Ratings.
You can look at our Best Statesman Cocktail Recipe If you're interested.
Starbucks Sunset Drinks Variations
What maintains Starbucks at the top is the ability for customers to modify a Starbucks official drink to their preferences. The mango dragon fruit was transformed to create the sunset drink. The drink can be customized to personalize the sunset drink by adding additional fruit and peaches in the way you like.
For a caffeine boost and a bit of passion flavour, some customers have decided to drink Starbucks' Passion Tango tea. The flavour of passion blends well with mango and peach. It is also possible to add the syrup of pineapple for a delicious taste (Watch the Variation Video below).
Have a look at our Best Superman Shot Recipe if you are interested.
Frequently Asked Questions
How Does Starbucks Sunset Drink Taste?
This fruity, refreshing drink is perfect if you like sweet and sour drinks. This Mango Dragonfruit Lemonade is sweet and tart, while the peach juice is fruity and sweet and the non-sweetened, but slightly acidic Iced Passion Tango Tea balances the flavours.
What Sizes Are There To Drink These Drinks?
It is available in three sizes. Sunset Drink is available in the same size as the other Starbucks drinks. Starbucks cold drinks come in tall (12 ounces), grande (16 ounces), venti (24 ounces) and Trenta (30 inches). These names are all of an Italian source and indicate the dimensions of the drinks.
What Is The Best Way To Order Starbucks Sunset Drink?
Request the barista to make the mango-based dragonfruit drink, without the fruit powder and add two pumps of juice from peaches and passion tea tango.
What Is The Cost Of Starbucks Sunset Drink?
A Grande serving of sunset drinks is priced at $5.85.
Is It Healthy To Drink Starbucks Sunset Drinks?
Yes, they are. Carbs and calories are very low and contain plenty of vitamins.
Take a peek at our Best Blood Bag Cocktail Recipe if you're interested.
Conclusion
Starbucks Sunset Drink Recipe is worth making. Making this cocktail recipe only takes five minutes. You can make this cocktail at home with just a few basic components. This cocktail drink will definitely quench your thirst. This cocktail drink is simple to prepare and great for gatherings.
We're always seeking fresh approaches to let you know about the delectable beverages we offer. You just need to gather the ingredients to make drinks that are similar to Sunset at Starbucks. We hope you've enjoyed the Starbucks Sunset Drink Recipe. Please share your comments below on your experiences with the Starbucks Sunset Drink.