If you're a cocktail drinker, then this Dusse Cocktail Drink Recipe is great for you. In this article, I've shared my Best Dusse Cocktail Drink Recipe with complete details about it that you will enjoy the most.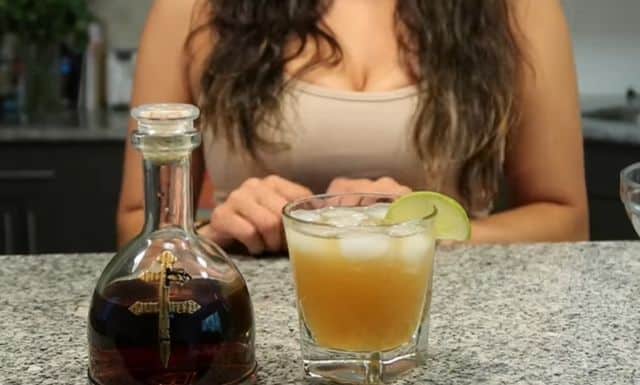 What Is Dusse?
A subsidiary of Bacardi, Chateau du Cognac produces D'Usse. D'Usse produces two cognacs: one is D'USSE VSO and other is D'USSEXO. In the cellars de Chateau de Cognac, D'Usse VSOP is aged for at least four and a half years. The oldest cellar master now employed, Michel Casavecchia, came up with the idea for D'USSE Cognac, which was established by Sovereign Brands.
Dusse is later bought by Bacardi along with Jay-Z. One-Third of the business is still owned by Sovereign Brands. D'usse is produced in the Chateau du Cognac. The Chateau du Cognac, which dates back to 200 years old, is among the most prestigious Cognac houses in France and is the place the location where Casavecchia invented D'USSE.
What Is The Dusse Cocktail Drink Recipe?
Dusse Cocktail Drink can be described as a straightforward mix. It's made of D'USSE VSOP COGNAC, Lime Juice, Simple Syrup, Ginger Beer, Ice, and Lime Wheel For Garnish.
It's not a surprise to discover that there are numerous variants that you can try after you have learned the basics of the drink. Many people have made little adjustments to the type of alcohol they drink as well as how much they overall consume.
You can explore your Dusse cocktail mix. Once you've got the hang of the basic technique, you can try your personal variations.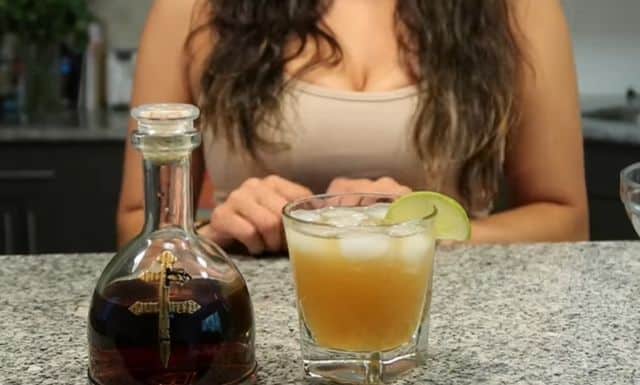 Best Dusse Cocktail Drink Recipe
You only need only four ingredients to make this delicious and easy-to-make Dusse Cocktail Recipe. Follow this Dusse Cocktail Drink Recipe ingredients and directions and make a perfect Dusse Cocktail like a professional bartender.
Equipment & Tools
Cocktail Shaker

Strainer

Jigger

Rock Glass
Ingredients  
2

oz

D'USSE VSOP COGNAC

1

oz

Lime Juice

Ice

Lime Wheel For Garnish
Instructions 
Make sure to half-fill a cocktail shaker with ice cubes.

Add D'USSE VSOP COGNAC, simple syrup, and, lime juice into the cocktail shaker.

Shake all the ingredients for 30 seconds.

Top with ginger beer or ginger ale.

Garnish with a lime wheel.

Enjoy your Dusse Cocktail.
Nutrition
Serving:
5
oz
Calories:
197
kcal
(10%)
Carbohydrates:
19.2
g
(6%)
Protein:
0
g
Fat:
0
g
Saturated Fat:
0
g
Polyunsaturated Fat:
0
g
Monounsaturated Fat:
0
g
Trans Fat:
0
g
Cholesterol:
0
mg
Sodium:
15
mg
(1%)
Potassium:
42
mg
(1%)
Fiber:
0.1
g
Sugar:
5.4
g
(6%)
Vitamin A:
0
IU
Vitamin C:
0
mg
Calcium:
9
mg
(1%)
Iron:
0
mg
Tried This Recipe?
Let Us Know How It Was & Give Ratings.
Have a look at our Starbucks Sunset Drink Recipe With Variations if you are interested.
Take a peek at our Cranberry Cocktail With Rum Recipe if you're interested.
Conclusion
Dusse Cocktail Drink Recipe is worth making. This recipe for a cocktail drink takes only three minutes to prepare and can be prepared at home using just four ingredients. This drink is sure to refresh your thirst. This recipe is easy to prepare and perfect for gatherings and parties.
We're constantly looking for new methods to ensure that you're aware of all of the tasty drinks we provide. I hope you have enjoyed the Dusse Cocktail Drink Recipe. We'd love to hear from you about your experiences with our Dusse Cocktail Drink Recipe in the comments section.