If you are looking for the Outback Blackberry Sangria Recipe then you are on the right blog page. In this post, I have shared the Popular Outback Steakhouse Blackberry Sangria Recipe with some useful information that you will like a lot I hope.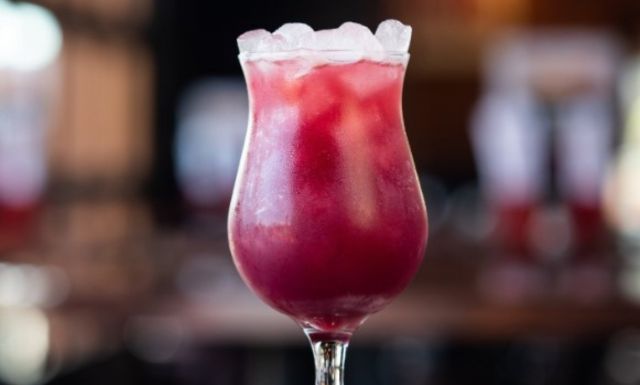 What is Outback Blackberry Sangria?
Outback Blackberry Sangria is a tasty and refreshing drink that is served at Outback Steakhouse restaurant. It is perfect for warm days or special occasions.
This sangria is made by mixing together a few simple ingredients. First, there's Jacobs Creek Moscato wine, which adds a sweet and fruity flavor. Then, add pineapple juice for a tropical twist. To give it a unique and delicious taste, Monin Blackberry Syrup is poured in, along with a hint of Finlandia Raspberry Vodka for a little kick.
This mixture is shaken well with ice to make it cold and refreshing. Garnish this drink with a pineapple wedge for an extra touch of flavor and presentation. Outback Blackberry Sangria is known for its fruity, slightly tart, and slightly sweet taste. It's a delightful drink to enjoy with friends and family.
The Ingredients & Tools Needs For Outback Blackberry Sangria
The ingredients and Tools are as follows:
Ingredients:
Jacobs Creek Moscato Wine: You will need 1 1/4 oz of Jacobs Creek Moscato Wine to make this delicious sangria.
Pineapple Juice: You will need 1 1/2 oz of pineapple juice. Use fresh pineapple juice or you can use Dole brand pineapple juice.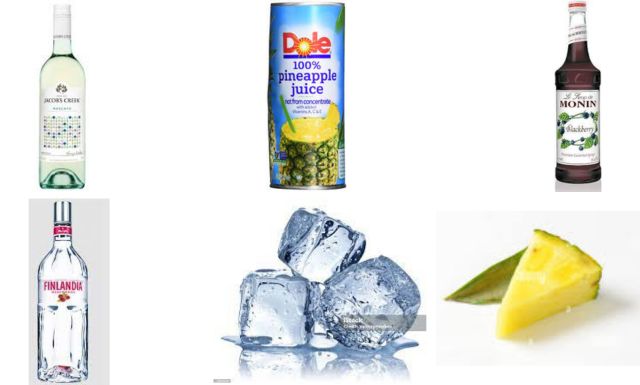 Blackberry Syrup: You will need 3/4 oz of blackberry syrup. Use Monin brand blackberry syrup to get the best result.
Vodka: You will need 1/2 oz of Finlandia raspberry vodka to make this Outback Sangria.
Ice cubes: You will need some best quality ice cubes to cool the drink.
Pineapple Wedge: You will need a pineapple wedge to garnish the sangria.
Tools:
You will need a Cocktail Shaker, Jigger, Strainer, Knife, and Serving Glass.
So, let's see How To Make Outback Blackberry Sangria Recipe at Home!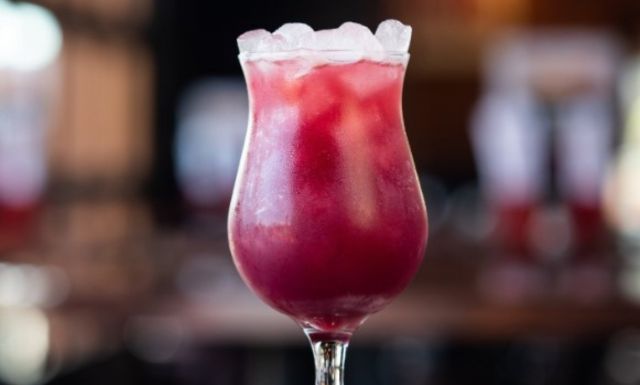 Outback Blackberry Sangria Recipe
Follow this Outback Blackberry Sangria Recipe ingredients and directions to make the perfect blackberry sangria like Outback Steakhouse restaurant.
Equipment & Tools
Cocktail Shaker

Jigger

Strainer

Knife

Serving Glass
Ingredients  
1 ¼

oz

Jacobs Creek Moscato Wine

½

oz

Finlandia Raspberry Vodka

Ice Cubes

Pineapple Wedge For Garnish
Instructions 
Fill a cocktail shaker with some ice cubes.

Add Jacobs Creek Moscato wine, pineapple juice, Blackberry Syrup, and Finlandia Raspberry Vodka to the shaker.

Shake all the ingredients vigorously in the shaker for about 10 to 15 seconds.

Strain the mixture into a glass and put some ice cubes.

Garnish with a pineapple or lemon wedge.

Now, it's time to enjoy your delicious homemade Outback Blackberry Sangria!
Nutrition
Serving:
4
oz
Calories:
85
kcal
(4%)
Carbohydrates:
6.4
g
(2%)
Protein:
0.2
g
Fat:
0.1
g
Saturated Fat:
0
g
Polyunsaturated Fat:
0
g
Monounsaturated Fat:
0
g
Trans Fat:
0
g
Cholesterol:
0
mg
Sodium:
3
mg
Potassium:
91
mg
(3%)
Fiber:
0.1
g
Sugar:
4.5
g
(5%)
Calcium:
8
mg
(1%)
Iron:
0
mg
Tried This Recipe?
Let Us Know How It Was & Give Ratings.
Our Other Drinks Recipes:
Variations & Tips For Outback Blackberry Sangria Recipe
Variations:
Citrus Twist: For a citrusy kick, replace the pineapple juice with freshly squeezed orange juice. This will give your sangria a zesty and tangy flavor.
Berry Medley: Experiment with different berries like strawberries, blueberries, and raspberries instead of just blackberries. You'll have a colorful and berry-packed sangria.
Sparkling Sangria: If you prefer a fizzy sangria, add a splash of sparkling water or soda just before serving. It will make your drink bubbly and even more refreshing.
Tips:
Chill Ingredients: Make sure your wine, juice, and vodka are well-chilled before making the sangria. It will help keep your drink cold without overloading it with ice.
Fruit Infusion: Feel free to add slices of fresh fruit like orange, lemon, or lime to enhance the fruity flavors. Let the sangria sit for a while to let the fruits infuse their taste.
Balancing Sweetness: Adjust the amount of Monin Blackberry Syrup to control the sweetness. If you like it sweeter, add a bit more, or use less if you prefer a less sweet sangria. Taste as you go to find the perfect balance.
what to serve with Outback Blackberry Sangria?
Outback Blackberry Sangria goes well with a variety of foods. You can serve it with:
Cheese Platter: Pair it with a cheese platter featuring different types of cheese, crackers, and some fresh fruits like grapes and apples.
Light Appetizers: Serve it alongside light appetizers such as bruschetta, shrimp cocktail, or a fresh salad with vinaigrette dressing.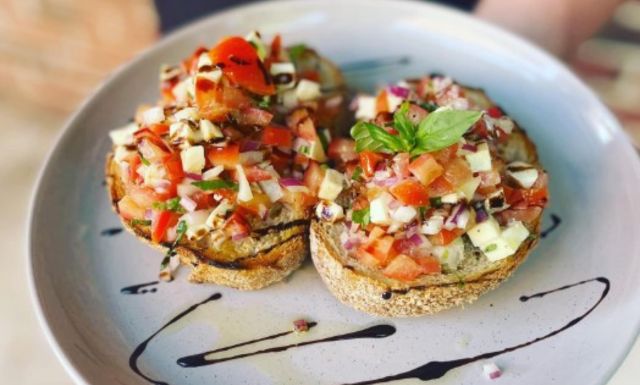 Grilled Foods: It also pairs nicely with grilled dishes like chicken, seafood, or even barbecue.
Desserts: For a sweet combination, enjoy it with desserts like fruit tarts, cheesecake, or chocolate fondue.
Our Other Drinks Recipes:
FAQs About Outback Blackberry Sangria Recipe
Can I use a different type of wine?
Yes, you can try using other types of sweet white wine if you don't have Jacobs Creek Moscato. Experiment to find your favorite flavor.
What if I don't have Monin Blackberry Syrup?
If you don't have blackberry syrup, you can make your own by mixing mashed blackberries with sugar and a bit of water. Strain out the seeds before using it.
Can I make this in advance for a party?
Yes, you can prepare the sangria ahead of time and keep it in the fridge. Just add ice and garnish before serving to keep it fresh.
How long can I keep leftover sangria?
It's best to consume it within a day or two. The flavors may change if it sits for too long, and the ice will melt, diluting the drink.
Can I use frozen fruit instead of ice cubes?
Sure, frozen berries or fruit can be a tasty alternative to ice cubes, and they won't dilute the sangria as they melt.
Our Other Drinks Recipes:
Conclusion
Outback Blackberry Sangria is a delicious and easy-to-make drink with fruity flavors. By mixing Jacobs Creek Moscato wine, pineapple juice, Monin Blackberry Syrup, and a touch of Finlandia Raspberry Vodka, you can whip up a delightful drink.
You can also customize it with different fruits and adjust the sweetness to your liking. It goes nicely with different foods and is also great for parties. If you have questions, then you can find answers in the FAQs. This homemade sangria is a tasty treat for special events or any social gatherings.