If you are a Martini lover then this 2 Great Martini Recipe is for you. In this post, I have shared the 2 Great Martini Recipe (Wet And Dry) with a video tutorial that you will like a lot I hope.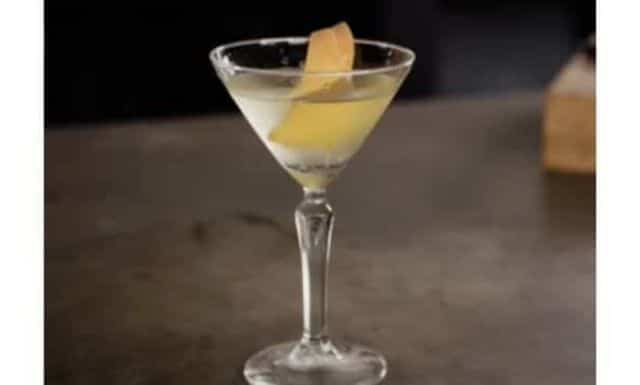 Everything you require to make a fantastic martini. Having so many Martini options to pick from might be overwhelming. Here I explain the mysteries of the Martini, and how to choose the best way to enjoy it.
What Is Martini?
A martini cocktail is made with gin, and vermouth, and garnished with an olive or lemon twist. The martini is a well-known mixed alcoholic beverage. A well-liked variant of the martini uses vodka as the base liquor rather than gin.
By 1922, the martini had taken on its most familiar form, consisting of London dry gin and dry vermouth mixed in a 2:1 ratio with ice cubes and, if desired, orange or aromatic bitters before being strained into a cold cocktail glass. The drinker can choose to garnish the martini with a green olive or a twist of lemon peel.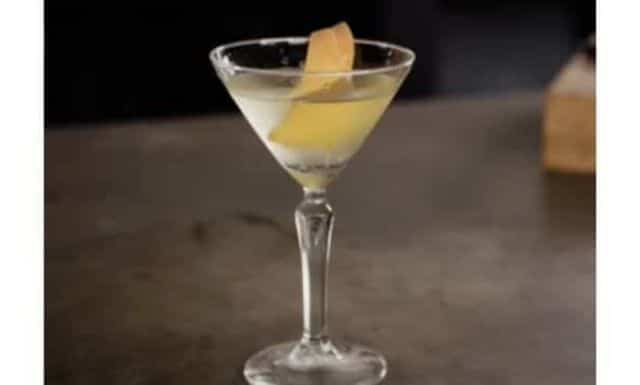 Wet Martini Recipe
The amount of vermouth used to make a wet Martini is what makes it a wet Martini. The wetter the vermouth is, the more it will be. Follow this Great Wet Martini Recipe ingredients and directions and make a perfect Wet Martini like a professional bartender.
Equipment & Tools
Mixing Glass

Jigger

Bar Spoon

Martini Glass
Ingredients  
3

oz

chilled Regal Rogue Lively White – semi-dry white vermouth

1 ⅓

oz

chilled Vodka, this is Ketel One, perfect for this drink

Good quality ice

A grapefruit twist
Instructions 
Add orange bitters, vermouth and gin to the chilled mixing glass. Mix the ingredients in a mixing glass with ice. Stir until you achieve the desired dilution.

Pour into a Martini glass.

To give your drink a flavour boost, take your grapefruit twist and fold it aggressively over the glass to express all the citrus oils.

Put the twist inside the glass after curling it over itself to make a lovely shape for holding a drink.
Nutrition
Serving:
2
oz
Calories:
119
kcal
(6%)
Carbohydrates:
0.6
g
Tried This Recipe?
Let Us Know How It Was & Give Ratings.
Have a look at our Holy Water Cocktail Drink Recipe if you are interested.
Great Dry Martini Recipe
For our Great Dry Martini, we're using Gin. Tanqueray or Plymouth gins are suitable for both wet and dry martinis, as is Grey Goose if you prefer vodka. All of these drinks are widely available, but for my Dry Martini, Gin Mare is the only choice. Follow this Dry Martini Recipe ingredients and directions and make a perfect Dry Martini like a professional bartender.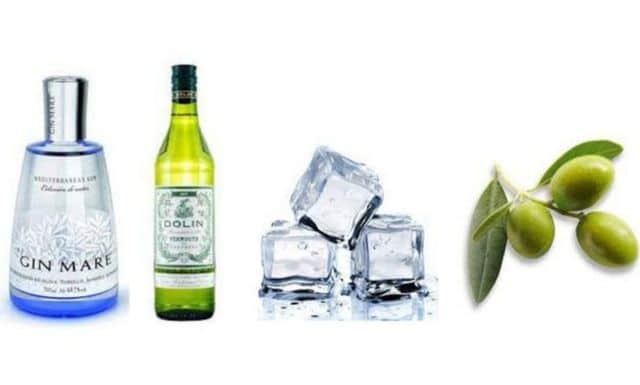 Preparation Time: 3 Minutes Cook Time: 00 Minutes Total Time: 3 Minutes
Type: Drink Cuisine: American Yield: 1 Serving
Keyword: Dry Martini Recipe
Equipment & Tools
Mixing Glass
Jigger
Bar Spoon
Martini Glass
Skewer
Ingredients
1/6 oz Dolin Dry vermouth, chilled in the fridge
2 oz chilled Gin Mare
Good quality ice.
Garnish with an olive or 3 on a skewer.
Directions
Add vermouth and gin to the chilled mixing glass. Add ice to the glass and stir until the desired dilution.
Strain into Martini glass.
Finish with classic olives on the skewer.
Enjoy your Dry Martini!
Nutrition Information
Amount per serving And % Daily Value
Serving: 1 Calories: 170 | Total Fat 0g – 0% | Saturated Fat 0g – 0% | Cholesterol 0mg – 0% | Sodium 1mg – 0% | Total Carbohydrate 0.6g – 0% | Dietary Fiber 0g – 0% | Total Sugars 0g | Protein 0g | Vitamin D 0mcg – 0% | Calcium 0g – 0% | Iron 0mg – 0% | Potassium 0mg – 0%
The Percent Daily Value (DV) of a nutrient in a food serving indicates how much it contributes to a daily diet. The standard nutrition advice is 2,000 calories per day.
Take a look at our Best Impeachment Cocktail Recipe if you are interested.
Conclusion
Great Martini Recipe is an absolute must-try recipe This recipe takes only three minutes to make and is very quick. This drink can be made at home using only a few ingredients. You will be satisfied with this Martini Recipe. This drink is easy to make and doesn't take long.
We are always open to new ways to make sure you're aware of the wonderful drinks we serve. To create this Martini hassle-free for your family, just gather the ingredients. These Great Martini Recipes are a great way to celebrate your loved ones. We would love to hear your thoughts on our Dry And Wet Martini Recipe. Please share your thoughts in the comment field below.